Bitcoin's price action has been slow over recent weeks.
This has allowed crucial technical support levels to catch up with the current price.
Analysts say that Bitcoin is on the verge of falling below two support levels of macro importance.
BTC doing so could trigger a move to the low-$9,000s, then potentially even further below that.
Bitcoin Could Slip Below Crucial Macro Trend Levels
Bitcoin bulls should be on edge, analysts say, as the cryptocurrency nears support levels of macro significance.
One trader noted on October 6th that BTC is currently approaching the 0.75 Fibonacci Retracement of the ongoing range ($12,000 to $5,800) and the 21-week simple moving average. These two levels have provided support for Bitcoin over multiple times over the past few years. The cryptocurrency losing these two levels, both around the $10,000-10,500 region could result in a decline towards the $9,000s, then $8,000s:
"$BTC 0.75 range and 21MA Losing both gives me further conviction this is head towards the mid range for a pullback / corrective leg. I'm not bearish bitcoin – I'm just looking for solid buying opportunities – unfortunately its not here for me."
Chart of BTC's price action over the past few years with analysis by crypto trader TraderXO (@Trader_XO on Twitter). Chart from TradingView.com
A leading crypto-asset analyst says that Bitcoin losing the support of $10,500 or at least the low-$10,000s could mean invalidation of the medium-term uptrend.
He recently shared the chart below, which shows BTC's price action since the start of the year along with a trend indicator. The indicator is currently nearing Bitcoin's current price, suggesting that the cryptocurrency is on the verge of losing its medium-term uptrend. Referencing the chart and the indicator, the analyst who shared it said that Bitcoin is nearing bullish "invalidation" levels.
The trader that shared this chart is the same one that in the middle of March's crash predicted a V-shaped reversal would take place to $10,000 by May or June. His prediction came true when the cryptocurrency hit that price point around the time he predicted.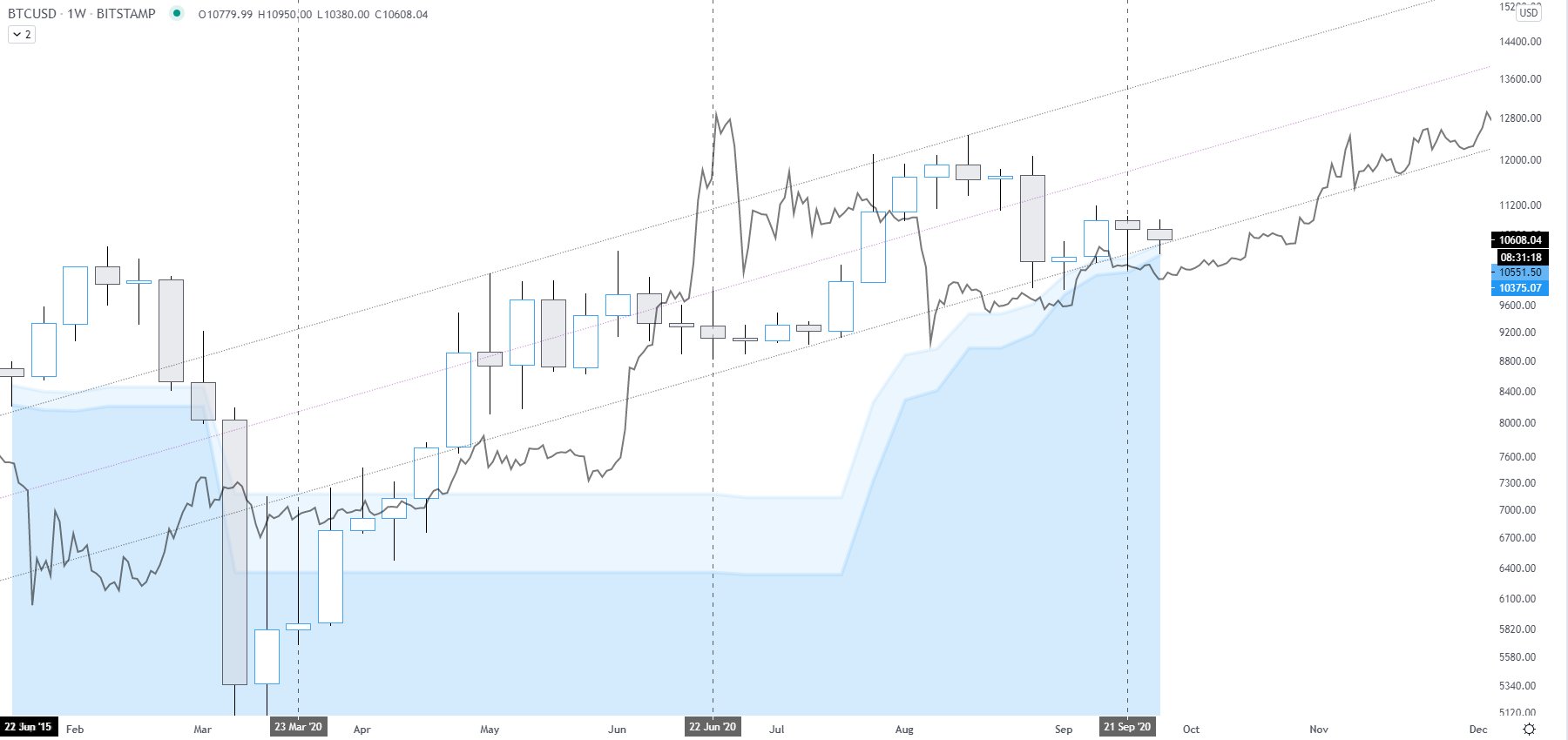 Chart of BTC's price action over the past few months with analysis by crypto trader and chartist Bitcoin Jack (@BTC_JackSparrow on Twitter).
Chart from TradingView.com
Dips Are to Be Bought
Mike Novogratz, CEO of Galaxy Digital, says that Bitcoin market dips are currently to be bought:
"Crypto friends, Let's remember that you are innocent to proven guilty. It's a cornerstone of American justice. I have no insight into the case but I wish @CryptoHayes well. I do think that $btc and crytpo is far bigger than any one exchange or person. So buy dips."
He thinks that the fundamentals of the space lend to continued growth as opposed to downside.
Featured Image from Shutterstock
Price tags: xbtusd, btcusd, btcusdt
Charts from TradingView.com
Bitcoin Is On the Precipice of Losing Two Crucial Support Levels