Bulls seem to be decisively back in control, with Bitcoin retaking $9,700 just minutes ago for the first time in weeks.
At the current price of $9,700, the asset is trading at highs not seen since the end of June.
Analysts are trying to determine what's next for this market as it inches above crucial resistance levels.
Bitcoin has just broken above $9,700 for the first time in weeks. This comes on the back of an influx of buying on Saturday morning. With this latest leg higher, the leading cryptocurrency is up by approximately 5.5% on the week, one of the best weekly performances in recent months.
BTC is currently been dragged higher by Ethereum, as some market commentators have put it. The second-largest cryptocurrency is up approximately 20% on the week, now trading at a new year-to-date high of $295.
Bitcoin Is At a Pivotal Level
According to multiple analysts, Bitcoin is at a pivotal level that it must break past and hold to confirm the uptrend. One trader said that if BTC manages to hold above $9,700, a move to $10,400 is highly probable:
"I believe we're at a very pivotal level here. If we break above 9.7k I would expect 10.4k but I won't get overly bullish before that Lose 9.4k and I'll have my eyes on 9.2k. If that breaks, I think this will all have been a fakeout and we head to 8k Plan. Wait. React."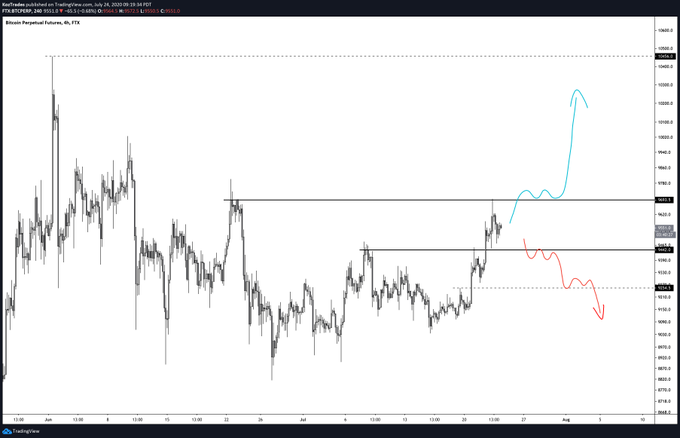 This was echoed by Blockroots co-founder Josh Rager, who remarked that if Bitcoin closes the daily candle above $9,700, it will likely reach $10,000.
Bulls Expected To Hold Strong
Bulls are expected to hold $9,700 as the fundamentals and on-chain metrics of this market remain skewed in favor of buyers.
Just last week, it was revealed that U.S. banks can legally hold cryptographic keys to cryptocurrency wallets. That's to say, they can custody Bitcoin, Ethereum, and other digital assets.
Investors see this news as long-term bullish as it may herald Wall Street adoption of this asset class. A lawyer closely following the space argued, in fact, that he's never been more bullish on the crypto market than this week due to the news.
Also boosting Bitcoin is the rallying gold price, which just reached a nine-year high as it looks to pass its $1,920 all-time high. Bitcoin will benefit if gold rallies higher, analysts have found. Bloomberg's Mike McGlone commented in June:
Adding to this, there have been reports from on-chain analytics firms that there has been increased accumulation as Bitcoin holders continue to not sell. This should result in higher prices, according to one on-chain analyst. 
Featured Image from Shutterstock
Price tags: xbtusd, btcusd, btcusdt
Charts from TradingView.com
Bitcoin Just Surged Past $9,700: What Do Analysts Think Comes Next?