This week has seen much sideways movement from Bitcoin, but nothing that will impact Bitcoin in the long term. Bitcoin started the week in the mid $230s, where it proceeded to decrease slowly to a bottom of $230 around Thursday. On some exchanges like Bitfinex, it even dipped a little below that, briefly touching $228.
Also Read: Last Week's Market Wrap Up
After it had hit the floor, Bitcoin rose $20 in two days, peaking at $249 where it then proceeded to tumble back down to $240. Since then it has jumped back to $245, and Bitcoin is now stuck in a fork in the road where the price will either push back up with another bull run or find a stable floor once again.
With only a net change of 0.43% from last week, as well as volume ranging from 14 million to 33 million this week, the slightest tug in either direction can have Bitcoin swinging up or down. With nothing definitive occurring, I expect Bitcoin's price to move sideways with a bullish tendency.
This is due to the increased exposure from the upcoming Inside Bitcoins conference in Hong Kong, as well as other meetings occurring in the next weeks. Even with the sideways movement, Bitcoin has been relatively stable so I would not worry too much.
News like the partnership between Bitstamp and Vogogo or the partnership between Ribbit.me and Spendabit only opens additional outlets to entice new consumers into spending their first Satoshis, which is the hardest part.
Altcoin Market Analysis
Bitcoin's stable price did not deter nor influence altcoins from performing solidly on the market. Three altcoins in particular did well this week: Monero, Netcoin, and Vericoin once again.
Moneros increase in valuation is most likely due to Ricky Riccardo, "@fluffypoinyza," whom is a Core team member, attending several meetings in Europe to most likely talk about Monero.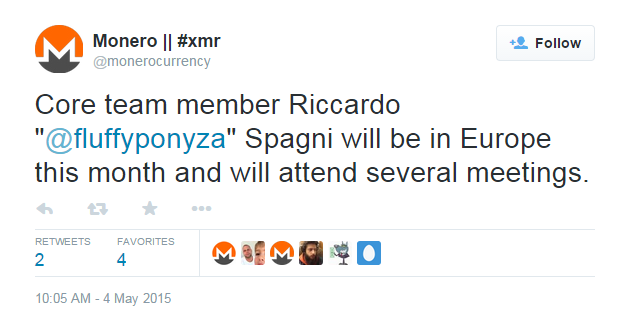 As you can see by the price graph, Monero enjoyed consistent, organic growth this week. If patterns continue throughout the summer months when Ricky is scheduled to attend meetings in Europe, there's nothing that says Monero couldn't reach $0.75, or even $1.
While Netcoin has a relatively low volume of around 2 BTC, it still showed excellent performance this week as well, increasing by 24%. Due to Netcoin's PIR and OWI twist on POS, Netcoin's gains are usually kept as owners of Netcoin are incentivized proportionally based on how long they have continually staked.
Vericoin has been following the same patterns from last week, which seems to be fueled by two factors: the PoST (Proof-of-Stake Time) White Paper coming soon, as well as today being Vericoin's birthday.
With the growth from Vericoin being slow and steady, the bubble can still get bigger before bursting. Like most other hype-fueled pumps, there is usually fallout after the event passes, e.g., the release of the PoST Whitepaper.
Depending on the direction Bitcoin heads next week, there are two price destinations as previously stated above. Either we see Bitcoin break through the $250 barrier and we go for a (most likely) short-lived bull run, or we fall back down to the $230s range.
Where do you see Bitcoin headed for the next week? Let us know in the comments below!
---
Photo Sources: CMC, BitcoinCharts, Twitter