In just a day, Bitcoin will close the May's price candle. Analysts say that this close will be crucial for indicating in which direction the cryptocurrency market heads next.
Analyst Eric "Parabolic" Thies, for instance, recently identified a level that bulls should close above to confirm that more upside is in the works.
The Key Level to Watch for Bitcoin Heading Into May's Close
According to Thies, the cryptocurrency closing above the downtrend formed after the $20,000 high will be "incredibly significant for bulls." The downtrend is currently at $9,300, which BTC trades above as of the time of this article's writing.

Although Thies believes the low-$9,000s is the region to watch, there is a key band of resistance around $10,000 too.
Order book data for the BTC/USD market on leading exchange Bitfinex is showing that there is currently a mass of sell-side pressure around $10,000-10,300.
This has been illustrated by the chart below shared by a prominent crypto-asset trader. The chart shows Bitcoin's price action since the start of the year alongside the "OB (order book) Dominance Bands," which shows the price points at which there is order book resistance or support.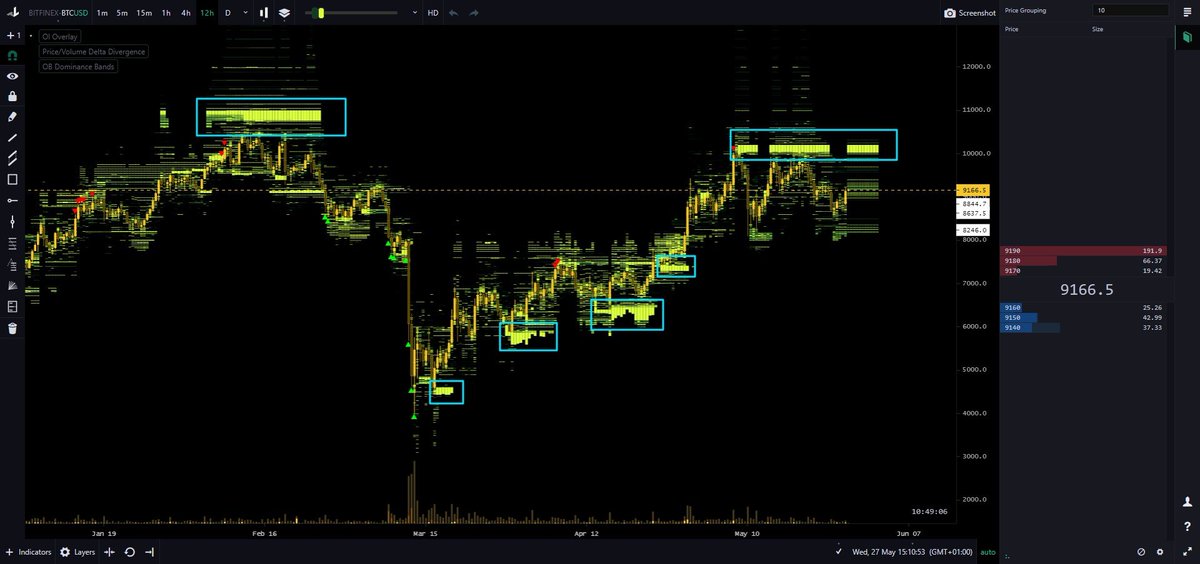 The chart and order book data are relevant as they predicted previous price action in the Bitcoin market.
As can be seen in the chart above, the OB Dominance Bands predicted the highs in March, nailing the $10,500 highs. Furthermore, they also marked local lows multiple times over the past two months.
Should historical precedent hold, there's a high chance Bitcoin will run into heavy resistance at $10,100 once again.
It Will Break Through These Resistances
While the monthly close has yet to come to fruition and Bitcoin remains shy of $10,000, analysts think that it will break through these resistances.
As reported by Bitcoinist previously,  Bitazu Capital partner Mohit Sorout noted that Ethereum recently breached a crucial downtrend that formed after the April highs of $227.  The level held as resistance on multiple occasions until earlier this week, when the altcoin surged past it in a convincing fashion.
As Ethereum led Bitcoin higher during February 2020's rally, there is a good likelihood Bitcoin is about to break past the level indicated in Sorout's chart too. Should this happen, BTC could reach ~$10,100 in the coming days, which would invalidate the aforementioned resistances.
The fundamentals corroborate this optimism.
Matt D'Souza — CEO of Blockware Mining — recently drew attention to four macroeconomic factors that will aid Bitcoin's growth in the future, meaning months and years ahead. They are as follows:
There is growing geopolitical distress, like the tensions between the U.S. and China over Hong Kong democracy.
Global central banks continue to print trillions to save the flagging economy.
Negative rates continue to trend lower.
Bitcoin is slowly becoming a payment system.
Featured Image from Shutterstock