After days of stagnating, both Bitcoin and Ethereum have registered strong gains over the past 48 hours.
While it is normally BTC leading the pack, this time, it's ETH.
The second-largest cryptocurrency and largest altcoin is up 7% in the past 24 hours. Ethereum trades at $221 as of the time of this article's writing, a price just shy of the late-April of $227.
Bitcoin, by comparison, is up 3.5% in the past 24 hours. The cryptocurrency is also trading 6% below its late-April high.
Some may see this as a sign of underlying weakness in the crypto-asset market. However, a top analyst thinks it's a sign Bitcoin could soon set a fresh year-to-date high.
Ethereum Breaches Crucial Level in Decisive Fashion, Boding Well for BTC
Although not an explosive rally per se, Ethereum's recent upswing has allowed it to break past a key level.
Partner of Bitcoin hedge fund Bitazu Capital Mohit Sorout recently shared the chart below to illustrate this point.
The chart shows that Ethereum breached a downtrend that formed during April's surge to $227. The level held as resistance on multiple occasions until today, when ETH cleanly broke past it in a convincing fashion.
Ethereum closed above the downtrend on the Thursday candle, indicating that it is now officially invalidated.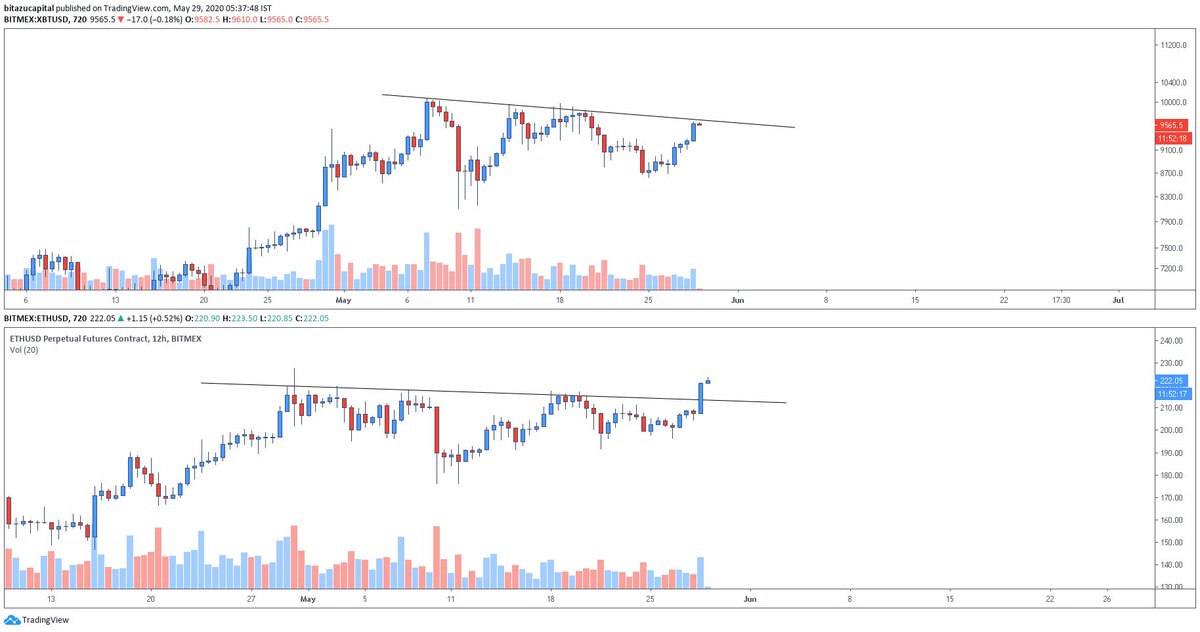 As Sorout's image indicates, Bitcoin has not had similar luck.
The flagship cryptocurrency is still trapped underneath a similar downtrend formed after the late-April peak.
As Ethereum led Bitcoin higher during February 2020's rally, chances are BTC is about to break past the level indicated in Sorout's chart too. Should this happen, BTC could reach ~$10,100 in the coming day or two.
Fundamentals Support Bitcoin Bull Case
The fundamentals support the expectations of an imminent breakout.
One prominent digital asset analyst and investor recently explained that Bitcoin's post-halving price action is very similar to that seen after 2012's and 2016's halvings:
"This capitulation is almost identical to the 2012 and 2016 halving capitulations (all within 21 days of the halving). This is a massive bull flag. The rallies from the Hash Ribbon Buy were almost vertical."
The bullish sentiment was shared by Matt D'Souza — CEO of Blockware Mining.
He recently shared four macroeconomic happening and trends that will boost Bitcoin in the coming days. They are as follows:
There is growing geopolitical distress, such as the ongoing conflict between the U.S. and China over Hong Kong democracy.
Central banks continue to create trillions to save the flagging global economy.
Negative rates continue to trend lower.
Bitcoin is slowly becoming a payment system.
Related Reading: There's a Silver Lining to Goldman Sachs' Scathing Bitcoin Presentation
Featured Image from Shutterstock