Bitcoin's overall market cap share dropped to a record low of 35.8% Tuesday as lackluster growth gave altcoins a major advantage.
---
Ethereum Advances Hook Investors
Despite recovering above $14,000, Bitcoin has failed to hold on to prices closer to its all-time highs of $20,000 seen in December.
By contrast, investor money has poured back into altcoin markets, with the majority of major assets appreciating dramatically and weathering short-term volatility.
At press time, gains were being spearheaded by Ethereum's Ether (ETH), which continues to profit from the anticipation of a long-awaited Casper release. The technology's alpha testnet was formally unveiled December 31.
In a follow-up blog post today, co-founder Vitalik Buterin also announced a grant program and so-called Blockchain 'sharding,' both of which aim to shore up longer-term Ethereum network scalability. Buterin summarized:
We view the two strategies as complementary with each other and we believe in supporting a multi-pronged strategy toward Ethereum scalability that engages both strategies and treats them as complementary with each other.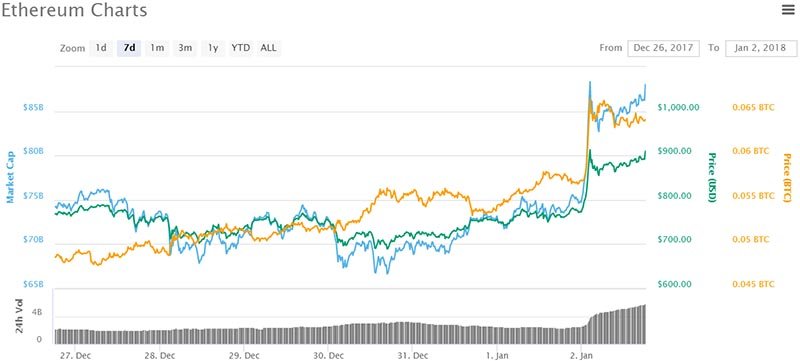 Scaling Specters
Elsewhere in altcoin markets, several coins in the top 20 have seen significant recent gains, including Bitcoin hard fork Bitcoin Cash, which is heading towards $3000 per coin after falling more heavily than Bitcoin itself during its rout below $13,000 last month.
Ripple is also heading back towards all-time highs above $2.40, while NEO has surged to approach $93 per token, almost trebling in value in under a month.
Commenting on current trends, Noded Podcast presenter and Bitcoin maximalist Pierre Rochard noted differing philosophies regarding scaling in Bitcoin and Ethereum camps.
Despite the incoming release of Lightning Network improvements for Bitcoin, the issue of its usefulness purely as a currency remains a decisive topic of debate.
Contrast between the BTC and ETH scaling philosophies:
BTC: self-interest, decentralized bounty from fee market, engineers
ETH: charity, centralized grants from Ethereum Foundation, researchers pic.twitter.com/RCnbOcpsLN

— Pierre Rochard (@pierre_rochard) January 2, 2018
The largest cryptocurrency meanwhile had been recovering its share of the market, surpassing multi-month highs of 66% before a major reversal halved the figure in a matter of weeks.
What do you think about Bitcoin's market cap performance? Let us know in the comments below!
---
Images courtesy of AdobeStock, CoinMarketCap