Despite the decline of Bitcoin throughout the entirety of 2018, the world's leading cryptocurrency's daily average profit of  0.347 percent per day has been generous for its long-term holders.
---
Bitcoin: A Store of Value Indeed
Bitcoin's (BTC) [coin_price] daily moving average since January 1st, 2011, is 0.347 percent in the positive. Clavestone, an institutional-grade Bitcoin key management company has come up with a tracker monitoring the cryptocurrency's daily change.
The positive daily change suggests that Bitcoin is, indeed, a reliable store of value. Moreover, despite 2018's bear run, Bitcoin has also turned out to be a rather profitable investment.
Bitcoinist reported earlier this year that Bitwise Asset Management analyst Matt Hougan thinks Bitcoin could be worth $40,000 as a store of value within the next decade.
Only the Second Year in Red
Despite bearish sentiment sweeping the cryptocurrency market in 2018, it turns out that this is only the second year in Bitcoin's history in the red since 2011. Though the year isn't over and there could be many surprises still in store.
The average daily change in 2018 has been negative 0.24 percent, the exact same value compared to that of 2014.
The best year for Bitcoin so far was 2013 when the cryptocurrency saw a compound annual change of 5.593.70 percent, or 1.12 percent average daily increase.
Another telling chart from Coin.Dance reveals that Bitcoin has gained upwards of 200,000 percent in value over the past 7 years.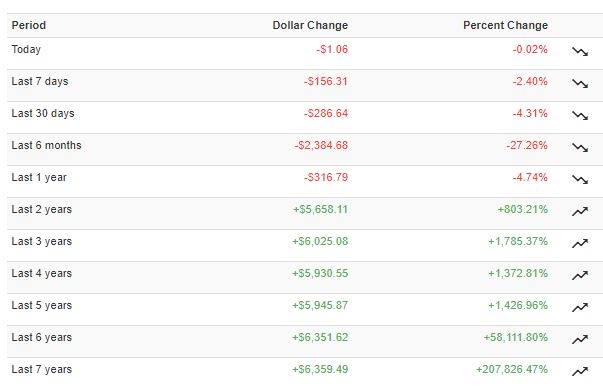 The last couple of months, however, haven't been so action-packed. In fact, at the beginning of October, Bitcoin's volatility dropped to its lowest level of the year — something which might indicate a maturing market.
Financial expert Bob Mason says:
After wild swings and rollercoaster rides, Bitcoin looks to have settled into a long-term relationship with its investors, who are not speculating their days away and appear to be in it for the long haul.
But despite Bitcoin's off-year, those who had bought it (and didn't sell) are likely sitting on a fortune. For example, If you had bought a hundred dollars worth of BTC in January 2011, the coins would be worth $2.1 million at today's price [coin_price], according to Clavestone's SoV calculator.
What do you think of Bitcoin's historic performance since 2011? Let us know in the comments section below!
---
Images and media courtesy of Coin.Dance, Twitter (@clavestone).