Bitcoin isn't even past $10,000 — let alone the latest all-time high of $20,000 — but analysts are already craving the crypto market's next parabolic bull rally.
While this rally has yet to arrive, a prominent cryptocurrency chartist has indicated that it's close. He pointed to a crucial and rare technical formation that marked the start of Bitcoin's last macro bull trend, which brought BTC from $200 to $20,000.
Bitcoin Is Printing the Same Signal That Preceded a 6,400% Rally
Depending on what chart you look at, today or within the next few days, Bitcoin will print what is known in technical analysis as a "golden cross."
Investopedia describes a golden cross as a "candlestick pattern that is a bullish signal in which a relatively short-term moving average crosses above a long-term moving average."
In BTC's case, the 50-day simple moving average will cross above the 200-day simple moving average for the second time this year.
This golden cross is bullish in and of itself: golden crosses, as I analyzed, have historically led to massive gains for Bitcoin.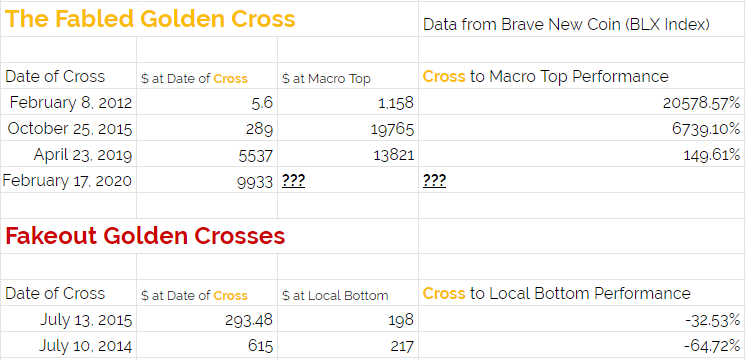 Yet the exact context the cross is taking place could signal even greater gains are in the works.
Analyst Nunya Bizniz recently shared the two charts below with the following comment, indicating that the last time Bitcoin's 50 and 200-day moving averages looked as they do now, the cryptocurrency rallied 6,400%:
"Bitcoin daily chart: for the first time during the 2015 lows, there was a golden cross, death cross, golden cross sequence that occurred all within the span of about 100 days. Price then rallied 6,400%. For the 2nd time at 2020 lows, this sequence has agains occurred within about 100 days."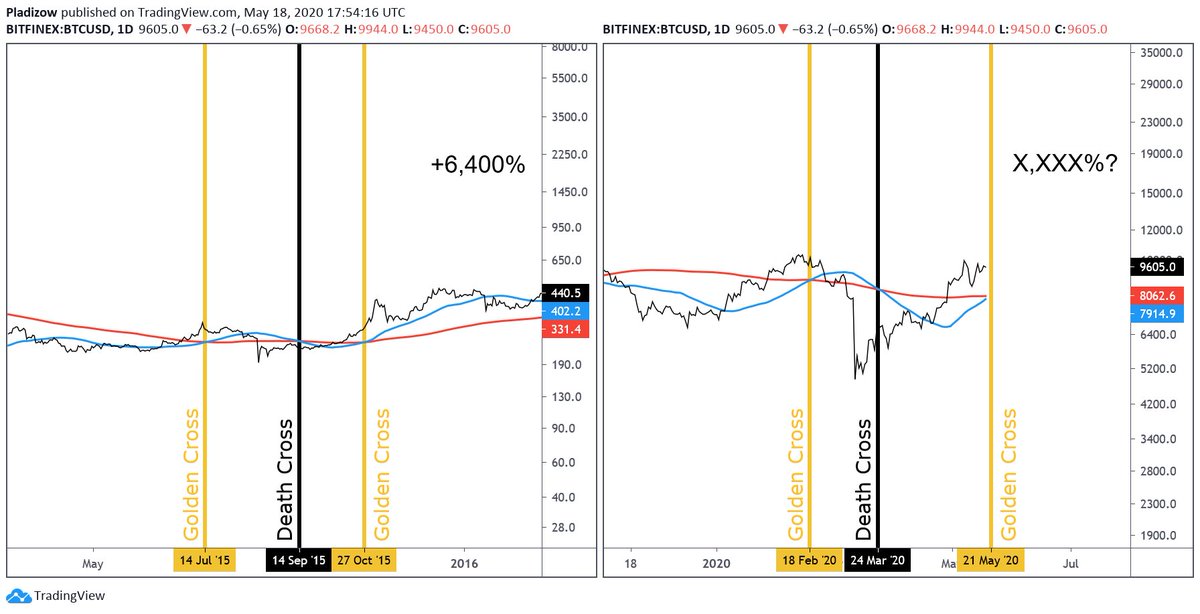 The Macro Environment Favors BTC's Growth
It isn't only this technical formation suggesting Bitcoin has another period of dramatic growth on its horizon.
Tuur Demeester — founding partner of Adamant Capital, a Bitcoin alpha hedge fund — recently shared that he thinks BTC is ready to rally towards the $50,000-100,000 range.
Such high prices may seem like a quixotic dream, sure, but according to the long-time industry analyst, a five-figure and six-figure BTC making more and more sense due to fundamentals.
Demeester specifically cited the ongoing macroeconomic environment as a way to back his prediction, zeroing in on the money printing by governments and central banks alike:
"I think a price target of like $50,000 is not insane at all, especially given just how crazy the money printing is. I would even say between $50,000-$100,000."
He added that right now, there's an ongoing "land grab" scenario in the Bitcoin market. That's to say, there are a handful of institutional players attempting to be the first to dip their toes in the cryptocurrency water — similar to how the earliest players in historical gold rushes made the most.
Photo by Jake Weirick on Unsplash