On-chain data shows Bitcoin realized losses still remain elevated, showing that the sell-side pressure hasn't exhausted yet.
High Amount Of Losses Are Currently Being Realized In Bitcoin Market
As per the latest weekly report from Glassnode, BTC realized losses have continued to be at high values recently, and seem to be climbing further up.
The "realized loss" is an indicator that shows the total amount of Bitcoin losses that were reaped by investors on a given day.
The metric measures so by checking what price each coin on the chain was bought at, and what price it was then moved (sold) at. If the latter is lesser, then the difference is recorded as a loss.
When the value of this indicator moves up, it means investors have started to sell more of their Bitcoin at a loss. Sustained elevated values may show that the market is uneasy right now as holders sell off in the red to cut their losses.
On the other hand, a downtrend in the metric suggests holders are slowing down on realizing their losses. This could be because of the price moving up, bringing more coins into profit. Or In bearish trends, this might be a sign of sell-side exhaustion in the BTC market.
Related Reading | Sotheby's To Accept Bitcoin, Ethereum, And USDC For Rare Black Diamond
Now, here is a chart that shows the trend in the BTC realized losses over the past couple of years: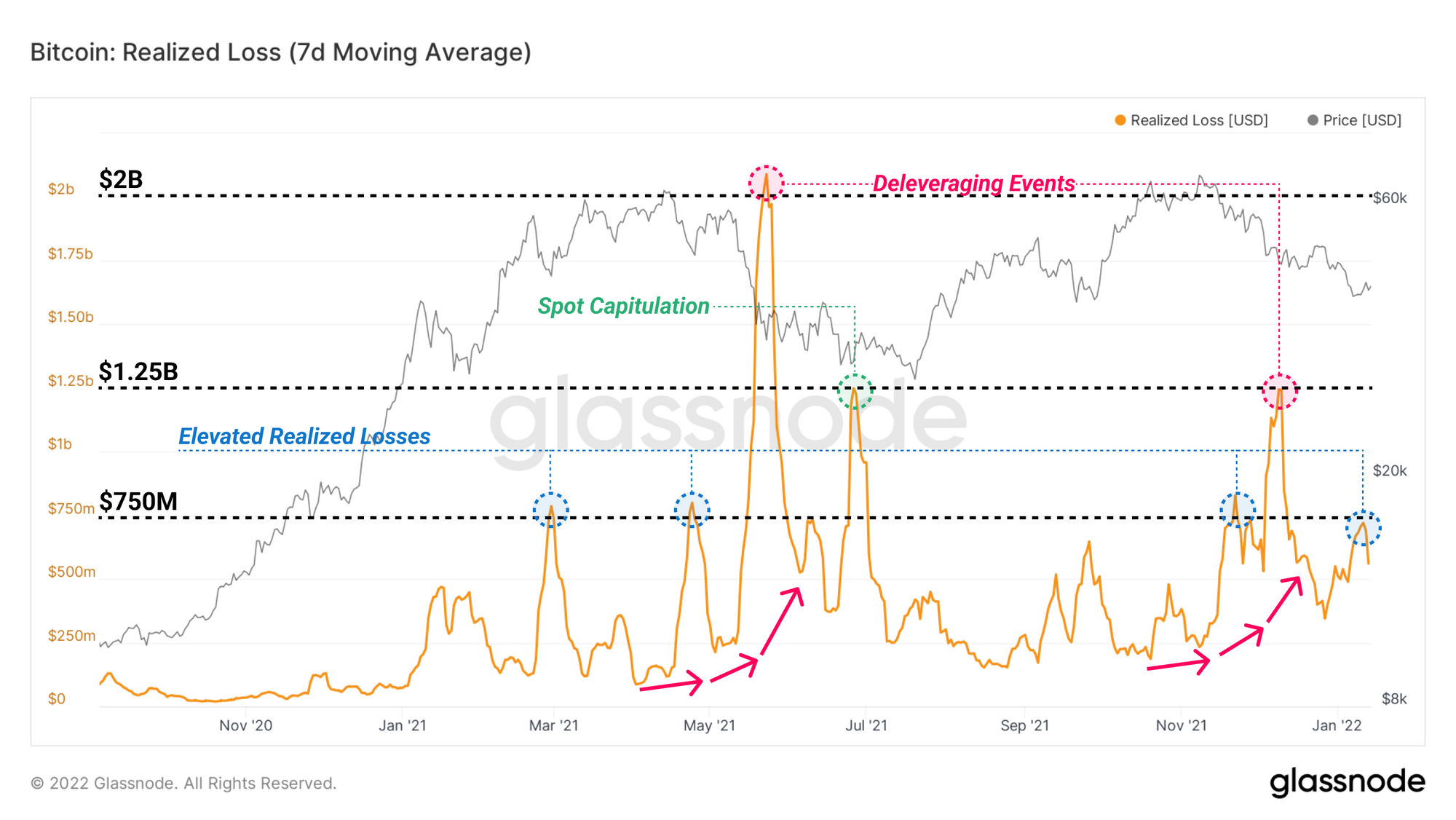 The value of the indicator seems to be trending up recently | Source: The Glassnode Week Onchain - Week 3, 2022
As you can see in the above graph, realized losses have been trending up since a couple of months now, and are currently at an elevated level.
Related Reading | Will Rio De Janeiro Hold 1% Of Its Reserves In Bitcoin? And, What's Rio Crypto?
These values are similar to the ones seen during the May-July sideways movement. This trend shows that investors aren't feeling hopeful about the current market and thus cutting their losses by pulling out here.
The report notes that Bitcoin bulls will have to provide enough demand support here in order to absorb this selling.
If bulls are able to do it and the realized losses start moving back down, then it may mean that the sell-side exhaustion could be setting in.
BTC Price
At the time of writing, Bitcoin's price floats around $41.8k, down 0.1% in the last seven days. Over the past month, the crypto has dropped 9% in value.
The below chart shows the trend in the price of BTC over the last five days.
BTC's price has once again dropped down in the last few days | Source: BTCUSD on TradingView
Featured image from Unsplash.com, charts from TradingView.com, Glassnode.com