Bitcoin Store Starter is an interesting company that I stumbled upon over at BitcoinTalk. It's availability and the software being entirely free will make it appealing to people wanting to start a online commerce store that accepts Bitcoin. I spoke with Aaron Farias, the CEO of Bitcoin Store Starter who is responsible for development and marketing.
What does Bitcoin Store Starter offer?
Bitcoin Store Starter is a custom software solution combining the features of WordPress, the simplicity of the WooCommerce order system, Blockchain.info's api to validate orders, and offers it to users as a free script download, or a hosted solution.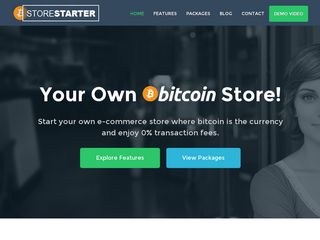 What are some of the highlights that people will enjoy if they decide to use your service?
The great thing about BSS is that you will not have to sign up with any third party bitcoin services, or API's to get the script to work. It's as easy as typing in your address and adding products. Our script will use blockchain.info's public API to track confirmations on all payments, to notify you when a order is received/paid for.
How do interested users know that there isn't some backdoor or virus in your script?
Our script is now free to download and open source, the bitcoin custom plugin is in 2 files so it is easy to check yourself.
What payment processor do you use to make accepting Bitcoin possible?
BSS is built upon the WooCommerce order system, which allows it to be compatible with 1000's of free and paid plugins and themes. Making it easy to customize your store to your needs.
Are there any examples of your script working in action?
To date, we have 27 downloads of the package, and 3 users have had us host their site. I would have to request permission before disclosing those sites.
Why did you create Bitcoin Store Starter?
Bitcoin is currency, yet I am still amazed at how difficult it is to sell products with it. Sure there are third parties you can use for a fee, like coinbase etc. But my intentions were to create something where you do not need a third party account to process orders, thus presenting a fee-less solution. The reason I got started with bitcoin in the first place.
What can we expect in the future from Bitcoin Store Starter?
The future of BSS will include some more security improvements. Ability to adjust the Bitcoin exchange rate a desired percentage. Also the addition of litecoin, dogecoin, and Neosporin with our next update. Although now that the script is free, our developers our volunteers so I do not have an exact date on the updates.
Visit the following links for more information:
BitcoinStoreStarters BTT thread
Are you interested in Bitcoin Store Starter? Previous users, feel free to post below about your experiences!