After thus far finding more talk about blockchain than actual products, I needed to up my game. What's more, on Sunday, Ledger had announced the Nano X, whilst I was clearly at a different party. My plan was to head to their booth first…
---
Distributing Ledger's Technologies
Ledger had already announced that they would be at CES, so we had an idea they might launch a new hardware wallet. We hadn't realized that it would be behind closed doors… and on the Sunday before the show proper had begun.
The show guide had clear maps and an index of exhibitors, and the Ledger website had a schedule of product demonstration times. I chose the one labeled 'press only', which CEO Eric Larchevêque was presenting.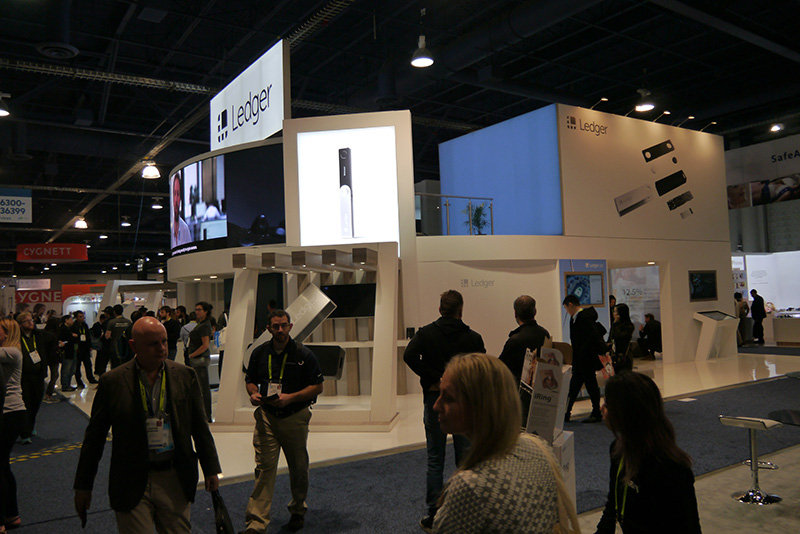 The Ledger booth was really quite impressive. Obviously, not compared to electronics giants like LG, or the big car manufacturers, but much bigger than last year… at least, according to Larchevêque. He went through a quick demonstration of the Nano X, then was kind enough to give Bitcoinist a prototype model, so expect a full review soon.
Digital Money Marketplace
Along with the 'Digital Money' conference strand, the show had a number of marketplaces, where certain technologies were grouped together. After my success at the Ledger booth, I decided to try the 'Digital Money' marketplace.
Now, again, the digital money marketplace was never going to compare with the likes of 'Smart Home', 'Fitness', or even '3D Printing', but even then it was a little underwhelming.
Yeah, that's eight booths… and you'll notice one of them is empty, and the one next to that isn't really crypto related. Six of the smallest-sized booths and the larger map is just one of many many rooms, spread across three locations around the city.
So what did I find? A Bitcoin ATM that also doubles as a normal ATM. The world's first apparently. But I'm sure I've written about something similar before. The world's fastest blockchain for business, Devvio. A blockchain platform based on Proof of Maintenance, crypto-lender and…
Hardware Wallets
A trio of hardware wallets launched by SecuX. Dammit, I was meant to visit Archos!
The SecuX wallets all featured vault-grade protection, multi-currency support, and large color screens. Two also had Bluetooth connectivity and embedded Li-polymer batteries to provide power for this.
But where was Archos? Not listed in the directory, that's for sure. I aimed for the French section in the Eureka Park, another area with loose gatherings of companies under spurious banners. I struck luck.
The Archos Safe-T touch is another Bluetooth-enabled device, with an even bigger screen. It runs a cut down version of Android, although there is also an isolated area, purely for transactions. Unfortunately, they didn't have a review model, so that will have to wait.
As I wandered around the Eureka Park I continued to find small blockchain related companies who had traveled with a delegation from Ukraine or Switzerland, or grouped by a certain theme.
By far the thing I saw most was hardware wallets.
You Already Have A Hardware Wallet
One of the speakers I had seen during the conference sessions, was Steven Sprague, CEO of Rivetz. He previously spent many years at Wave Systems working on trusted computing technology. Because of this, every PC built since 2006/7 has had a trusted secure enclave, just like a hardware wallet. Also, every smartphone since 2014 has had the same thing.
I managed to catch a few minutes with Steven, and he very animatedly explained that all that was required was for the software to enable this secure portion. We already use our phone as a trusted device, so with the unlocking of the secure enclave, we could also use it to securely identify ourselves, either for cryptocurrency wallets, or anything else.
To be continued…
---
Images courtesy of Shutterstock