COBINHOOD, a zero-fee cryptocurrency exchange platform has launched a new feature that allows users to trade cryptocurrency/USD trading pairs. The move is in keeping with the platform's aim to claim a much more significant stake in the emerging virtual currency exchange market.
---
Cryptocurrency/Fiat Trading on Cobinhood
Based on the new feature, users will be able to trade USD in exchange for virtual coins and vice versa. Before the announcement, COBINHOOD only dealt in crypto/crypto trading pairs due to the regulatory and compliance requirements of fiat deposits/withdrawals. According to the company, deposits in USD will be accepted on the platform beginning July 20, 2018.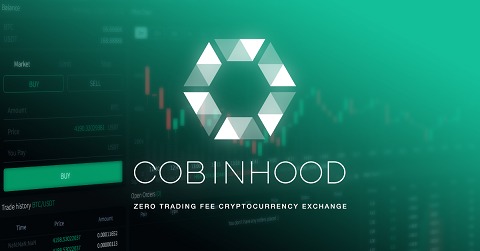 As part of ongoing efforts to make the plan a reality, the company has been working to ensure that it remains in compliance with laid-down statutes. COBINHOOD has been developing robust know-your-customer (KYC) protocols. In fact, the company reportedly meets the KYC Level 3 grade which allows it operate in even the strictest financial jurisdictions worldwide.
Of particular importance to any exchange platform offering fiat trading is a reliable payments partner. COBINHOOD has secured an agreement with Epay to provide a seamless payment interface for its operations. The company also recently unveiled plans to create a decentralized exchange platform.
Cryptocurrency Prices will Increase in 2019
This announcement comes at a time when the cryptocurrency market is experiencing a severe bearish trend. Prices have been in decline since the start of the year, and many coins have lost much of their late 2017 highs.
Commenting on the present situation vis-à-vis the move to launch fiat trading, COBINHOOD founder, Popo Chen, said:
In several instances, the market is not reflecting tremendous progress being made at cryptocurrencies worldwide. Traders know there are opportunities abound for value, so it's a very synergistic time to debut fiat trading on the COBINHOOD platform.

There's no doubt in my mind that many value investors were waiting on the sidelines until prices rationalized, and so the near term promises to be an exciting time for exchanges that can offer the liquidity fiat options provide.
Experts believe that the entry of institutional investors into the market will initiate another bull run causing prices to skyrocket. The emergence of cryptocurrency ETFs, secure custodial tools, and the firming up of virtual currency regulations might form considerable incentives to get the big money players into the scene.
What do you think about the new cryptocurrency/fiat trading feature of COBINHOOD? Keep the conversation going in the comment section below.
---
Image courtesy of COBINHOOD, Pexels