The markets have shown declines across the board this morning, possibly due to a sell-off during the Asian trading session following government regulation in South Korea. Bitcoin and all of its brethren slid overnight by an average of around 12%, and only Ripple seems to have survived.
---
News can be a big influence on the nascent cryptocurrency market, as can social media, such as Reddit, Facebook, and Twitter. One such crypto aficionado who has taken to social media in recent weeks to air his views is outspoken British-American computer programmer and businessman John McAfee.
Hodl or Die
In an article on MarketWatch, Bitcoin bull McAfee remained confident and told those holding the digital currency to keep doing so, despite it shedding 40% off its record high in the past two weeks. McAfee, who founded the self-named anti-virus company in 1987, took to Twitter, where he has been spending a lot of time lately, and posted:
For you who are long term investors like myself: (those who always make the most returns), BITCOIN is still the crypto giant. It is at a low price, and will never be cheaper. It will be ten times this price in 2018. Remember – it has the lowest circulating supply of any coin.
Known his for candid comments, McAfee stated at the end of November that he would eat his own manhood if a Bitcoin was not worth a million dollars by 2020. He has since become quite a character in the crypto sphere.
Hacked Off
In an ironic twist, the former cyber security chief found himself at the wrong end of the digital divide today when his Twitter account was hacked. McAfee has been using the account to post daily altcoin recommendations, which have largely resulted in somewhat predictable pumps and dumps. Critics have labelled this as market manipulation, but in an unregulated market such as crypto, anything goes. McAfee recently changed the daily coin recommendation to a weekly occurrence.
The hackers had started to post their own coin recommendations using McAfee's account, which had over half a million followers at the time. Coins pumped during the incursion were BAT, NXT, and Siacoin.
He replied with the following post after users started posting screenshots onto social media:
Urgent: My account was hacked. Twitter has been notified. The coin of the day tweet was not me. As you all know… I am not doing a coin of the day anymore!!!!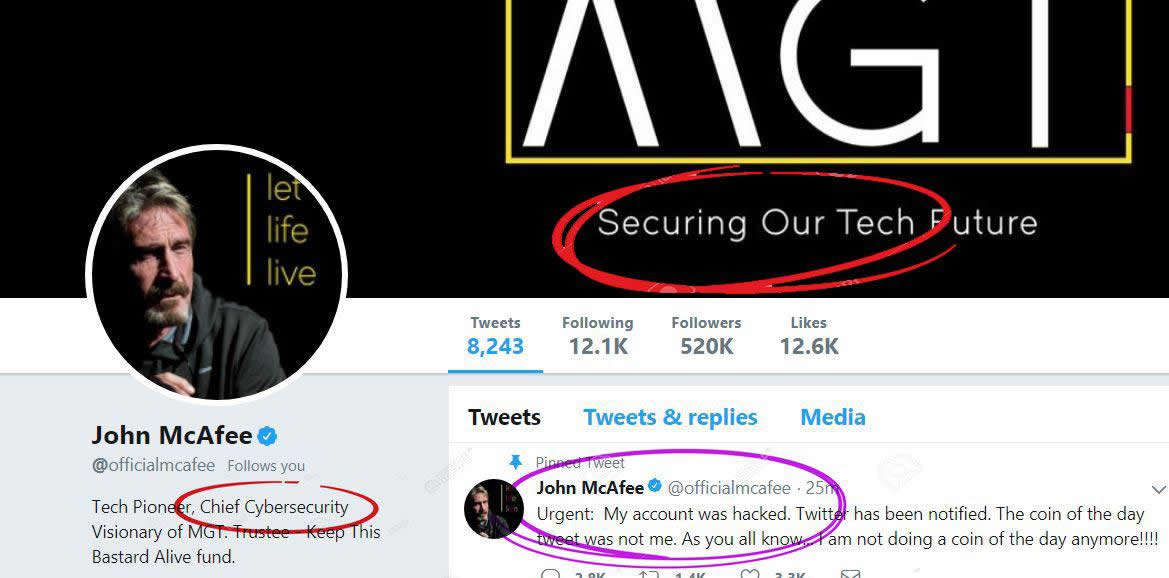 In an attempt to extricate himself from the digital abyss, McAfee did post the following:
Though I am a security expert, I have no control over Twitter's security. I have haters. I am a target. People make fake accounts, fake screenshots, fake claims. I am a target for hackers who lost money and blame me. Please take responsibility for yourselves. Adults only please.
What the hack does is highlight the nature of things in crypto land. It will hopefully serve as a warning that nobody, not even the ex-boss of a cyber security firm, is immune. Take care of your coins!
What are your thoughts on John McAfee: crypto legend or market manipulator? Share your thoughts in the comments below.
---
Images courtesy of Twitter/@officialmcafee and Wikimedia Commons.