It's been an extremely explosive past few weeks for Ethereum.
The second-largest cryptocurrency is up more than 170% from the March lows of ~$88. This is a performance that has allowed it to outperform basically any other investable/public asset worth $10 billion or more, even Bitcoin.
One analyst says that this price action is a precursor to a parabolic rally to new heights for Ethereum, but there are signs that this won't take place.
Related Reading: Crypto Market Is Securing the Technical Level That Marked Bitcoin's 2019 High 
Ethereum Won't Follow Bullish Bitcoin Fractal, At Least Not For Now
A prominent analyst recently shared the chart below, showing that Ethereum's price action since the 2018 highs looks almost identical to Bitcoin's price action in 2014 and 2015, prior to the explosive rally to $20,000.
"If you don't see an accumulation, we can't be friends," he remarked in reference to the chart below.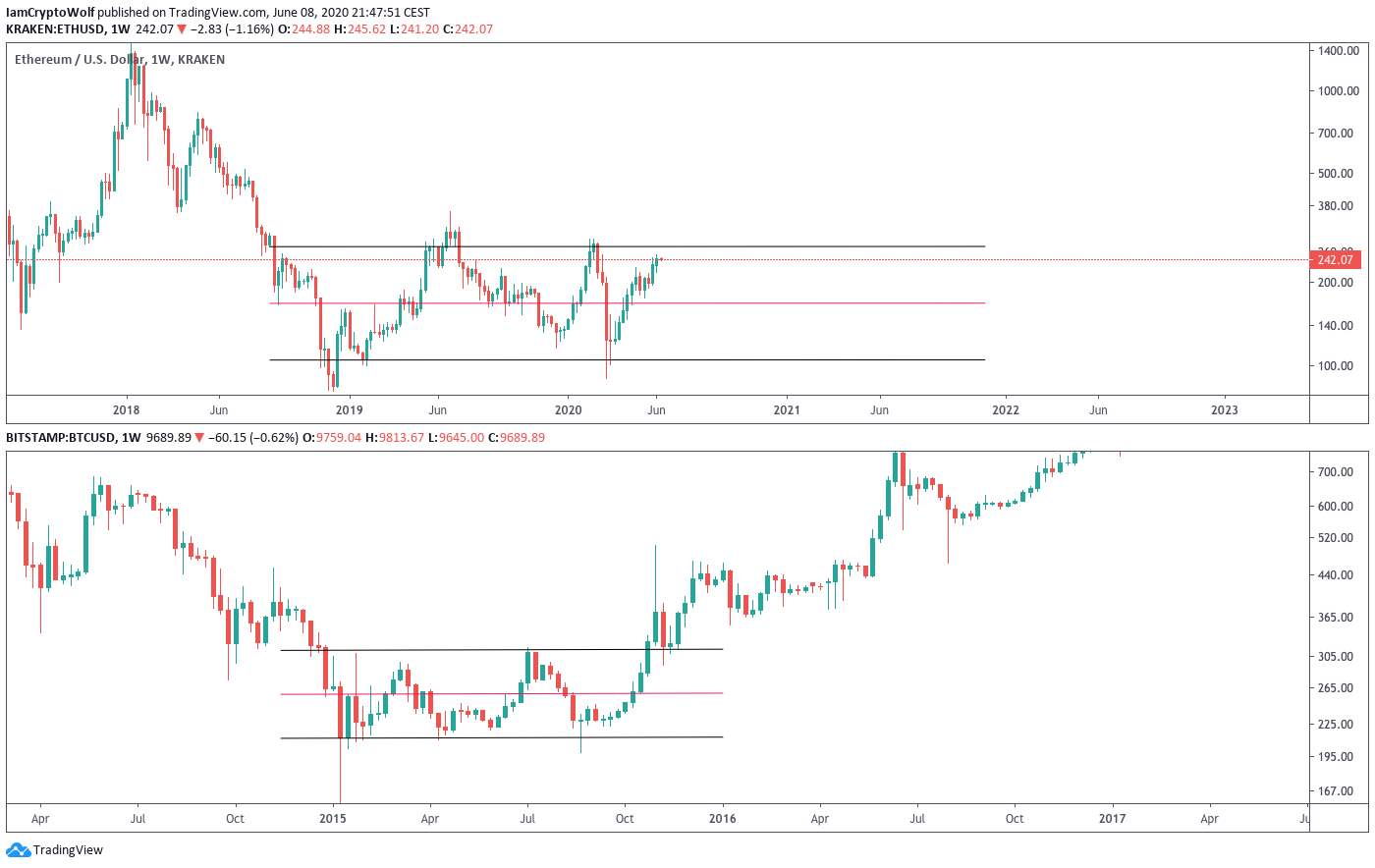 Both periods contain a parabolic rally flipping into a full retracement, then two rallies that are rejected around the same resistance level.
The fractal predicts that Ethereum will decisively break past $270 in the coming weeks, then embark on an explosive move to a new all-time high over the coming years.
Unfortunately for ETH bulls, though, the fractal may soon fail. 
A pseudonymous trader noted that investors in the asset shouldn't "cry when the storm hits," referencing his sentiment that Ethereum is on the verge of falling lower.
He attributed his sentiment to two key signs on the weekly chart: 1) the TD Sequential indicator is currently on a "9" candle, most often seen at trend reversals; and 2) ETH was recently rejected at a crucial downtrend that has marked rally highs since 2019.
DeFi Growth Could Peter Out
Adding to the Ethereum bear case, a top commentator currently sees that blockchain's killer use case in decentralized finance petering out.
Multicoin Capital managing partner Kyle Samani explained last week that DeFi is "facing some real challenges" that will prevent its growth, and thus, may stem some of Ethereum's adoption as well.
Samani explained that due to the 14 second block times, there are "latency" issues that plague Ethereum and its decentralized finance applications:
"You just can't build global scale trading systems for lots of users on POW chains. It just doesn't work. High latency –> all kinds of negative second order effects. So I think for now we are near a plateau for DeFi – measured in ETH terms (not USD) – until the core latency problems are solved."
This comment was seemingly made in reference to the fact that for certain financial functions, the time it takes for a transaction to process can mean large amounts of money is lost compared to using a centralized system.
Analysts have remarked that DeFi will be one of Ethereum's biggest growth catalysts moving forward. DeFi as an industry slowing down could hurt the asset.
Featured Image from Shutterstock
Price tags: ethusd
Ethereum Looks Like BTC Did Before the $20k Rally: Here's Why It Won't Play Out