Although Bitcoin, Ethereum, and other top cryptocurrencies have surged over the past two months, not all blockchain projects are faring well.
One altcoin, once one of the most popular on Crypto Twitter, was just branded "dead" by a top developer in the space. This comes just two years after the project had a $400 million market capitalization at the peak of 2018's bull market.
Ethereum-Based "Loom Network" Bites the Dust
You might not have heard of it but the market capitalization of the native cryptocurrency of Loom Network, LOOM, had a more than $400 million market capitalization in early-2018.
Yet, the cryptocurrency today has a market cap of less than $16 million, more than a 95% drop from the all-time high.
This stark drop comes as the project has been deemed "dead," with Ethereum developer Bruno Skvorc publishing the below tweet on May 8th.
Rip $loom

– telegram shut down
– reddit dead
– blogs silent
– core team gone

I'd call it an exit scam if there was anything left to exit with.

— Bruno Skvorc (@bitfalls) May 8, 2020
From Bitcoinist's cursory glance of Loom Network's social media channels, this is seemingly the case. The Twitter account of the startup has not posted a tweet in approximately 20 days while the Telegram channel is rife with messages indicating that "this channel is closed."
Ethereum-centric fund Stake Capital echoed this in March, writing that the "project is dead," noting that the "CEO, CTO and almost all key people have left Loom."
The project promised to be a Platform as a Service startup focused on helping developers build and launch scalable decentralized applications, with it largely involving the Ethereum project over its lifetime. Loom's premise was to allow Ethereum-based applications to run on side chains or other chains, according to Paradigm, and LOOM is also an Ethereum-based token.
Bitcoin's the Only Game in Town
Although Loom Network is one of the only projects to have reportedly "died" recently, its collapse highlights a broader trend in crypto: Bitcoin is currently the only game in town.
As a prominent trader noted, the past week has seen a "marked decoupling between Bitcoin and altcoins." This relative outperformance, he explained, is a sign that fiat "pours into it and participants cycle out" of altcoins like Ethereum for BTC.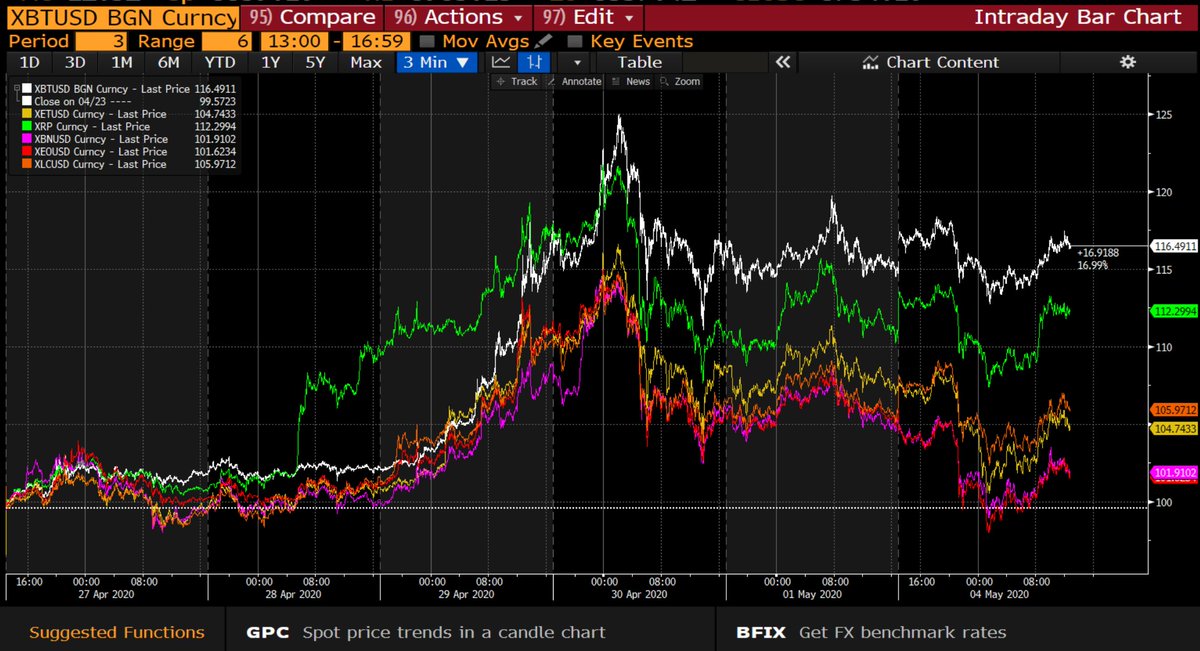 This trend of altcoins underperforming is unlikely to change, especially as prominent investors like Paul Tudor Jones shill Bitcoin, and BTC only, while the on-chain metrics of other coins flip bearish.
Also, investors are largely disillusioned with the allure of a majority of altcoin projects, which, in 2017 and 2018, made optimistic promises that most have yet to fulfill.
As the head of technical analysis at crypto research firm Blockfyre wrote:
"The reason the alt pumps are unconvincing is because they have followed the same patterns. IEO's, Interoperability, privacy coins moving together. It's coordinated as it has been the last 3 years instead of all ships rising together."
Touching on the technicals, the same analyst noted that Bitcoin dominance — the percentage of the cryptocurrency market made up of BTC — is printing signs it wants to head higher:
"A potentially very painful situation developing if dominance breaks out towards the next resistance. Each 1% rise in BTC.D roughly equates to a 6-12% drop against the BTC pairings for altcoins. Hard to imagine that no matter what BTC does that alts dont see a lot of pain," he wrote in reference to the chart below.
Photo by Ian Simmonds on Unsplash