Over the last 10 days Ethereum (ETH) has seen a sharp pull-back. The $180 support appears to be holding for now but with large selling pressure entering the market further downside is looking likely. 
---
ETH/USD 4-Hour Analysis

On the 4 hour chart for ETH/USD, we can see the correction taking place over the last 4 weeks stemming from the break-down at $290. The market price is now sandwiched between two strong support levels at $190 and $170. The previous consolidation in the form of an asymmetrical triangle almost ended the correction attempting to break above the 200 EMA at $235 before getting rejected. Ethereum price levels have since formed another visible downtrend.
A visibly large amount of selling volume occurred on the 14th of August, resulting in price levels dropping through $200 support. However, for such a large volume spike, there really wasn't a lot of momentum gathering from the bears during this short drop. This indicates that bearish momentum is fizzling out as price action trades between two key support levels.
The last main support level is the 0.236 Fibonacci level at $145. It would likely be unwise to look for long entries if this level breaks.
1-Hour Analysis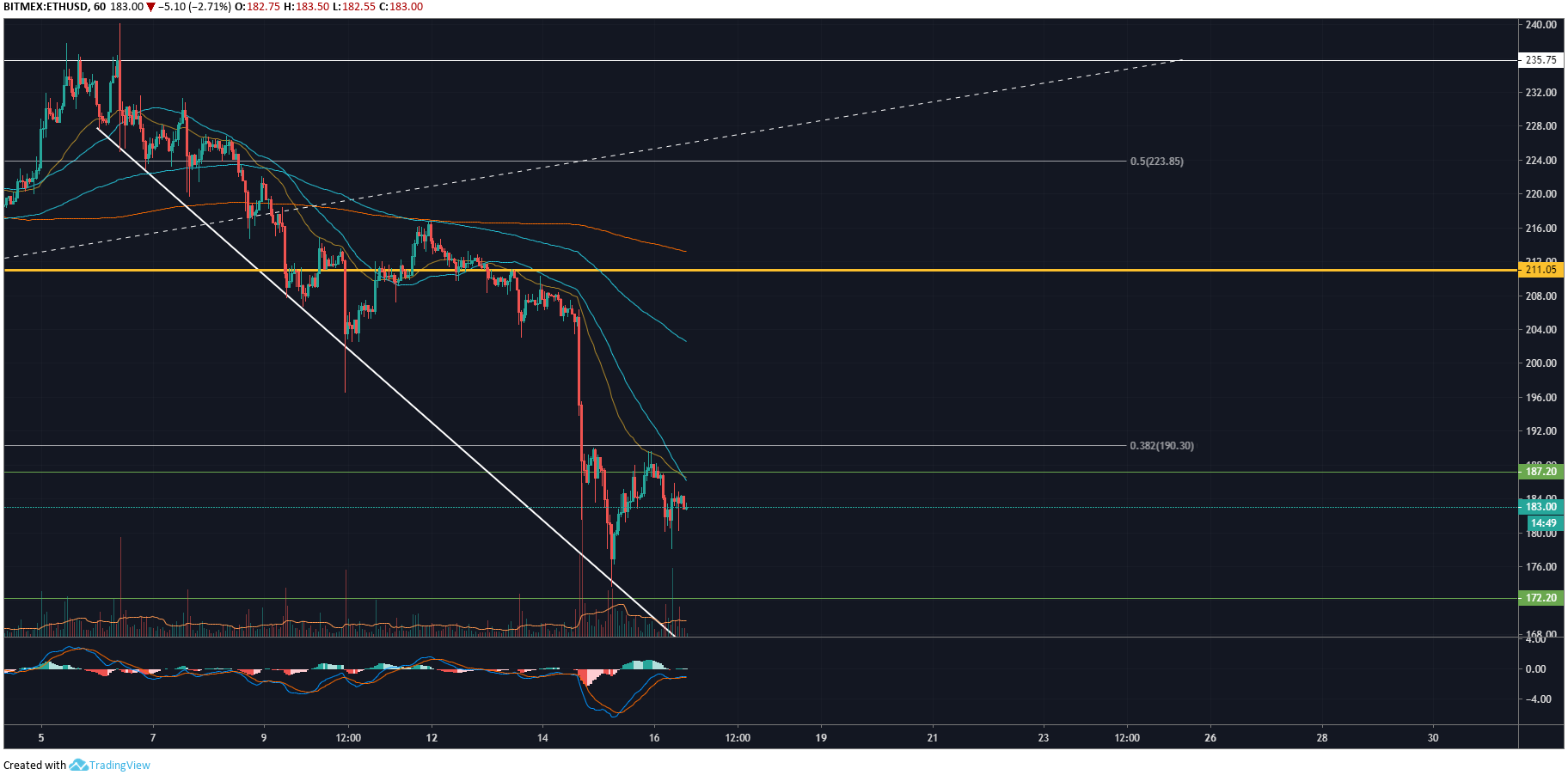 On the 1 hour chart for ETH/USD, we can see the smaller downtrend that has formed since the short rally to $235. Price levels have now created a lower low on this correction as mentioned in my previous analysis. Buying pressure appears to be entering the market around the current market price of $180. However, it does not appear to be the required influx of buying volume needed to spur a short-term reversal.
The MACD has dropped significantly in the last 24 hours in conjunction with the sell off, sendingEthereum price levels crashing below $200 support. Since then, MACD has almost regained the median of 0.00 indicating a relief from bearish pressure as price levels trade between to key support levels. This is a strong indication that ETH will now enter another period of short-term consolidation, likely forming another triangle pattern and trading sideways over the coming days.
A key support that ETH must stay above in order to gain any chance of breaking upwards during the period of consolidation is $170. The key resistance level that needs to be passed in order to confirm a bullish reversal is $196. Price levels must breach and close above this point.
Do you think BTC will break upwards, or drop below $170 support over the coming days? Please leave your thoughts in the comments below!
This article is strictly for educational purposes and should not be construed as financial advice.

---
Images via Shutterstock, ETH/USD charts by Tradingview