It's been an explosive past 24 hours for the Bitcoin market. The leading cryptocurrency traded as high as $10,429 on Monday, surging higher as dozens of millions worth of short positions were liquidated on BitMEX.
Prices have since retraced since the start of this move. BTC trades at $10,100 as of the time of this article's writing.
Futures funding rates are now multi-month highs, showing that longs are potentially becoming overleveraged. Analyst Joseph Young explained:
"Bitcoin and Ethereum funding rate on BitMEX perp futures are 0.16% and 0.19%. Normally, bitcoin funding rate is at around 0.01%. Longs are the overwhelming majority in this ongoing run."
Still, analysts are calling for even more upside despite the derivatives warnings.
Bitcoin Primed to See Even More Upside
Bitcoin's latest breakout brought the cryptocurrency above some notable levels.
Mohit Sorout, a partner at crypto fund Bitazu Capital, shared the chart below to illustrate this point.
In breaking past $10,000, the cryptocurrency has broken above a textbook symmetrical triangle in a "volume-backed breakout."
Symmetrical triangles are common chart patterns marked by tightening price action in both directions, then an eventual volume-backed breakout that decides in what direction an asset will trend next.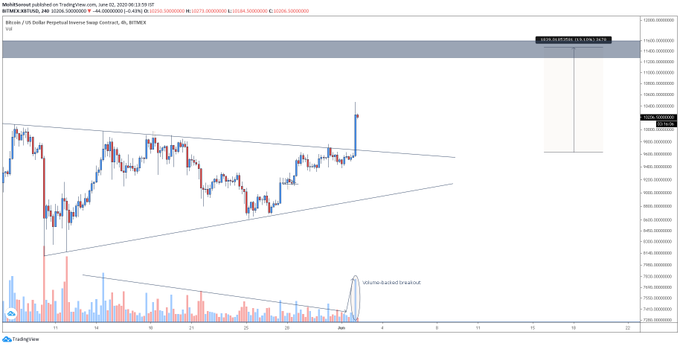 In Bitcoin's case, bulls are in control, with the asset breaking above the triangle as aforementioned in a win for bulls.
According to Sorout's analysis, this breakout "suggests a measured move until $11,500."
Others have shared in the optimism, with a select few sharing even more cheery sentiment than $11,500.
As reported by Bitcoinist previously, the chief executive of Real Vision, Raoul Pal suggested that the breakout that transpired on Monday was the "biggest chart pattern break out" in BTC's history.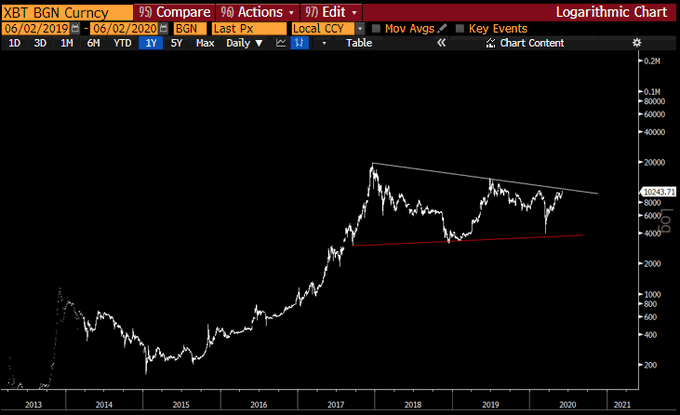 While it isn't clear above, the chart shows that Bitcoin has broken above the downtrend that formed at the $20,000 all-time high.
$100,000 in two years is the prediction based on this chart, the former head of Goldman Sachs' hedge fund sales division wrote in an April newsletter.
The Fundamentals Are There
The fundamentals back the expectations of even more upside for the cryptocurrency markets.
Financial analyst and author Preston Pysh recently identified three such fundamental factors suggestive of a further rally in the Bitcoin market. They are as follows:
Through Grayscale's Bitcoin Trust, institutional players have been accumulating a vast amount of Bitcoin since the halving and even prior to that. Data suggests Grayscale's clients alone have a 50% lead on the inflation of the BTC monetary base.
The Chinese yuan has tumbled against the U.S. dollar due to Hong Kong tensions. BTC may act as a safe haven in this scenario, some have postulated .
The U.S. dollar may be reaching a point where it will "break" due to macro trends, which would force the creation of a new financial system.
Featured Image from Shutterstock 
Tags: btcusd, xbtusd, btcusdt