It's been an explosive past few days for Bitcoin.
After tanking as low as $8,600 on the weekend before last, the cryptocurrency breached $10,000 just hours ago. On Bitstamp, BTC traded as high as $10,429, according to TradingView.com data.
While the asset remains below the yearly highs of $10,500, a prominent analyst noted that this rally has formed Bitcoin's largest breakout ever. This suggests that the crypto market is heading much higher than it is in the long run.
Bitcoin Sees Massive Breakout, Setting Stage for Macro Rally
Chief executive of Real Vision Raoul Pal shared the below chart in the wake of Bitcoin breaking past $10,000, attaching the comment:
"Here it is on a log scale… this is the biggest chart pattern break out thus far…"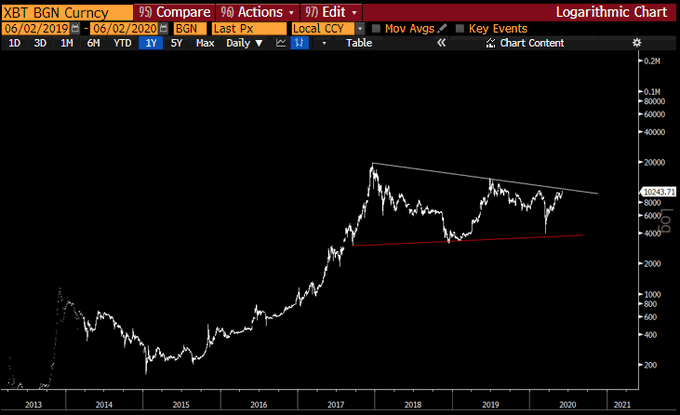 The chart depicts that Bitcoin is now trading above the downtrend that formed at the $20,000 all-time high. The technical downtrend marked the $14,000 2019 high, along with the $10,500 high seen earlier this year.
Pal did not explain the significance of this technical breakout during this thread, but he has in a recent research note.
In the April newsletter from his macroeconomic analysis firm Global Macro Investor obtained by NewsBTC, he wrote that "I think it hits $100,000 in the next two years alone" in reference to a chart almost identical to the one above. The only difference was that when he shared the chart, it had not broken past the resistance.
Not the Only Reason Why Raoul Pal Is Bullish
Bitcoin's crucial technical breakout isn't the only reason why the former Goldman Sachs executive is bullish on the cryptocurrency.
Pal remarked in a Twitter thread published in early May that the confluence of record-level fiscal and monetary stimulus, coupled with the Bitcoin halving, is setting BTC up for success in the long run:
"This is confirmed by stock to flow models by PlanB and the breakout has happened almost exact at The Halvening. Add to that HUGE the ENTIRE worlds central banks are […] printing money like CRAZY. quantitative easing fiat meets the hardest money that automatically quantitatively tightens."
This led him to the conclusion that Bitcoin currently has one of the "best set ups in any asset class I've ever witnessed…technical, fundamental, flow of funds and plumbing."
Where Could Bitcoin End Up?
While he has floated the $100,000 price target, the investor has mentioned a $10 trillion market capitalization in the past.
Speaking to Max Keiser, Pal said that Bitcoin could eventually rival the market capitalization of gold, which sits around $9 trillion:
"If it becomes an ecosystem, and we believe it will be and it will take the whole ecosystem with it as well, then yes, I think a $10 trillion number is easily achievable within that process."
For context, a $10 trillion market capitalization corresponds with more than $500,000 per coin.
Featured Image from Shutterstock