Bitcoin has pressed much higher over recent days.
After trading as low as $10,400 last week, the coin has surged as high as $11,500 around 36 hours ago.
As of this article's writing, BTC trades for $11,350, far above the aforementioned lows.
Analysts think that Bitcoin will slink lower in the coming days as it faces down a CME futures gap.
Most CME Bitcoin futures gaps close within the week they open.
Bitcoin Could Soon Move Lower
Bitcoin has moved decisively higher over recent days, pushing from $10,400 to recent highs near $11,500. Not everyone is convinced that the cryptocurrency is poised to explode higher from here, though.
The head of technical analysis at Blockfyre recently shared the chart seen below. Blockfyre is a notable crypto research firm.
The chart indicates that Bitcoin may soon retrace towards the low-$11,000s because that's where there is a CME futures gap. Because CME products don't trade on weekends, if Bitcoin undergoes volatility on the weekend on spot markets, a gap forms between the price action on Friday and Sunday evening. 75% of Bitcoin futures gaps fill within the week that they are opened.
Commenting on the likelihood that Bitcoin moves a few percent lower to retest that level, the analyst said:
"Have placed some bids around the CME gap at 11,110 Hoping they fill for the weekly close or early Monday. High probability that we do so could be an easy trade (I hope)."
Chart of BTC's price action over the past few weeks with analysis by crypto trader Pentoshi (@Pentosh1 on Twitter). Chart from TradingView.com
It's important that if Bitcoin moves down to the gap around $11,100 that if holds that level, analysts say.
Referencing the chart seen below, one trader said that it's absolutely "critical" that Bitcoin holds the $11,100 region:
"Speed, power and momentum. Eyes on the upper range at a $11,800's if we can continue with this momentum through the weekend, but right now market is showing a good amount of strength! Bullish. In terms of support, $11,100 is super critical to maintain."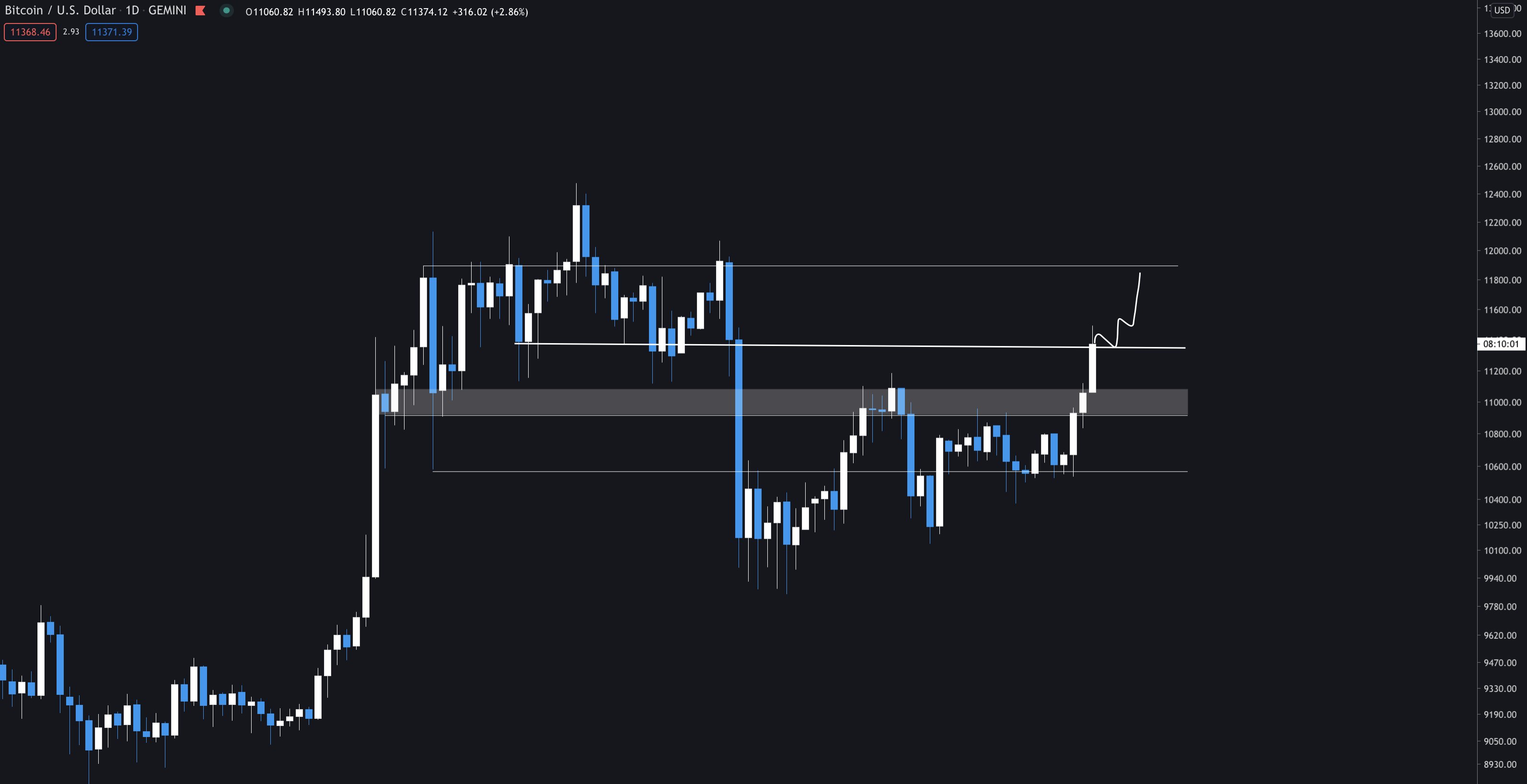 Chart of BTC's price action since the middle of July with analysis by crypto trader Cactus (@TheCryptoCactus on Twitter).
Chart from TradingView.com
Analysts are fortunate that the crypto-asset will do so. One trader noted that looking at the technicals of the ongoing trend, it seems as this may be the rally that takes the cryptocurrency to new highs.
Featured Image from Shutterstock 
Price tags: xbtusd, btcusd, btcusdt
Charts from TradingView.com
Here's Why Bitcoin Could Soon Move Back Towards $11,000