JPMorgan's chairman of investment strategy, Michael Cembalest, is wary of bitcoin and other cryptocurrencies. The JPMorgan strategist stated in a column published Feb. 3 that his comments were his own and not those of JPMorgan Chase.
JPMorgan Strategist Raises Issues With Crypto Market
While much of the United States recovers from last week's terrible winter storm, the ice around digital currencies looks to be melting. Bitcoin BTCUSD, +2.43% fell all the way below $34,000 in January, stoking fears of a crypto winter, but has since risen to above $42,000 this morning. Shiba Inu, a meme coin, is up roughly 25% to $0.000027.
The analyst have raised some issues relating to bitcoin and other cryptocurrencies.
First, there's the question of whether bitcoin is a safe haven for money. According to Cembalest, a digital store of value may exist.
Bitcoin, on the other hand, fails to meet two of his criteria: volatility settling into a range consistent with store of value investing, and value growing or being stable when systemic risks and/or inflation rise.
Cembalest said:
"Bitcoin's volatility continues to be ridiculously high, and its volatility often rises when equity market volatility is rising too. This volatility could be the byproduct of bitcoin concentration: 2% of bitcoin holders own 72% of its value."
Another source of volatility for crypto currencies is pump-and-dump maneuvers, he said. "Such schemes and other activities that would be prohibited in regular securities markets are by definition not illegal on decentralized blockchains."
Secondly, the strategist compared bitcoin to hydrogen projects and green energy, asking really, what will the scale of bitcoin be ultimately.
"Which companies will actually make money and how many will go to zero? Are some valuations way ahead of themselves, setting investors up for disappointment?" he said.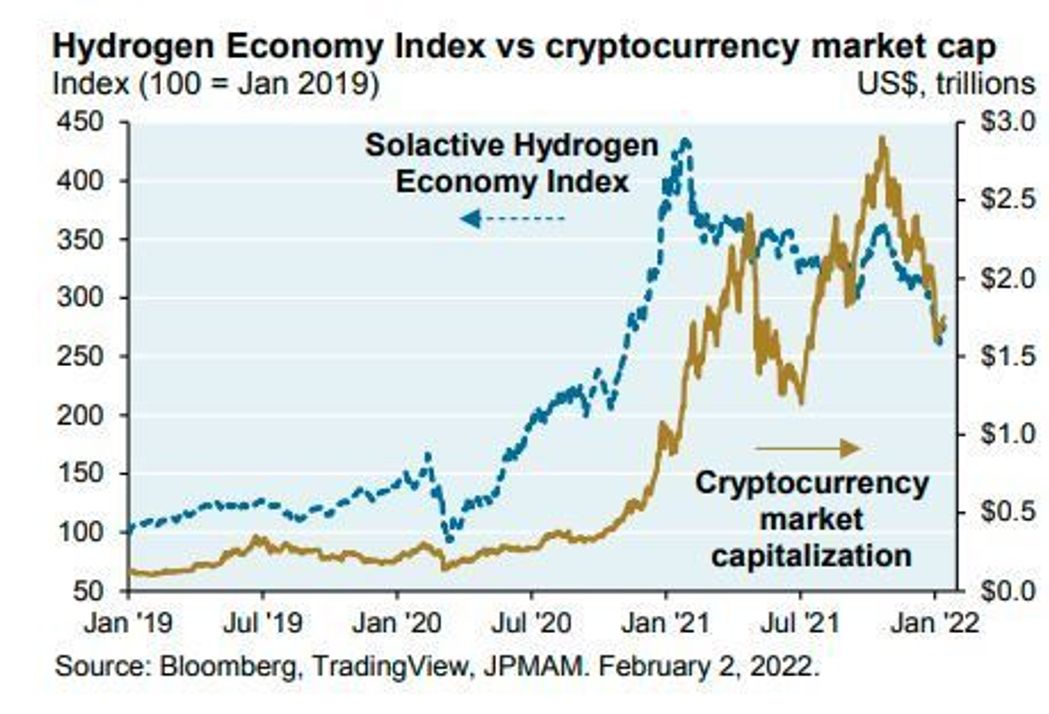 crypto market cap x hydrogen economy index. Source: Bloomberg
Cembalest stated that he does not believe bitcoin or other cryptocurrencies have a credible valuation methodology.
"Some hydrogen use cases make sense, but energy investors are pricing in a lot more than that, and that's how I feel about crypto valuations too. Some crypto use cases will endure, but valuations assume broader and faster adoption," said Cembalest.
He is not convinced that bitcoin is a viable medium of exchange for commercial transactions.
"Bitcoin is currently not a medium of exchange other than in a few niche cases," Cembalest said. "The declining number of bitcoin transactions per day and the spikes in execution costs bear no resemblance to any functioning fiat currency."
BTC/USD climbs above $44k. Source: TradingView
He cites a forthcoming essay in Quantitative Finance by Nassim Taleb of NYU, who emphasizes that bitcoin has been around for 12 years. Despite this, the few crypto values are equivalent to "the 3 bitcoin cost of a permanent residence in El Salvador." Bitcoin transactions, according to Taleb, "can be more expensive to execute than those done on African mobile phones."
Related article | Corporate Adoption: Restaurant Chain Everbowl Embraces The Bitcoin Standard
Cembalest Will Not Be Buying Bitcoin
He noted that remittances and permissioned, private blockchains with little to no cryptocurrency impact are the most likely use cases for bitcoin.
"The success of permissionless public blockchains which could yield income for token holders is the big question," he said, adding that is the most coherent argument he has seen.
He added:
"But the higher the access fees, the higher the impediments for users who would migrate to the blockchain to reduce costs in the first place. I don't know how that tension gets resolved."
Bitcoin volatility, meanwhile, "continues to be ridiculously high," tracking action in equity markets.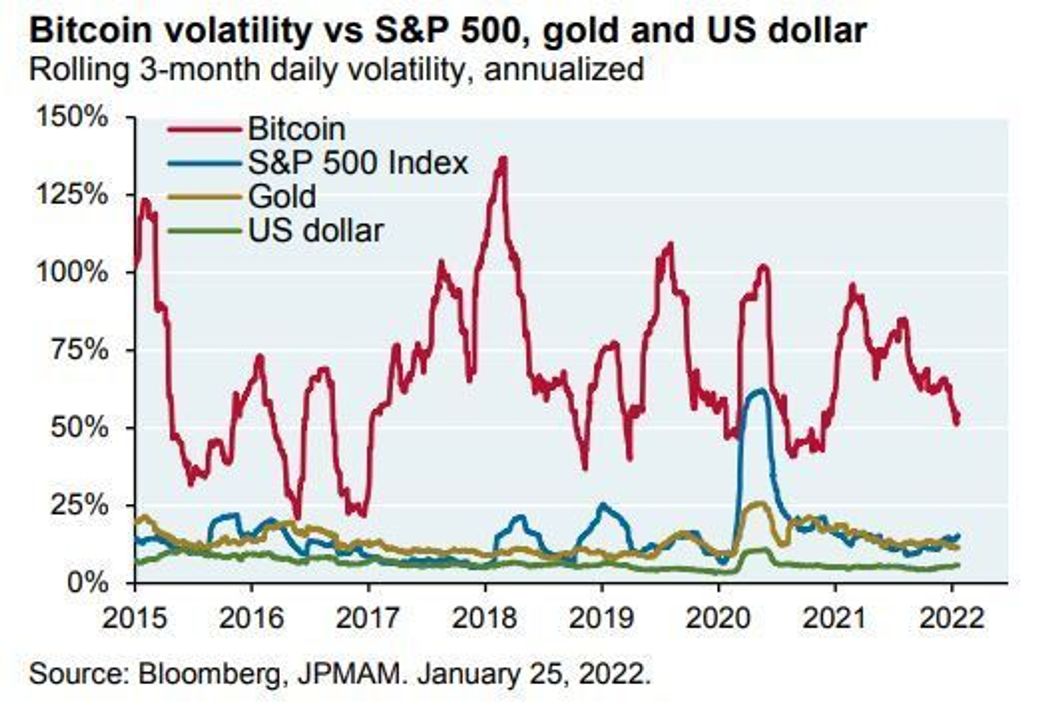 Bitcoin in comparison with S&P, gold, and USD. Source: Bloomberg
In short, he says this:
"I won't be buying [bitcoin] even though part of me wants to, regardless of consequences, since that's what some crypto holders have been counting on from the beginning. I would take another look if crypto valuations and the companies linked to them plummeted to deeply distressed values. But until then, the most widely discussed use cases and the valuations at which they're trading are still the 'stuff that dreams are made of.'"
Related article | Big Four Firm KPMG Adds Bitcoin And Ethereum To Its Treasury
Featured Image by Unsplash  | Charts by TradingView