Bitcoin remains below key resistances, but this hasn't stopped investors from becoming extremely bullish on the asset.
Key on-chain data indicates that the propensity that Bitcoin investors have to hold their coins is almost at all-time highs. Along with accentuating the optimism of crypto-asset holders, this is also a similar trend seen at the start of the 2017 bull market.
Key On-Chain Data Shows Bitcoin on Bull Run Footing
Blockchain analytics firm Glassnode recently found that 60% of all BTC in circulation "hasn't moved in over a year, showing increased investor HODLing behavior."
The last time this much of the cryptocurrency was frozen was "right before the BTC bull market of 2017," prior to the 2,000% rally that took Bitcoin from $1,000 to $20,000.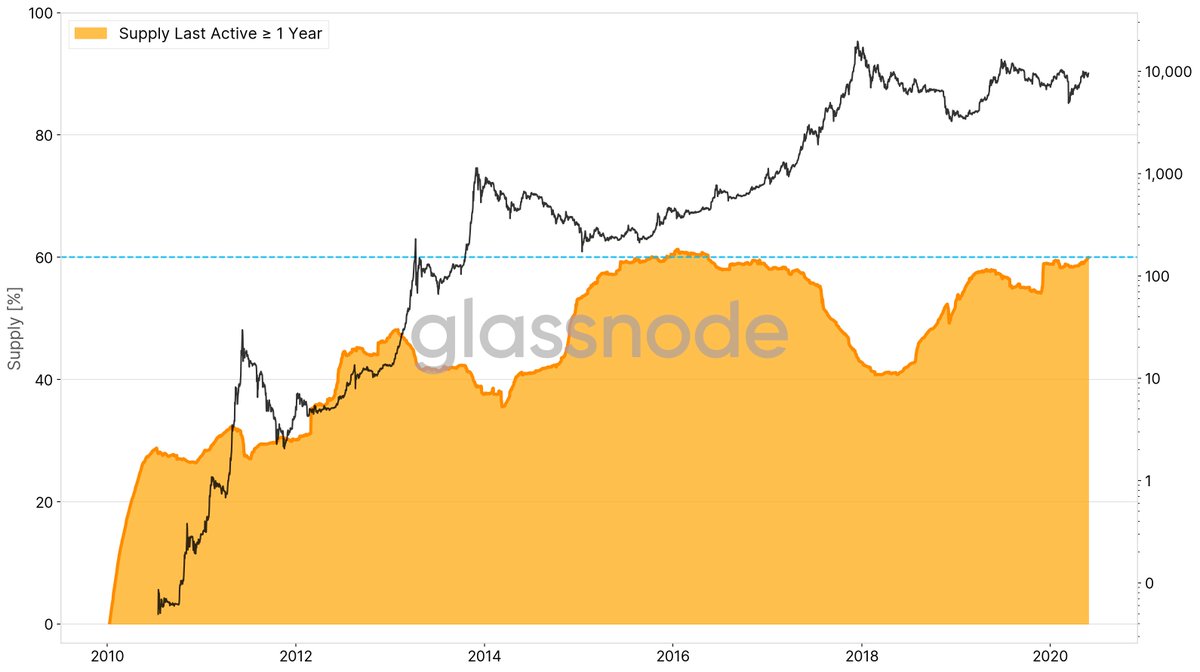 The accumulation habits of Bitcoin investors aren't the only thing indicating another parabolic rally is near.
Analyst Nunya Bizniz recently shared the two charts below with the following comment:
"Bitcoin daily chart: for the first time during the 2015 lows, there was a golden cross, death cross, golden cross sequence that occurred all within the span of about 100 days. Price then rallied 6,400%. For the 2nd time at 2020 lows, this sequence has agains occurred within about 100 days."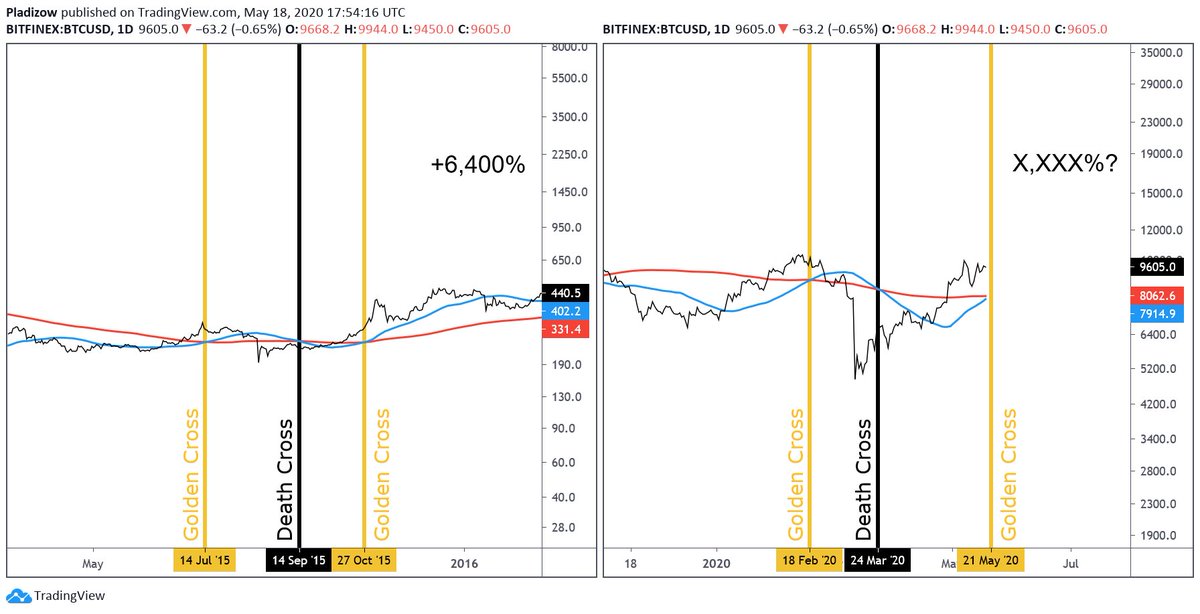 He's showing that the last time Bitcoin's 50-day and 200-day simple moving averages looked almost exactly as they do right now, the asset rallied 6,400% in the year that followed.
Fundamentally, this makes sense.
Investopedia describes a golden cross as a  "candlestick pattern that is a bullish signal in which a relatively short-term moving average crosses above a long-term moving average." Golden crosses show that "a bull market on the horizon and is reinforced by high trading volumes," the investment knowledge website added.
Add Bullish Fundamentals to the Mix
If these technicals aren't enough to convince investors, analysts have also discussed fundamentals purportedly aiding Bitcoin growth.
Pantera Capital's Dan Morehead explained that the ongoing money printing by central banks and governments will send BTC flying:
"Now that we're in the trillions, the deficit just simply has to have a positive impact on the price of things not quantitatively-easable — stocks, real estate, cryptocurrency relative to the price of money. Said another way, the BTC/USD cross-currency rate will rise.The price of bitcoin may set a new record in the next twelve months."
Since the start of 2020, there has been more than $20 trillion worth of fiscal and monetary stimulus injected into the system.
With Bitcoin being the only investable asset in the world with a scarce and a hard-capped supply, Morehead and others think it will dramatically benefit from the aforementioned fiat money printing. As Tesla's Elon Musk explained two weeks ago:
"Although massive currency issuance by govt central banks is making Bitcoin Internet ? money look solid by comparison."
Featured Image from Shutterstock