Litecoin price analysis shows LTC has reignited the fever shared amongst its crypto compatriots and rallied to a new 2019 high above $100. 
---
Litecoin Price Analysis: Market Overview
The hefty gains could be the result of the announcement of a new partnership with hotel booking platform Travala.com and the news could be a sign that Litecoin [coin_price coin=litecoin] is finding another niche for mainstream use. 
While Litecoin and Binance Coin had been the early birds that signaled what turned out to be the start of a new strong bullish trend within the crypto market, the altcoin had been somewhat dormant over the last 3 weeks and noticeably absent during Bitcoin's most recent surge.
Today marked the end of LTC's slumber and on Wednesday the altcoin railed to a new 2019 high at $107.34
LTC/BTC Daily Chart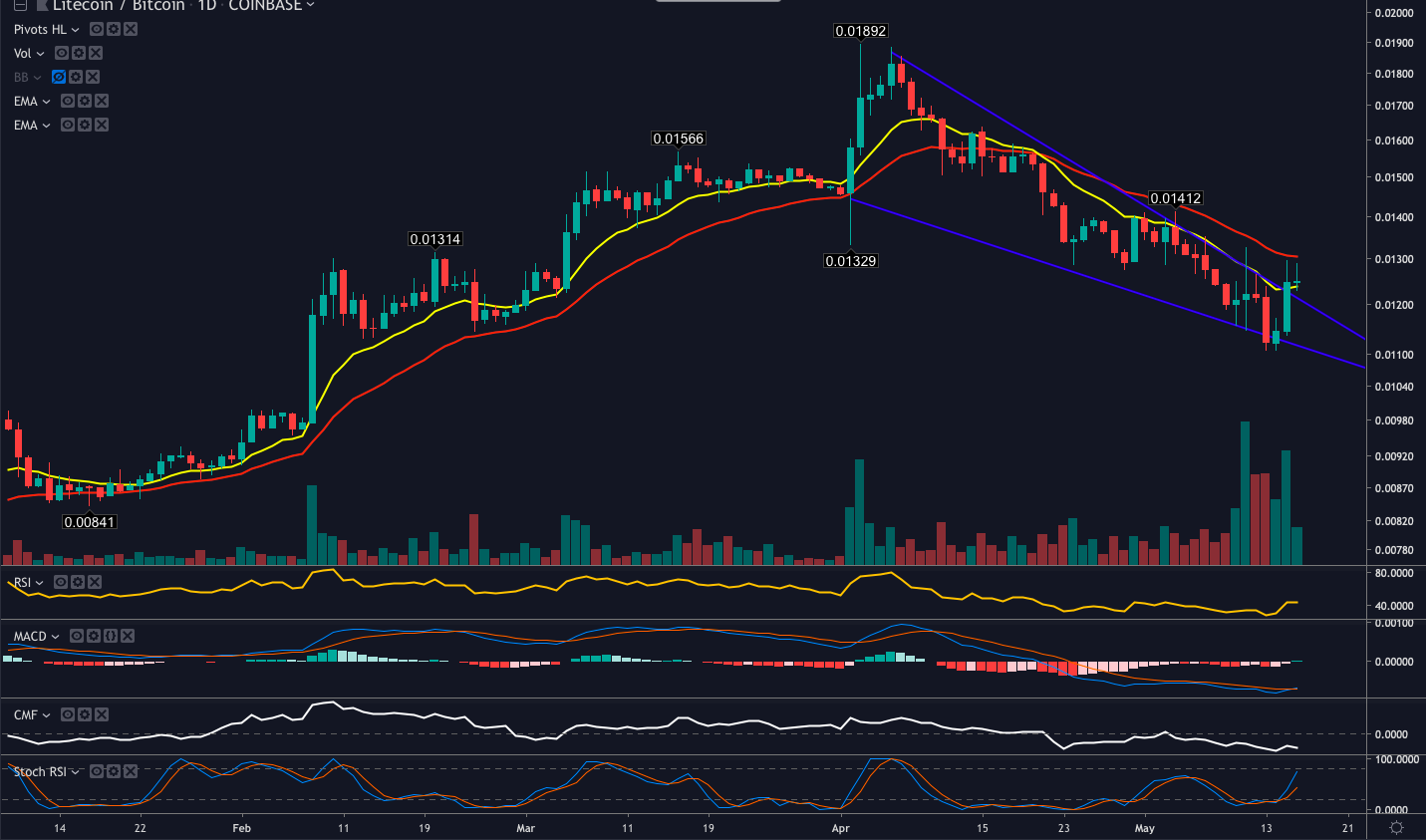 Similar to the ETH/BTC paring, the LTC/BTC pair broke bullish at the 0.01143 double bottom and traders flowed into the bull break that followed.
The overhead resistance levels of 0.01325 and 0.01412 are on the daily timeframe. A drop below the 12-EMA at 0.01233 would place LTC back within the falling wedge. The MAC D appears on the verge of a bull cross from oversold regions and the RSI is slowly making its way into bullish territory. If the bullish trend throughout the sector remains, Litecoin appears ready to grow legs and run.
LTC/USD 4-Hour Chart
$109 and $127.90 are the next levels for LTC to overcome and it should also be noted that LTC set a higher low and higher high on the weekly time frame.
As for the recent pump in altcoins, a popular theory among analysts is that profits from Bitcoin's recent parabolic run are now making their way through altcoins for an upcoming 'alt season' and as Bitcoin's dominance rate decreases traders are expected to see hefty gains from an array of small-cap altcoins.
Given that Bitcoin is near the top of an amazing parabolic run, traders might consider taking altcoin profits quickly, keeping a close eye on a digital assets ability to maintain the exponential moving average of choice and using a stop loss is strongly advised.
Happy trades!
Do you think Litecoin (LTC) will tackle $70 before Monday morning? Let us know what you think in the comments below! 
---
Trade Bitcoin (BTC), Litecoin (LTC) and other cryptocurrencies on online Bitcoin forex broker platform evolve.markets.  
[Disclaimer: The views expressed in this article are not intended as investment advice. Market data is provided by Bitfinex and Coinbase. The charts for analysis are provided by TradingView.]
Images courtesy of Shutterstock, TradingView. Market data sourced from Bitfinex and Coinbase.