A new cryptocurrency is about to enter the cryptocurrency market. MetaCryp (MTCR), which boasts huge potential, may soon become a challenger in the competitive market.
MetaCryp's (MTCR) pre-sale is ongoing at a time when most cryptos, including Solana (SOL) and WAX (WAXP), are struggling to stand firm to make it beyond the current crypto bear market. This article discusses why these three altcoins are set to outperform the bear market, starting with Solana (SOL).
Solana's Network is Growing Bigger than Ever
Solana (SOL) is a cryptocurrency with huge offerings. Launched in 2017, Solana quickly rose to the top, taking the cryptocurrency market by storm.
Solana (SOL) powers one of the fastest blockchain platforms powering thousands of decentralized applications (dApps). With Solana (SOL), users can begin creating and launching their Web3, DeFi, non-fungible token (NFT), decentralized autonomous organization (DAO), and gaming projects, among others.
Solana (SOL) is one of the crypto space's most adopted cryptocurrencies, thanks to its large-scale global adoption. Solana's (SOL) commitment to bringing innovative means for developers and users alike to earn a passive income helps it to a large community of users.
The Solana (SOL) community is a globally distributed home catering to developers, token holders, validators, and members ready to support the altcoin in overcoming the bear market.
Although Solana's (SOL) price plunged following the bear market, the crypto market's top dog remains resolute, defying all odds to remain in the top 10 of the largest cryptos by market capitalization.
MetaCryp's Gaming and NFT Ecosystem Could be Worth the Hype
MetaCryp is a metaverse token with gaming and NFT functionality. MetaCryp (MTCR) aims to become the next big cryptocurrency by pushing gaming finance and the metaverse to surpass some big names in the cryptocurrency market.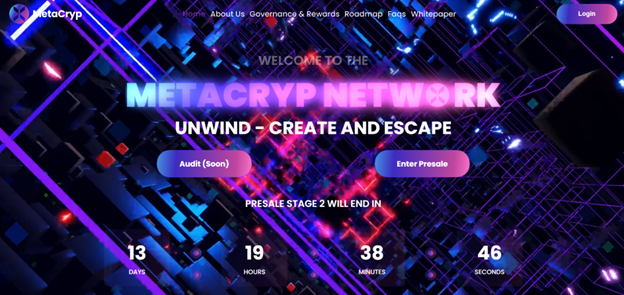 Per a report, MetaCryp (MTCR) is one gaming token that could gain over a hundred times in value in the coming months, bringing users a considerable return on investment (ROI).
MetaCryp (MTCR) aims to leverage the growing blockchain gaming, Play-to-Earn (P2E), and NFT markets to gain massive market adoption. The new cryptocurrency will feature gaming finance (GameFi) functionalities, including NFTs, in-game assets and tokens, renting and leasing of in-game assets, tournament features, and more.
As a part of the BNB Chain ecosystem, MetaCryp (MTCR) will inherit BNB Chain's low fees, fast speeds, and eco-friendliness. The new cryptocurrency currently provides buyers massive bonuses, including up to 15% for purchasing with USDT TRC-20. A $100 referral bonus also applies, among others.
WAX: Proven Gaming and NFT-Capable Token
WAX (WAXP) is one purpose-driven cryptocurrency waxing stronger by the day. WAX (WAXP) powers one of the most proven Web3 ecosystems for gaming and NFTs, enabling developers to build and upgrade dApps, games, marketplaces, and more.
The WAX (WAXP) project is on course to outperform the bear market, having over 500,000 daily unique visitors, over 23 million daily transactions, and over 13 million accounts. Moreover, over 30,000 dApps currently run on the platform, making it one of the most utilized for dApps deployment.
The WAX (WAXP) project has an economic model leveraging the explosive growth of NFTs and the superior monetization capabilities of decentralized finance (DeFi) to deliver top-level profitability. With its numbers increasing daily, WAX (WAXP) is one crypto with all it takes to outperform the bear market.
Experts predict WAX's (WAXP) price to peak at $3.83 by 2028, following a bull run in the coming years.
Solana (SOL) and WAX's (WAXP) growing ecosystems are helping both crypto projects remain at the core of the cryptocurrency market competition. Save for a fall in prices' both cryptos remain steadfast in revolutionizing several sectors in the crypto space.
Meanwhile, MetaCryp (MTCR) has the features, capabilities, and offerings to help it perform in and beyond the bear market.
To know more about MetaCryp (MTCR), visit these links now:
MetaCryp (MTCR)
Presale: http://presale.metacryptoken.io/
Website: http://metacryptoken.io/
Telegram: https://t.me/MetaCrypOfficial
Disclaimer: This is a paid release. The statements, views and opinions expressed in this column are solely those of the content provider and do not necessarily represent those of Bitcoinist. Bitcoinist does not guarantee the accuracy or timeliness of information available in such content. Do your research and invest at your own risk.