After attempting to break past $10,000, Bitcoin has been on a gradual decline. The cryptocurrency recently fell as low as $9,475 on leading exchanges, crushed as buyers distribute coins at the crucial $10,000 resistance level.
Bitcoin's weakness comes as the U.S. dollar has bounced strongly from yesterday's lows.
The U.S. Dollar Currency Index (DXY), a basket of foreign currencies against the dollar, is up approximately 1% from yesterday's lows.
BTC underperforming on this price action may suggest that the cryptocurrency trades like gold — which is somewhat influenced by moves in the U.S. currency.
Bitcoin's weakness also coincides with a strong drop in the stock market. The S&P 500 index is down 4% in the ongoing trading session, while the Dow Jones is down 4.6%.
This comes in spite of the Federal Reserve's Jerome Powell announcing that its policy interest rate will be held at 0.00% for the next two years. This theoretically should be a boost to risk assets, but scarce investments like gold and Bitcoin should strongly benefit due to their limited supply.
Only $17 Million Worth of Bitcoin Contracts Liquidated
This move was not futures driven, according to data shared by derivatives tracker Skew.
According to the site, a mere ~$17 million worth of positions has been liquidated on BitMEX over the five-six hours that this drop from $10,000 to $9,500 took place.
$17 million, when discussing BitMEX liquidation events, is relatively small. The lack of liquidations and the lack of futures sell pressure is due to the relatively slow nature of the retracement, which was gradual rather than the rapid surges and crashes that Bitcoin is known for.
Futures holders were not largely involved in this move lower, but they're seemingly betting on upside.
According to Skew, the funding rate of Bitcoin futures contracts and the basis remained relatively high during this drop lower, suggesting investors were buying the dip in anticipation of upside.
Bulls Still In Control
The drop hasn't been welcomed by Bitcoin investors but that's not to say that the cryptocurrency is now decisively in a bearish state.
As reported by Bitcoinist previously, an analyst noted that Bitcoin just printed two macro indicators last seen at the start of the rally to $20,000 in 2016.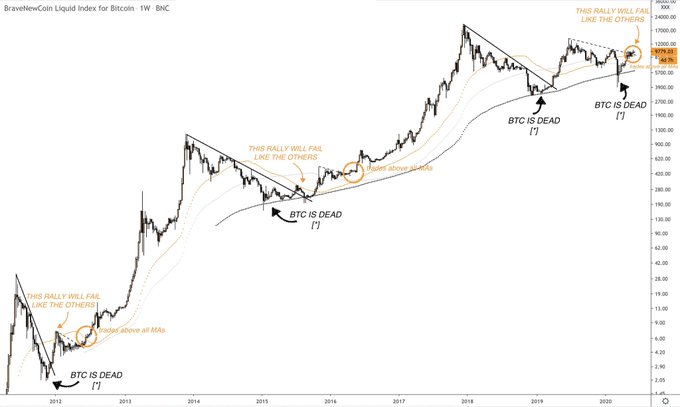 Featured Image from Shutterstock
Price tags: xbtusd, btcusd, btcusdt
Millions Liquidated on BitMEX as Bitcoin Dives $500 From $10,000 Resistance