Blockchain startup MinexSystems has announced the rebranding of its crypto token from 'MineCoin' to 'MinexCoin' as a part of the company's progression into the cryptocurrency market. MinexCoin will also be updating the website as it proceeds with the second stage of the cryptocurrency ICO.
[Note: This is a press release]
---
The company's new website – http://www.minexcoin.com – contains all the relevant information pertaining to the upcoming bounty campaign, whitepaper and new features on the platform. All personal accounts of existing users will be transferred from the original domain to the new site automatically.
The Kiev-based development team behind MinexCoin (MNC) believe the platform's rebranding to be in the best interests of the company and the new title to be a better reflection of the blockchain services they offer. The new site design is aimed to improve functionality and assist users in getting an easier understanding of the future payment system and its associated distributed ledger.
MinexCoin has received significant attention from crypto-enthusiasts in the trading sector for its focus on minimizing the currency's volatility. Cryptocurrencies are well known for their huge and frequent price swings, and the development team behind MinexCoin has been working towards creating a cryptocurrency with a far more stable market valuation than its competitors. The cryptocurrency's index value will be marshaled by 'MinexBank' and an algorithm for volatility control, which works to minimize potentially significant price swings.
MinexCoin's second ICO stage will be aimed towards determining the starting market price of the coin as it hits exchanges on the day of its release.
After a two-month beta testing phase, which culminated in November 2016, MinexSystems progressed into the first stage of its MNC token crowdsale. The first MineCoin ICO stage was held from September to December 2016 and attracted attention from over 400 investors. The ICO also allowed the MinexSystems team to discuss MineCoin's implementation and other cryptocurrency solutions within the MinexEcosystem with the early supporters of Minex Project. The first stage of the ICO concluded ahead of schedule after a blockchain society agreed to acquire all the remaining MNC tokens.
May 15, 2017, will mark the second stage of the MinexCoin's ICO presale, where investors will be given a chance to purchase a percentage of the 150,000 MNC tokens at a discounted price and familiarize themselves with the MinexCoin community.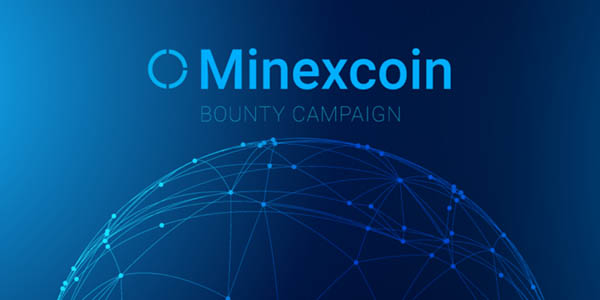 MinexSystems has announced a Bounty campaign that started on March 29, 2017.
The campaign, set to end on June 13, 2017, will allow participants during the public ICO stage to earn a total of 300,000 MNCs. The allocated coins will be disbursed in the form of marketing and reward bonuses.
---
Images courtesy of MinerxCoin