Bitcoin's recent price action has shocked most investors. Prior to this move higher and even during this move higher, there were a large number of investors that were short Bitcoin via futures contracts. This was made clear by the negative funding rates posted by Bitcoin futures markets, which suggested the existence of aggressive short sellers on the move up.
This skepticism about BTC's price action has persisted, even as $13,500 holds and the market steadies.
Bitcoin May be Topping Here, Analysts Fear
One crypto-asset trader recently said that he thinks Bitcoin's recent thrust higher while futures are closed suggests that a pullback may begin. This is related to the CME futures gap theory, which suggests that any strong rally or drop that BTC sees on the weekend is retraced by CME futures traders:
"I think bitcoin is putting in a temporary top. Price action to the upside when futures are closed gives me further indication that we'll see a continued pullback into the election."
He isn't the only one that thinks BTC is at a near-term or local top.
As reported by this outlet previously, one trader said that he thinks there is a confluence of three or four reasons why Bitcoin may be at a peak here. They are as follows:
Bitcoin has undergone three "drives-ish" into a major resistance level, the $14,000 macro resistance.
Stocks have dropped massively over the past week in the face of pandemic uncertainty.
The election on Tuesday could further compress returns as there is also political uncertainty.
The Dollar Index (U.S. Dollar) is at a support level, and could bounce to suppress gold and Bitcoin.
In his words:
"Short again on $BTC, something about this weekend pump seems fishy. 3 drives-ish into major resistance, stocks shit the bed last week, election early next week, solid RR and $DXY on support. Still bullish overall, pull backs aren't a bad thing. Let's see what happens."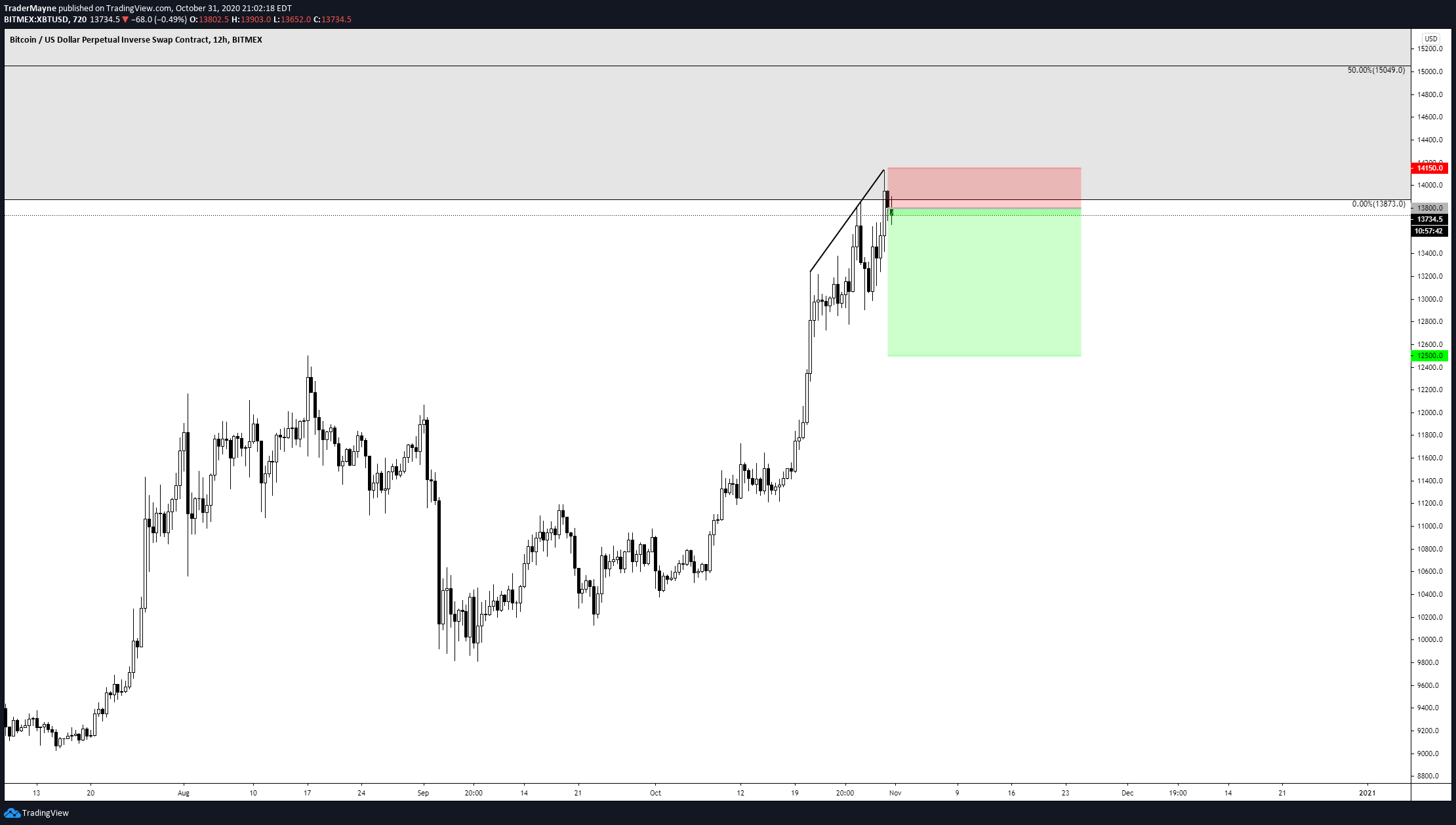 Chart of BTC's price action over the past few weeks with analysis by crypto trader Mayne (@TraderMayne on Twitter).
Source: BTCUSD from TradingView.com
Miner Capitulation Narrative
Another cause for concern is a seeming "miner capitulation" event taking place in the market.
A crypto-asset analyst recently noted that the difficulty of the Bitcoin network is about to print its worst epoch in many months. In fact, this may be the fourth largest miner capitulation. Some fear that this is bearish for the market.
Photo by Martin Moore on Unsplash
Price tags: xbtusd, btcusd, btcusdt
Charts from TradingView.com
More Traders Fear That Bitcoin Top Is In After Failed $14k Breakout