Streamium.io is definitely one of the most exciting creations to come out the Bitcoin community lately. Twitter was taken by storm upon its launch it seems, with praises for its decentralized realtime streaming video service; a service that gives Meerkat and Periscope a run for their money.
Also read: PayPal Fined for Deceptive Practices, Does Not Admit Wrongdoing
Bring on the Disruption
It wasn't but a few weeks ago the tech media outlets were abuzz over Meerkat and Periscope and their possibilities for disrupting realtime hyper-local streaming from mobile devices. "Finally, a super quick and simple method for video sharing", they exclaimed. The arguments raged for weeks in the media over which of the two very similar services would come out the victor and snare the most market shares and usage.
Then there came Streamium. A new service seemingly out the blue, utilizing Bitcoin for a unique spin on monetizing live streaming.
Streamium is a realtime video streaming service that allows you to live-stream anywhere, at anytime – and monetize yourself while you do it. Built with the people in mind, the service is uncensorable, utilizing static webpages (built atop the popular library AngularJS); Streamium creates a static webpage for your unique stream, and using P2P rendezvous servers creates a stream that is immutable.
The service works on mobile as well, and is very simple to use. It was built by the creators with simplicity in mind. It utilizes "micropayment" channels to have users input Bitcoin in order to stream live video by the minute. Your Bitcoin goes in to watch the stream, and the video stream creator reaps all the Bitcoin he/she earns during broadcast once the stream has concluded.
Brilliant.
All you have to do is create the name of your stream, enter in a Bitcoin address that you own/control – then just set your price rate per hour. Once you hit "Start Broadcasting", you'll instantly have created a room with a link you can share to begin your journey into Streamium stardom, and video streaming Bitcoin riches.
Streamium is great platform that truly lives up to the ethos of Bitcoin; open-sourced, decentralized, uncensorable, and promoting a free market economy for streaming media content creators. The team is comprised of a great group of young developers (many ex-employees of the popular payment processor, BitPay) who all varyingly got their start with Bitcoin between 2011-2013.
In case you want check out these ambitious young developers, here are their Twitters/a bit about what they did/do:
@Maraoz  – 2011 – previously BitPay               @Eordano – 2011 – previously BitPay  
@esneider – 2013 – previously Google (intern)             @demibrener – 2013 – used to work for Quasar Ventures
@franbook – 2013 – works for Streema.com  @yemeljardi – 2013 – previously BitPay
@batalles – 2013 – runs a family business which manufactures fire extinguishers in Buenos Aires, called 'Yukon'.
As great an innovative live streaming platform as Streamium is, cannibalizing the streaming market and competing directly with Meerkat and Periscope was not the development teams intention when they decided to create Streamium.
Speaking with the developers of Streamium, they stated their original motivations were, and I quote:
"This is about monetizing media in a way that wasn't possible before and therefore meant the market had to rely on advertising. Micropayment channels have the potential to breakdown the payment friction that's held back paid content. "
Quite the altruistic bunch of fellows over there. We all should applaud these young gentlemen, and appreciate those who are trying to use bitcoin in new and innovative use cases that spark further adoption and usage.
They also went on to state that the they've been getting a lot of obvious requests for a chat feature. That is, luckily, in the works currently, and seems to be an "universal request" from many in the community. They mentioned that for the first iteration they wanted it to be as simple and easy as possible so they could launch quickly and get the platform out there for use.
When asked about what other innovative projects in the bitcoin community they're currently most excited about that isn't Streamium, they said:
"We're psyched about micropayment channels (not just Streamium, but the technology and possibilities in general), but we're also excited about 3rd Key Solutions, ShapeShift.io, Blockstream, and many others. We think there's tremendous opportunity to improve usability in bitcoin apps. A couple of our team members or [sic] working on a user-friendly wallet called 'Muun', and another two are working on a blockchain based virtual reality world called 'Decentraland'."
All-in-all it seems that the developers seem to have the right recipe for disruption; ambitious developers, innovative technology, and simplicity. Streamium is a fun and easy platform for anyone to quickly make money by providing good content to those who actually care to pay to consume it. I personally have tried out the platform and was surprised by just how quickly it was to get started. I'm not rich yet, but someone else has already grabbed the gold for snagging the most Bitcoin from their stream thus far.
Go ahead, start streaming! And make Bitcoin while you do it!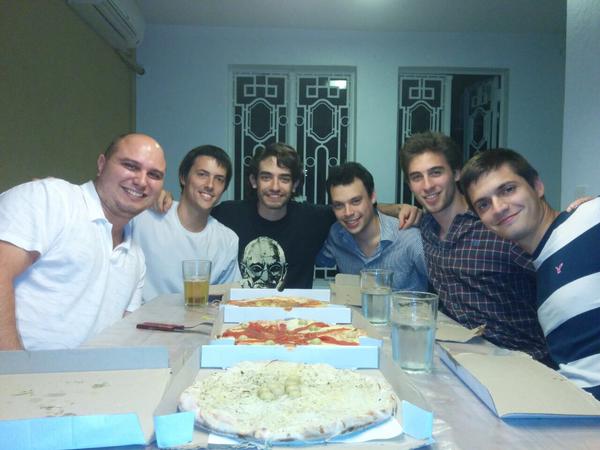 What do you think about Streamium? Comment below!
---
Images via Streamium.
This author's views do not necessarily reflect those of Bitcoinist.net.