PressCoin aims to change the state of the public sphere with a range of interconnected platforms, built on the blockchain, powered by the NEWS utility token. The ICO is underway.
---
Introduction and Summary
It is worth noting at the outset that PressCoin has stated that it unequivocally supports all initiatives to fix the news industry and will be keen to assist and partner will all these exciting initiatives. Two of these initiatives, Civil and Steemit are cryptocurrency based.
Interestingly all these new innovations have social interaction built into them, lessons which appear to have been learned from the social networks. This is also a feature of PresssCoin.
All five offer logged in privileges and all seek to facilitate interaction between readers and writers. By contrast over the past 12 months, a large number of news publishers have dropped comments altogether.
One Solution Steemit, like PressCoin, provides rewards to readers and content submitters for their contributions to the news system. And one solution, Civil, like PressCoin intends to build a marketplace for content. However none of these innovators have systems that can operate at a news-enterprise level for publishers – and none establish a new economic foundation to recreate the existing news media economy at a systemic level. 
Before we turn to our survey of recent innovations in the news content space it is worth briefly introducing PressCoin's systemic approach to resolving the news crisis. Much more can be found out about the PressCoin solution on the PressCoin Blog and via the PressCoin.com homepage. To invest and purchase PressCoin to help the largest ever crowd-funding campaign to address the News Crisis visit the PressCoin ICO page.
PressCoin's Systemic Approach to Addressing the News Crisis
PressCoin is an ambitious project to build an alternative global media ecosystem, owned by the people, serving the needs of the people, and built ground up on principles of cooperation, collaboration, and partnership.
PressCoin's business strategy rests on these legs:
Shared Design Philosophy –  Open Collaboration, Partnership, and Decentralization
Shared Technology Infrastructure – Seamless media technology cloud, underlying big-data systems, advanced APIs for engagement and analytics
Shared Business Services – Consumer Data Intelligence, Monetization, Enterprise Sales, Ecosystem Partnerships, Strategic Relations
Shared Developer Network – This fertile playground for agile experiments in the news/media/journalism sphere
Shared Fiat/Crypto Financial Services Infrastructure – Built on Cointype
Shared Venture Arm – Foster disruption within the ecosystem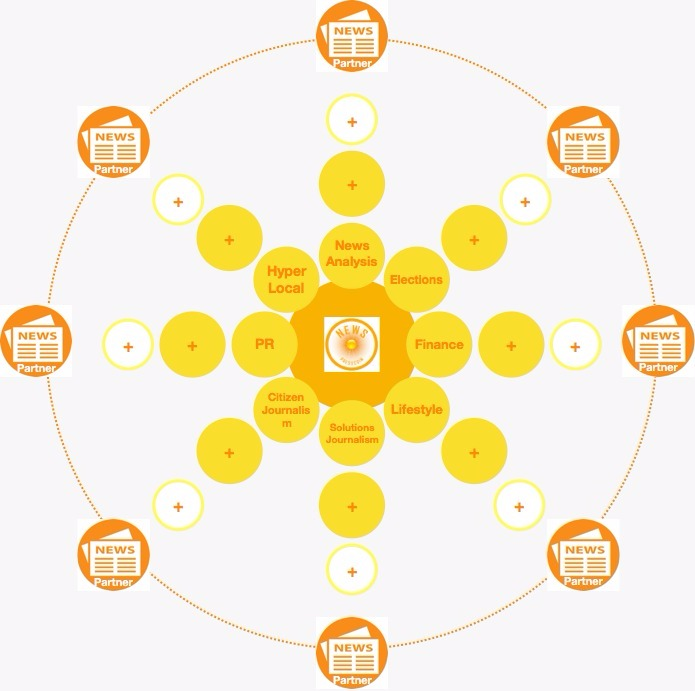 At a practical level PressCoin plans to dramatically lower the cost of high-quality publishing solutions to enterprise publishers whilst providing them with access to crypto powered markets to share – on a market basis – content, traffic and reader data.
But now let's talk about the alternatives.
Medium vs. Civil
Medium predates all the other journalism enabling initiatives and so it gets to go first. Here's how Wikipedia describes Medium:
Medium is an online publishing platform developed by Evan Williams [one of the founders of Twitter], and launched in August 2012. It is owned by Medium Corporation. The platform is an example of social journalism, having a hybrid collection of amateur and professional people and publications, or exclusive blogs or publishers on Medium, and is regularly regarded as a blog host.
Medium is also pretty successful. It's the 495th ranked website in the world on SimilarWeb. It hosts hundreds of writers and features some very nice UX features. Its revenue model is membership based and members are "empowered" to reward writers. Writers have very limited monetization avenues and a lot utilize crowd-funding systems like Patreon to commercialize their work. PressCoin's flagship publication Insurge Intelligence, founded by Nafeez Ahmed is presently hosted on Medium.
So, what is Civil? At present, it is a work in progress. But it looks as if it will be a blockchain-based decentralized version of Medium, a new place for journalists to ply their trade and possibly earn some money. The big difference between the two is that Civil plans to launch a Cryptocurrency to provide a means for writers to be supported by readers.
Both solutions are great as far as they go but neither aspires to provide a systemic solution to the media industry's revenue woes. In other words both Medium and the soon to be revealed Civil are mostly a consumer product, bordering on the prosumer.
Facebook vs. Steemit vs. Reddit
Of course, we all know what Facebook is, the mother of all content aggregation businesses. Facebook's goal has been to connect everyone, and with its 2B+ users, it certainly has. And in doing so it has monetized content created by others spectacularly efficiently. Its ubiquitous news feed now earns it a fifth of global digital advertising revenue, in many cases by simply providing a portal to other publisher's content.
And for new publishers, Facebook has become the main avenue to reach readers. Initially it enabled this to happen organically and publishers built up massive reader bases for their Facebook portals, then in January 2015 it decided to charge publishers for distributing content via their own pages, a change which resulted in many publishers having no choice but to double down and to start paying Facebook to reach their own readers.
Reddit.com is a lively forum for discussing everything under the sun where you vote others posts up and down. It has a very original world wide web vibe to it and is inclusive, free and fiercely independent.
So… what is Steemit?
Think decentralizing the Facebook model, and creating an alternate, blockchain-based Facebook, where everybody gets paid for participating. Like Reddit Steemit's interface is a popularity contest of sorts for surfacing great content.
Steemit is an interesting beast. It launched as an ICO in March 2016 and now has 450,000 accounts, 19 million monthly visits and a bunch of engaged users talking about everything under the sun. Interestingly, "Where does steemit money come from," is a commonly googled question, and the answer is difficult to understand. There is no evidence of any business model on the site itself.
Shortly after it debuted the Steem currency went to $3 and it's now nearly back at that level, valuing the market at $1 Billion. And in December Steem Dollars a currency pegged to the US Dollar have spiked to over $20 in value. Quite what is going on with that is hard to understand, and it is far from obvious what lies behind all this wealth beyond a large user base. Notably, it would appear that it is not that easy to join the steemit community at the moment, possibly because of the recent inflation in Steemit Dollars.
But who cares, doesn't everyone benefit?
It certainly seems that way, except, for a couple of things. Firstly Steemit doesn't solve the media industry revenue problems as content from existing content producers is still getting shared on Steemit. For Steemit's own content producers it is a partial solution, albeit a fairly odd one. The community understandably spends a lot of time discussing itself.
Steemit is definitely focused on the individual consumer, or at a stretch the prosumer content creator. And it is definitely not a news-enterprise solution, nor is it meant to be.
#FakeNews Media vs WikiTribune vs De Correspondent
Wikitribune was founded by Wikipedia founder Jimmy Wales, in response to a call from the World Wide Web's inventor Tim Berners Lee to the news crisis.
Its Beta was launched in November after a phase of crowdfunding to provide funds to get it established.  Its intention is to become a new digital newspaper like platform, with content submitted and edited by a combined force of volunteer and professional editors and reporters. At this stage, it is very much evolving in the spirit of its namesake and actively seeking to enlist and organize an army of volunteers.
From a content POV, its point of difference is that it intends to provide source verification for everything it reports. And this would appear to be a very useful approach to take particularly when news events are breaking, and you need a balanced, verified view of the goings-on. They plan to also focus on verified recordings, and incorporate transcriptions into their workflow.
So Wikitribune is definitely a great attempt at helping clean up accuracy in one aspect of the journalism industry – breaking news. And as a news by-the-people-for-the-people resource within the broader journalistic and news media ecosystem, it is an addition that we wholeheartedly support!
Wikitribune will be dependent on donations and volunteers to grow. As such it is not providing solutions to the existing global news industry, but rather seeking to provide a safety net for an informed democracy.
The Dutch news start-up De-Correspondent – also established by crowd-funding – is a reporter's dream. A publisher built by writers for readers who value quality thoughtful content from subject specialist reporters. Its model is reader/member funded through recurring donations. Its signature feature is facilitated opportunities for informed readers to help shape the news agenda through newsletters inviting direct engagement with reporters. This feature has produced some remarkable Scoop stories and is being closely watched around the world.
De-Correspondent's approach to comments is also unusual. Commenters have to be subscribers, and this appears to result in very thoughtful reader engagement. There is much more to the publication's well thought out approach that can be explored on the site. The original Dutch language publication – with some English translations – will shortly be joined by a New York-based English Language version.
In a way, De-Correspondent can be seen as being a structured, writer collective version of Medium from which all of journalism can learn a great deal. PressCoin's Insurge Intelligence platform team are great admirers of the approach.
However, De-Correspondent, like all these other innovative solutions, does not provide a solution to help resolve the immediate revenue crisis facing the existing text-based news industry – an industry which continues to provide the vast bulk of reliable online news content.
For this, here is PressCoin "an ambitious project to build an alternative global media ecosystem, owned by the people, serving the needs of the people, and built ground up on principles of cooperation, collaboration, and partnership."
The PressCoin ICO opened on Monday, Dec. 11. PressCoin is selling $100 mln in NEWS tokens, the largest ever crowdfunding effort to address the news crisis.