Yesterday, investors were expecting for Bitcoin to re-enter a decisive uptrend.
As reported by Bitcoinist, the cryptocurrency surged to $9,800 — the highest price BTC has traded at in approximately 10 days.
The move came on the back of strength in the altcoin sector and in the value of American equities. Microsoft and Netflix, for instance, hit new all-time highs on Monday as the world continued to cement its transition to digital tech.
Yet much has changed over the past 24 hours. From the highs of Monday, Bitcoin is down by approximately $600. It now trades at $9,230 as of the time of this article's writing. That's a more than 5% drop.
Correlated With the Stock Market
Bitcoin's bout of weakness on Tuesday seems to be related to weakness in the S&P 500.
After moving higher on Monday, equity markets saw a rapid reversal on Tuesday. The S&P 500 closed Tuesday's trading session down over 2.5% while the Dow Jones sunk by nearly 2.75%.
Equities sunk seemingly on news of a coronavirus resurgence, especially in the states of Florida and Texas and countries around the world.
There's also been a sentiment that equities are fundamentally overvalued. As Bloomberg reported, Chris Watling, chief market strategist at Longview Economics, called everything "expensive":
 "80% of the markets we track have a valuation in the upper quartile relative to the market's history — the greatest percentage on record using data since the mid-1990s."
The fact that Bitcoin fell on the same day that stocks did corroborates the existence of a correlation between the two asset classes. That's to say, should equities fall from here, so too should BTC and crypto.
This correlation has been observed by some prominent names in crypto and on Wall Street.
A team of JPMorgan analysts recently argued that for the past few months, "Cryptocurrencies have traded more like risky assets like equities—a significant change relative to the prior couple of years."
Goldman Sachs executives somewhat agreed. They said in a presentation that BTC and other cryptos don't provide proper diversification benefits over equities.
Bitcoin Is Above Crucial Supports: Analyst
Bitcoin's drop may be bearish in isolation but the cryptocurrency is still trading above support levels.
A cryptocurrency chartist shared the chart below. It shows that the Bitcoin drop stopped at two key levels:
An "internal trend line" formed in March
The "blue center line" of the parallel channel BTC has traded in over the past two months.
The fact that the cryptocurrency has done so suggests that bulls remain somewhat in control.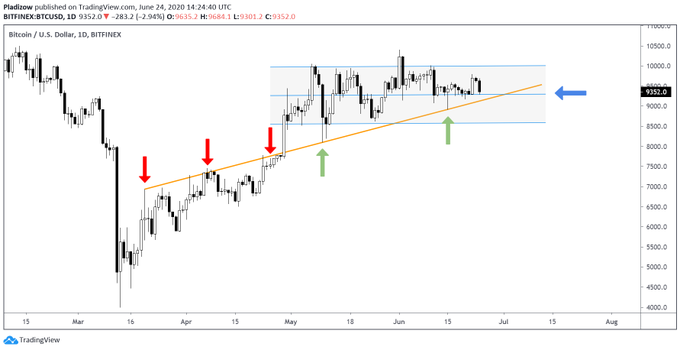 Featured Image from Shutterstock
Price tags: xbtusd, btcusd, btcusdt
Charts from TradingView.com
There Are Reasons to Be Bullish After Bitcoin Crashed $600 on Tuesday