Crypto Twitter has exploded with talk that Apple will soon announce a Bitcoin purchase in the billions of dollars. For example, Galaxy Trading is one of many pushing this rumor. They say the figure is more than $2 billion.
Rumors that #Apple have purchased more than $2B in #Bitcoin ?

— GalaxyTrading? (@GalaxyTraging) July 12, 2021
Whereas the CEO of ChainLeak, Joshuwa Roomsburg, puts the rumored purchase amount at $2.5 billion. Roomsburg added, if the rumor is true, he will buy an iPhone to commemorate the occasion.

Rumor has it, #Apple will make an announcement today that they have purchased $2.5B in #Bitcoin

If that happens, I'll buy the latest #iPhone TODAY! I won't use it, I'll just keep it as a souvenir for when #BTC started it's climb to $100k. ⏳ Imagine what alts will do! pic.twitter.com/YyNWSUzz7V

— Joshuwa Roomsburg ?⛓️ (@JoshRoomsburg) July 12, 2021
But with Apple's patchy history concerning Bitcoin and cryptocurrency, is there any truth to this rumor?
Is Bitcoin Too Controversial For Apple?
Early February, when Tesla announced it had purchased $1.5 billion in Bitcoin, BTC spiked 20% on the day. This event set in motion a bullish trend that topped out in mid-April, having hit a $65,000 price peak.
Expectations are that a similar trend will happen if Apple reveals it has also bought Bitcoin. But, if truth be told, for every tweet endorsing the rumor, there are just as many rubbishing it.
The CEO of OnChain Capital, Ran Neuner, responded by flat out declaring it won't happen, at least, not anytime soon. Similarly, @Flappening playfully puts the chances of Apple buying Bitcoin in the negatives.
"if negative probabilities were a thing, that's what I would give to the chances of Apple buying 2.5 billion worth of

#bitcoin

."
Escalating the case against, DevOps Engineer Alexander Ross raised the point that Apple is too brand conscious and unlikely to do anything controversial. He added that Bitcoin investing might be a step too far for the firm.
"Apple dont do anything controversial. They're very brand conscious. Bitcoin does not at this juncture fit with its brand ethos. I would love nothing more, but its too rebellious a move for them and too many opportunities for people to use it against them."
Despite that, recent hearsay paints Apple in a pro-crypto light. But whether that extends to a $2.5 billion investment is another matter.
Apple Job Ad Signals Interest In Crypto
Late May saw Apple post a job for a Business Development Manager dealing with "Alternative Payments." One of the key requirements for the job is over five years of experience working with alternative payment providers, including cryptocurrency.
"5+ years experience working in or with alternative payment providers, such as digital wallets, BNPL, Fast Payments, cryptocurrency and etc.."
Back in 2019, the Vice President of Apple Pay, Jennifer Bailey, said Apple thinks cryptocurrency is interesting, and they are watching it with interest.
But, other than the recent job posting, Apple has failed to make any affirmative moves towards Bitcoin and cryptocurrency.
RBC Capital Markets Analyst Mitch Steves estimates Apple could generate as much as $40 billion from cryptocurrency by implementing crypto exchange functionality in the Apple Pay Wallet.
"Apple's install base in 1.5B, and even if we assume only 200M users would transact, this is 6.66x larger than Square. Therefore, the potential revenue opportunity would be in excess of $40 billion a year (15% incremental top-line opportunity)."
This, Steves said is a safer play compared to producing the Apple car.
The price of Bitcoin failed to react as expected to the rumors. BTC is down 3% today.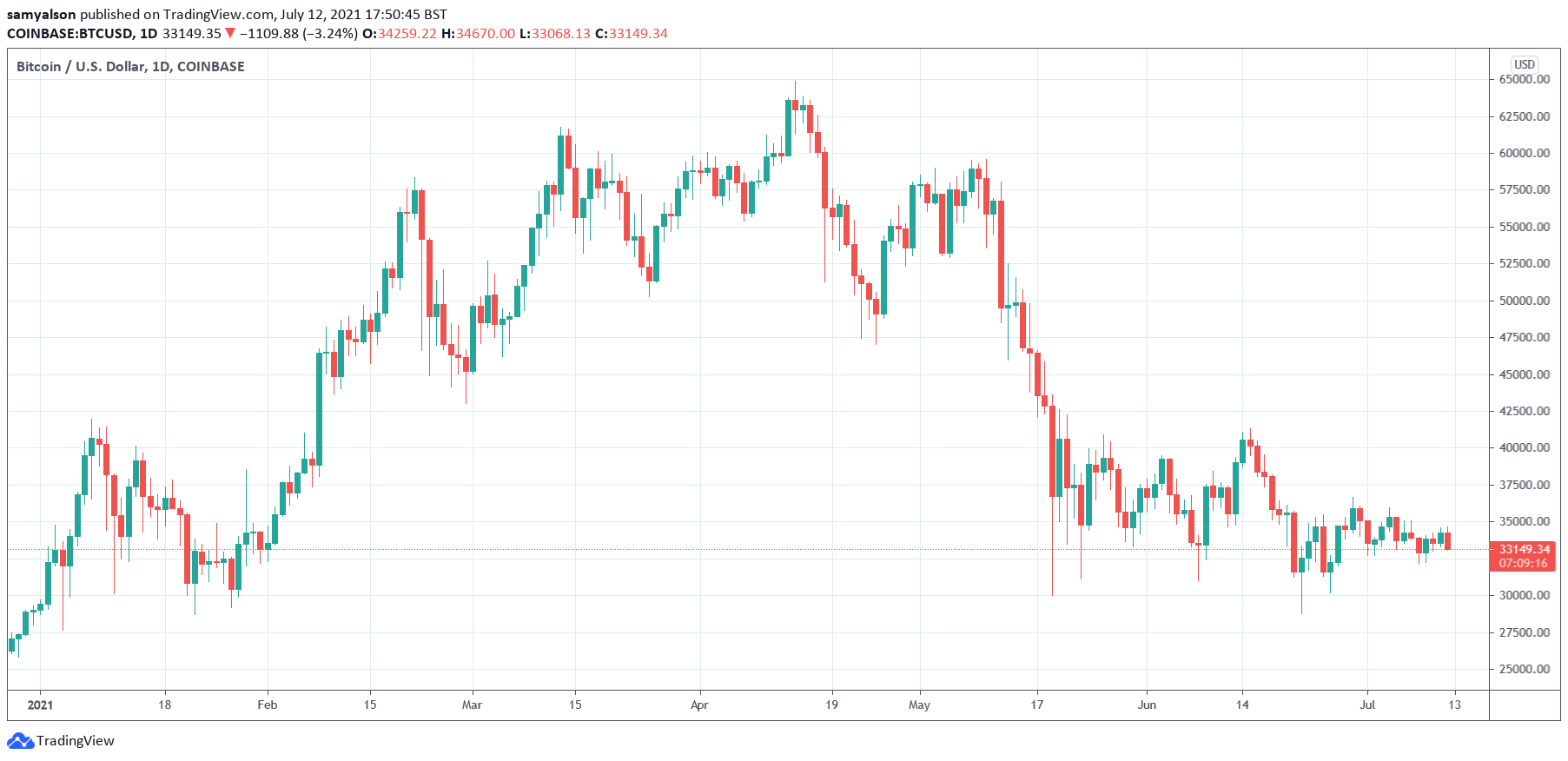 Source: BTCUSD on TradingView.com