A few days ago, we showed you how to grab some extra cryptocurrencies for free by simply holding Bitcoin. Today, we're going to show you that you can do so not only by holding Bitcoin but also by simply having an email address.
---
Previously, we explained how you could claim free lumens from Stellar and bytes from Byteball. Those are just two methods of getting free money. This time, we're bringing you three ways!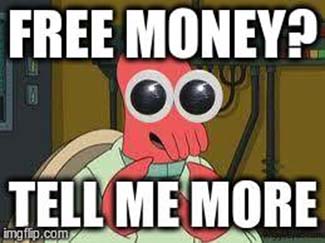 Free ICO Tokens Just for Signing Up
Currently, two upcoming Initial Coin Offerings are distributing free tokens to users that sign up for their platform. Although this is usually a practice used by pyramid schemes or multi-level marketing schemes, in this case, there doesn't seem to be any danger involved at all.
WCX is a platform with an upcoming ICO and it brands itself as being a "Global Low-Cost Digital Currency Exchange" that aims to "offer a pro experience and 10x lower fees". WCX is an interesting concept – users will be rewarded with 50 WCX tokens – roughly $5 USD – when they sign up. Although this platform doesn't have a whitepaper yet, the most interesting part about the project is that they plan to distribute part of their fee profits as dividends to WCX token holders, so why not hodl on and see what happens?
Coinstarter is a platform which aims to be the Kickstarter for ICOs and crowdfunding campaigns related to cryptocurrency. Ironically, they haven't even launched – they're planning their ICO soon. They will reward you with 50 Coinstarter Tokens (technically equivalent to 0.0625 BTC, or $168!) if you simply sign up for the platform. There is no need to invest any BTC or ETH to receive this bonus – it is virtually risk-free.
Altcoins That Give You Coins if You Hold Bitcoin
CLAM is an altcoin created back on May 12th, 2014. If you held any BTC/LTC/DOGE at that time, you're in luck! CLAM had a unique distribution method: All BTC, LTC and DOGE addresses that held coins back on that date are entitled to 4.60545574 CLAM – which is equivalent to about 0.0065 BTC, or around 17 USD. The CLAM project explains their reasoning behind this as being:
Giveaways are notoriously susceptible to cheating and bias those who happen to hear of them. We DON'T like tit-for-tat arrangements.

Many intelligent people are aware that Bitcoin's most valuable asset is the blockchain itself. The blockchain represents the combined efforts, commitment, and participation of the entire community. It is the revolution that sets cryptocurrency apart from other value systems. It is trust-less and wonderful. We DO like the trust-less blockchain.

So! We took the BTC, LTC, and DOGE blockchains, found every address with a balance above dust, and sent each and every one of them a little over 4.6 CLAMS. It isn't perfect, but it includes everyone.
Despite this, please note that this method of claiming 'free money' does involve risk – even though their wallet is open source and their code has been deemed to be safe, you have to expose your private key, so it would be advisable to move your coins elsewhere before claiming the CLAMs.
All you have to do is download their wallet from here, and import your BTC/LTC/DOGE wallet.dat or private key.
That's all there is to it to obtain your free money! If you received more than 4.6 CLAM, don't be too surprised; remember that every address that held coins on the date above will receive this reward. This means that if you were using many addresses at the same time, you would probably receive a lot of CLAMs!
What do you think about these new methods of getting free money? Are you going to try them, or are you skeptical? Let us know your thoughts below!
---
Images courtesy of WCX, CoinStarter, the CLAM Project, iStockPhoto