The blockchain startup Tierion has raised $1 million in a seed funding round to continue developing its platform which verifies the integrity of a file, data, or business protocol through distributed ledger technology. The investment round was led by Blockchain Capital, Fenbushi Capital, and the Digital Currency Group. Tierion says its software gives developers the tools for building applications tethered to the blockchain.
Also read: Industry Report: Kraken, Others Receive Large Investments
Tierion's Platform Raises $ 1 Million from Blockchain Capital, DCG, and Fenbushi Capital
Tierion had made headlines earlier this year when it partnered with Philips Blockchain Lab to innovate medical data with digital ledger consensus. The company headquartered in Hartford, Connecticut was founded in 2015 by Wayne Vaughan and Jason Bukowski. With the firms Chainpoint software, users can "anchor" millions of records housed within a single transaction on the blockchain. Tierion says, "Blockchain receipts can be shared with other systems and used to independently verify the integrity and authenticity of any file, data, or business process." All of its processes verify without trusting a third party or relying on centralized arbitration. Wayne Vaughan, Tierion's CEO and Co-Founder stated in the announcement:
"We're thrilled with the creative uses we've seen for Tierion. At one end of the spectrum, one of the world's largest healthcare companies is using Tierion to record the maintenance and usage history of industrial medical equipment. At the other end, we're seeing a legal cannabis dispensary use Tierion to create immutable records of their inventory and transactions."
The startup says there is a broad range of use cases when it comes to distributed ledger technology, and the company's software is ready to encompass many of them. The very foundation of Tierion is a scalable engine for cryptographically ensured data so that businesses around the world can anchor with the blockchain. Vitalik Buterin, Ethereum founder and Partner at Fenbushi Capital, says Tierion makes immutable records and proof-of-existence "easy" and believes the company displays an "interesting approach" to anchoring. Another Investor of the project Bart Stephens, Managing Partner of Blockchain Capital explains Tierion's advantages saying:
"Blockchain technology has tremendous potential beyond payments. Tierion's platform gives any enterprise easy access to the blockchain to verify any document or business process. This is a powerful tool for companies operating in a regulated environment like financial services, healthcare, insurance, or government services."
The software Tierion and partners have assembled Chainpoint will allow developers to get hands on with blockchain technology and notarize certain data. The hope is to build an automated and standardized process for enterprise applications meeting both financial solutions and other use cases. Barry Silbert, CEO of Digital Currency Group also believes in the Tierion team and says in the announcement, "We are excited to see the Tierion team leveraging the core innovation of blockchain technology to secure data and ensure it cannot be tampered with. Their open protocol will enable those new to this technology to easily create data management tools to track the history of one of the most valuable assets of any organization – information."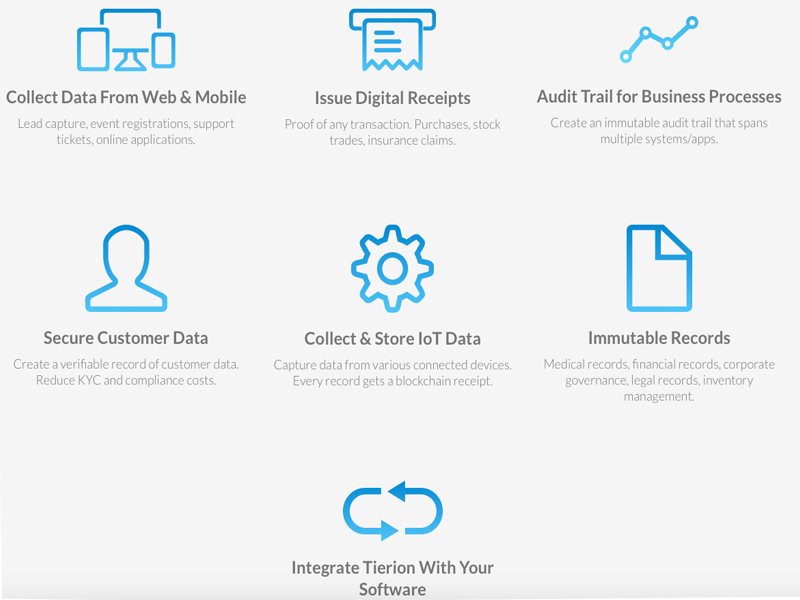 What do you think about Tierion's Chainpoint software? Let us know in the comments below.
---
Images courtesy of Tierion's Website, and Shutterstock