While all eyes have been on Bitcoin over the past 36 hours, it is Ethereum that is the best-performing top cryptocurrency of the past week.
Data suggests that the asset has gained approximately 35% in the past seven days alone, an astonishing gain for a $30 billion asset.
Some say that ETH has room to rally due to strong fundamentals and it being oversold against the dollar and against BTC.
A cryptocurrency trader who predicted Bitcoin would hit $3,000s months before it did this year, though, begs to differ. He recently suggested that ETH could be still in a macro bearish setup.
This same trader has also argued that Bitcoin may be overextended if the $10,500 support does not hold moving forward.
Ethereum may have seen an extremely strong rally over the past week on strong fundamentals, but some aren't certain the asset is cleared to rally further. One trader, in fact, recently suggested that the asset may still be in a macro bear pattern.
Is Ethereum Really In a Bull Market Yet?
Traders are not convinced that Ethereum is in a full-fledged bull market, despite the recent strength in its price.
One trader shared the chart below after the latest leg of ETH's move higher, which brought it as high as $330. The analysis indicates that Ethereum is trading in a "harmonic" pattern that will result in it soon topping at the macro resistance around $380.
As crazy as this may sound now, this analysis predicts that Ethereum will fall under $100 in 2021. The trader also used other tools, such as fractals and trendlines to indicate that ETH may actually be on track for such a retracement.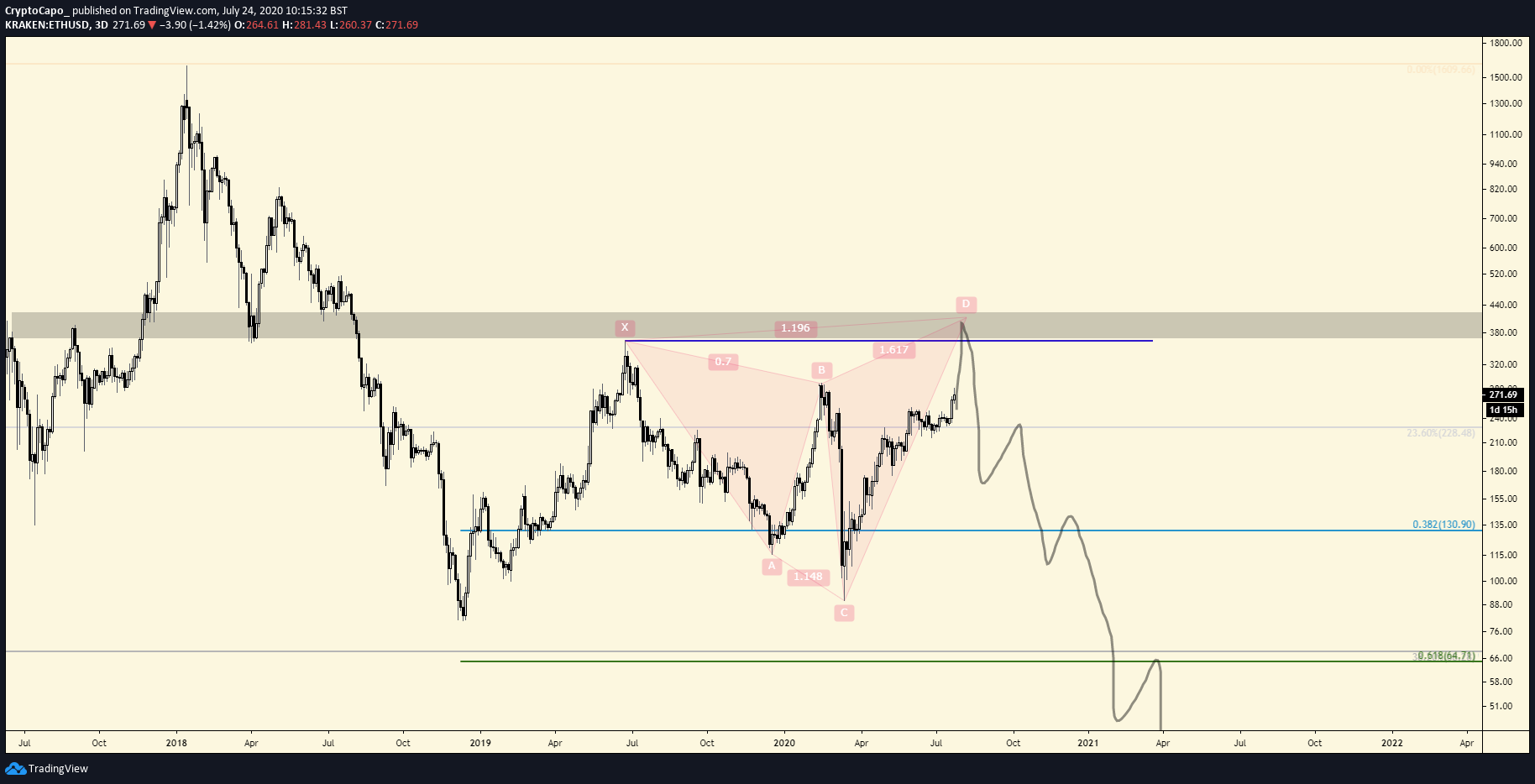 As reported by Bitcoinist previously, the asset is facing some other factors suggesting a pullback is in order. Blockchain analytics firm Santiment wrote:
"With $ETH peaking at $316 yesterday, the @santimentfeed DAA vs. Price YTD model shows that the surplus of daily active addresses transacting has finally been equalized by its price. For the first time since June 17th, there is now a deficit of DAA, which indicates the potential of a short-term pullback."
There are also trend indicators suggest the asset's rally has been exhausted by historical standards. 
ETH2 Draws Near Despite Price Uncertainty
Despite this bearish technical case, Ethereum's crucial technical upgrade, ETH2, is purportedly drawing close.
There were some uncertainties about the launch date two weeks ago, yet the asset's founder and many other prominent stakeholders attempted to clear the air. Case in point: the final testnet before the public launch is expected to launch in the weeks ahead.
The launch of ETH2 is expected to act as a positive catalyst for this market.
Featured Image from Shutterstock
Price tags: ethusd, ethbtc
Charts from TradingView.com 
Trader Who Said Bitcoin Would Hit $3ks Isn't Sure Ethereum Is Bullish