It's been a tough past day for Bitcoin.
Just a little more than 12 hours after the cryptocurrency crossed $10,000 for the first time in weeks, BTC's price tanked.
As reported by Bitcoinist previously, saw a mass liquidation event on derivatives platforms that took Bitcoin as low as $8,600 on BitMEX. For BitMEX in specific, BTC dropped by more than $1,500 in the span of three minutes, liquidating $100 million in positions.
Despite this, analysts remain somewhat optimistic.
Unconventional Bitcoin Chart Is Bullish
A new analysis shows that Bitcoin's price action over the past month looks eerily similar to that seen in April~May of 2019. The period in question was the precursor to an 80% BTC rally that took the asset from the $8,000s to $14,000 in a dramatic spike higher.
"BTC Renko Similarities. Divergence present into ~18% correction. The correction began a fresh run for ~80% gains. Current PA is looking very similar in structure to the last significant BTC run," the analyst commented on the importance of the chart below and what is transpiring with the ongoing price action.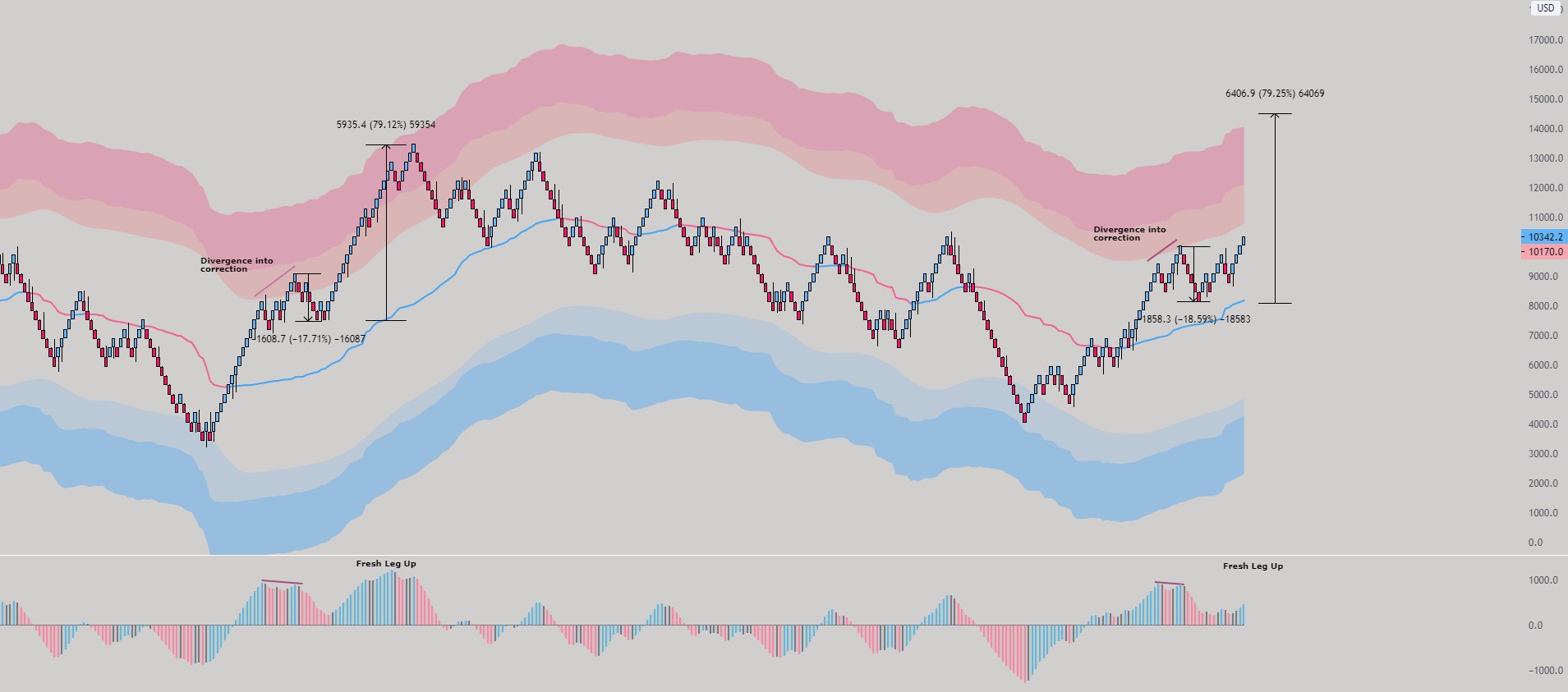 Not the Only Bullish Factor
The analyst's chart is in line with a growing undertone of bullish sentiment spreading amongst Bitcoin analysts.
As reported by Bitcoinist previously, chief executive of Real Vision Raoul Pal recently shared that the confluence of the trillions of dollars worth of stimulus and the Bitcoin halving is setting the asset up for a rally:
"This is confirmed by stock to flow models by PlanB and the breakout has happened almost exact at The Halvening. Add to that HUGE the ENTIRE worlds central banks are […] printing money like CRAZY. quantitative easing fiat meets the hardest money that automatically quantitatively tightens."
This confluence led him to the thought that BTC currently has one of the "best set ups in any asset class I've ever witnessed…technical, fundamental, flow of funds, and plumbing."
Other factors corroborate this sentiment.
Preston Pysh, a prominent Bitcoin bull and financial analyst/author, recently identified multiple factors showing BTC is on track for medium-term growth. Some of which are as follows:
Through Grayscale's Bitcoin Trust product (GBTC in OTC markets), institutional players have been accumulating Bitcoin at a rapid clip since the block reward halving.
The Chinese yuan is falling against the U.S. dollar to lows not seen since 2019 due to Hong Kong tensions. This comes as the U.S. is looking to enact sanctions on Chinese companies and individuals due to a new Hong Kong law that will purportedly erode the autonomy of the region. BTC may act as a safe haven in this scenario, just as it did when the yuan fell against the dollar in previous years.
The U.S. dollar and financial system may be reaching a point where it will "break" due to macro trends, according to Pysh. This would force the creation of a new financial system.
Featured Image from Shutterstock 
Price tags: xbtusd, btcusd, btcusdt
Trader: Bitcoin Looks Almost Exactly as It Did Prior to an 80% Rally in 2019