With the increasing popularity of digital assets, more sophisticated means are being developed to obtain ownership of these highly sought-after coins illegally. A recent study has put the United States at the heart of global cryptocurrency crime. The study also reports that cybercriminals have attacked all top cryptocurrency exchange platforms.
---
More than Half of all Cryptocurrency Crime Originates in the U.S.
Group-IB recently conducted a study on the global cryptocurrency market with a focus on hacking and cybersecurity. According to the study, the United States accounts for more than half of the cryptocurrency crime in the world.
Of the 50 botnets continually scouring for weaknesses on cryptocurrency exchange platforms, half of their malicious traffic comes from the country. The Netherlands accounts for a further 21.5 percent.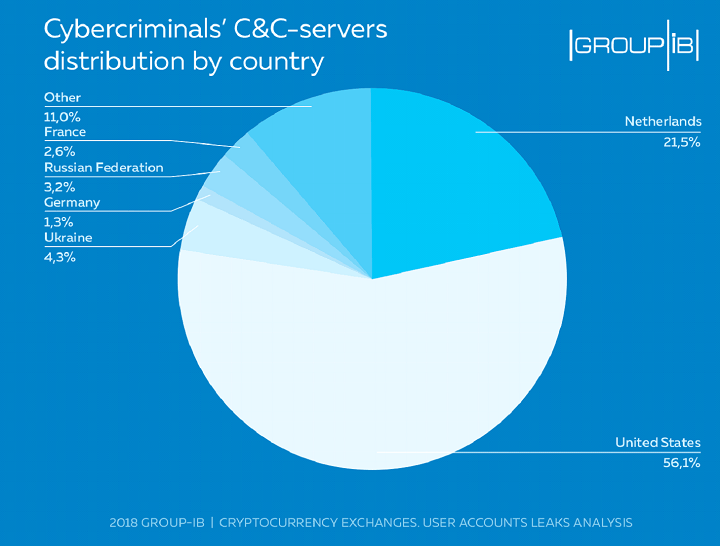 No Safe Haven
Cryptocurrency exchange hacks continue to be a clear and present danger in the industry. According to Group-IB, no member of the top 19 platforms has escaped any illegal incursion from cybercriminals.
Details of the study show that about 720 accounts across all the major platforms have been compromised. This figure is an almost 100 percent increase from the 369 compromised accounts of 2017. More than a third of this number are based in the United States. Russia and China make up the top three affected countries.
2018 has seen a spate of attacks against virtual currency trading platforms beginning with the devastating Coincheck hack at the start of the year. More than a billion dollars in cryptocurrency was stolen in the attack. In June, two South Korea-based platforms, Coinrail and Bithumb, were also hacked.
Poor Internet Security Culture
Poor internet security culture continues to be at the heart of the problem. Commenting on the issue, the Group-IB Director of Special Projects, Ruslan Yusufov said:
Increased fraudulent activity and attention of hacker groups to the crypto-industry, additional functions of malicious software related to cryptocurrencies, as well as the significant amounts of already stolen funds signals that the industry is not ready to defend itself and protect its users.
According to the study, users and platforms alike seem ignorant of the need for two-factor authentication (2FA) and the use of complicated passwords. Of the 720 compromised accounts, Group-IB reported that more than 20 percent of them used passwords shorter than eight characters in length.
Do you have 2FA set up on your cryptocurrency wallet? Keep the conversation going in the comment section below.
---
Image courtesy of The Next Web, Shutterstock.