Just days ago, Bitcoin was trading at $9,800, just days away from decisively passing $10,000. Now, the cryptocurrency is trading at $9,200, having collapsed on the back of fears of Satoshi Nakamoto dumping his cryptocurrency.
It's a drop that has had some investors fearing the worst.
Yesterday, for instance, Bitcoin closed below a key technical support level: the middle Bollinger Band, which is the 20-day moving average. AI and Cloud specialist at Microsoft Joe McCann, who moonlights as a popular crypto trader, wrote on the matter:
"A close below $9287 for BTC would be bad for bulls, that's the 20 day."
Yet a number of on-chain and fundamental trends have indicated that the cryptocurrency's outlook remains strong.
Bitcoin Is Still Bullish, On-Chain Indicators Confirm
Despite the recent drop in the cryptocurrency market, blockchain insight firm Santiment shared on May 21st that Bitcoin's Network Value to Transactions Ratio (NVT) remains "healthy," indicating a persisting bull trend:
"In spite of BTC's mild -4.4% downswing today, its NVT looks healthy, and our model is showing a semi-bullish signal. The amount of unique tokens being transacted on Bitcoin network is slightly above average for in May, according to where price levels currently sit," blockchain analytics firm Santiment wrote in reference to the data seen below.

The bullish nature of the underlying Bitcoin network has been echoed by other analysts.
As reported by Bitcoinist previously, independent on-chain analyst Philip Swift noted this week that the so-called Dynamic Range NVT Signal has pushed higher over recent weeks despite the recent drop.
Swift says that the indicator — which has been dubbed a "price to earnings ratio for Bitcoin" — is indicating a highly bullish future for BTC in the long run:
"Dynamic Range NVTS has been closing up above the lower green band. This is high time frame bullish. Previous NVT Signal lost its efficacy over time. This version with dynamic bands is much more useful as an oversold/overbought tool for strategic investing," Swift wrote.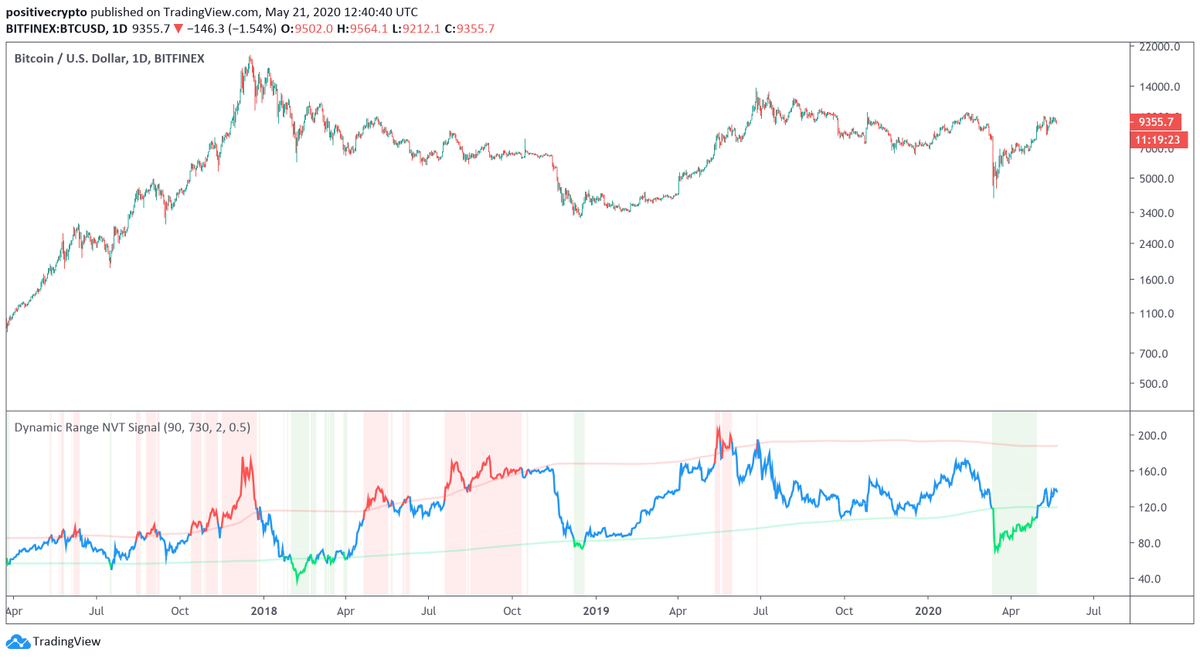 The Pure Fundamentals Are Also Bullish
If that isn't enough, the underlying fundamentals — meaning the demand drivers for BTC — are also suggesting Bitcoin remains locked in a bull trend.
BlockTower Capital, a cryptocurrency and blockchain investment fund, recently identified that Bitcoin's "macro case has never been more obvious." This was an optimistic comment they attributed to multiple things, such as the growing distrust in central banks, the world's adoption of digital technologies amid COVID-19, and growing geopolitical tensions as economies break down.
Featured Image from Shutterstock