India's Finance Minister Nirmala Sitharaman presented the country's Union Budget for 2019-2020, and there was no mention of Bitcoin or cryptocurrency regulation. Some crypto watchers interpret it as a positive sign.
---
Is No News Good News?
On Friday, the Indian government, led by Narendra Modi, introduced the annual budget for the fiscal year 2019-2020. The document revolves around the "New India," which focuses on infrastructure, digitalization, employment, manufacturing, environmental care, space program, universal healthcare, research and development, promoting the start-up culture, and the list goes on.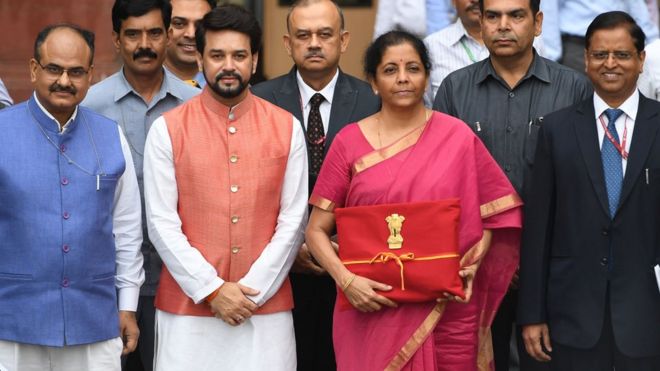 However, there was no mention of Bitcoin, cryptocurrency or distributed ledger technology (DLT), of which blockchain is the most popular version. This might suggest that the government isn't hurrying up to tighten regulation of the crypto space but is rather taking time to understand it.
For many Indians, the fact that the government didn't put Bitcoin in a bad light is already enough to be regarded as a positive signal.
Crypto Kanoon, an Indian platform of crypt and blockchain regulation news, carried out a poll via Twitter. According to the survey, 44% of the respondents of the Indian crypto community said that the fact that the Union Budget didn't mention Bitcoin was good news. On the other side, only 10% regard it as bad news, while 46% don't care about it at all.
No positive or negative announcement on Blockchain, Crypto or DLT in the #Budget2019

For crypto community in India it is a:

— Crypto Kanoon (@cryptokanoon) July 5, 2019
The argument is that if the Indian government wanted to bash Bitcoin, they would have already done it.
How Should India Regulate Cryptos?
Judging by the current zeitgeist, banning cryptocurrencies would mean to move against the whole world…except China.
The finance leaders of G20 countries, which also includes India, reiterated last month that they would promote the anti-money laundering (AML) and countering the funding of terrorism (CTF) rules elaborated by the Financial Action Task Force (FATF).
Thus, India might consider adopting the FATF rules instead of banning cryptos altogether.
Nischal Shetty, the man who launched the #IndiaWantsCrypto movement, proposed the government a national regulatory approach implemented in four steps:
Remove banking ban – last year, the Reserve Bank of India (RBI) ordered all financial institutions to refrain from providing services to any crypto-oriented businesses.
Implement mandatory KYC & AML policies – this is already discussed by the G20 group.
Watch innovation happen
Regulate & Win!
The current silence from the Indian government might be a positive sign that it is researching the matter to potentially reverse RBI's ban and integrate cryptocurrencies into the country's economy, even with tight regulations.
Do you think the government is reconsidering its stance on Bitcoin regulation in India? Tell us in the comments section below!
---
Images courtesy of Shutterstock, BBC