Every notable Bitcoin bottom has been marked by a bout of capitulation in the crypto industry; at the end of 2018, BTC fell from $6,200 to $3,150 within two weeks, the 2015 bottom was marked by a more than 50% decline in three days, and so on.
But, it isn't just rapidly-falling prices that suggest a market has capitulated, it's the health of the industry too, with new data showing that the size of crypto communities has shrunk at a rapid clip.
Related Reading: $1 Billion of USDT Is Sitting on Binance, and That's Big for Crypto 
Crypto Communities Bleed Members, Suggesting Capitulation
According to data shared by Aztek, a cryptocurrency trader, there's been a notable decrease in the number of members of crypto-focused Telegram channels, from altcoin discussion rooms to trading chatrooms.
His analysis found that from June 2018 to 2020, there have been notable member losses of 25% to 75% in crypto groups from @Decred and @CryptoAlerts to @WhaleClub and @Litecoin. A good portion of these losses took place over the past six months from November 2019 to April 2020, now.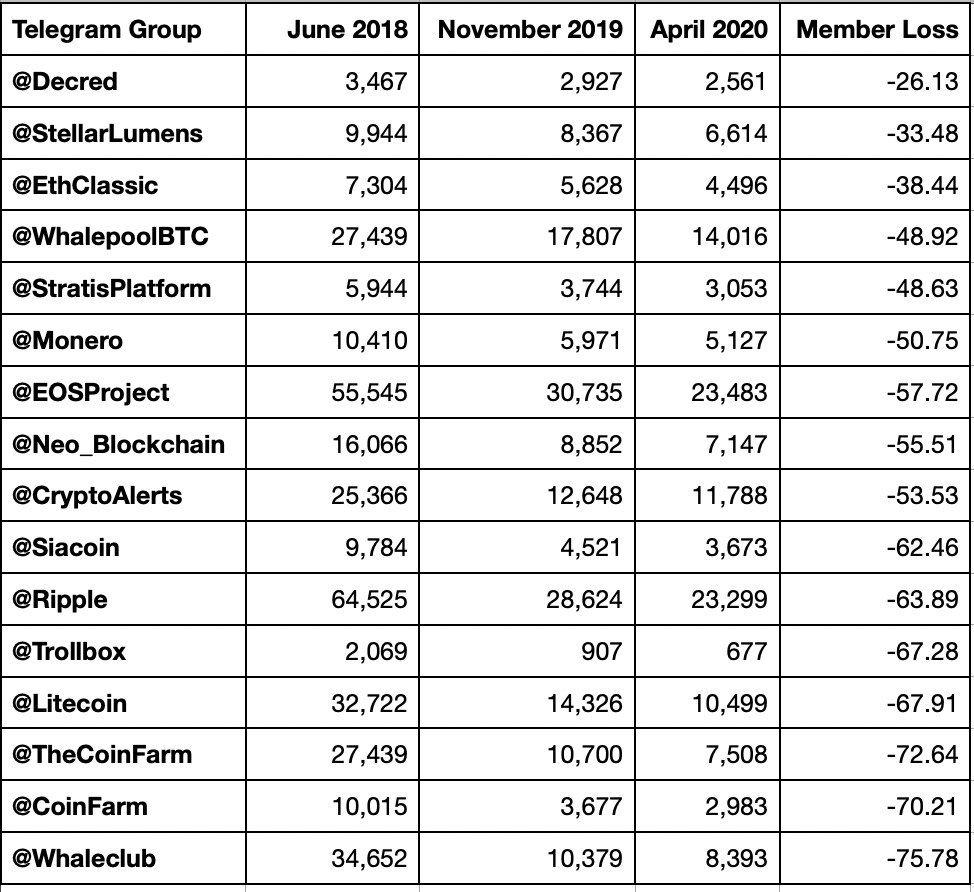 This would indicate that as the price of Bitcoin has suffered over the past few months, investors have capitulated, to leave this market for the time being as they fear it prospects have diminished.
While there isn't any Telegram data for previous bear markets, the bottoms of previous bear markets, like the December 2018 and December 2019 bottoms, coincided with mass capitulation by investors. This historical precedent would suggest that the crypto market is nearing a bottom if it hasn't hit one already.
Not Only Sign the Bottom is In
All things considered, analysts are starting to agree that the Bitcoin bottom is in.
Per previous reports from Bitcoinist, Alex Krüger — an economist closely tracking the crypto space — suggested that the "stocks and Bitcoin bottoms are in" in his opinion, pointing out how the CBOE's Volatility Index has fallen dramatically from the highs, which suggests peak fear has passed.
Scorecard$ES +18% from 2405$CLK -18% from 25$BTC +10% from 6275$VIX -45% from 74

Stocks and bitcoin bottoms are in IMO. VIX short worked like a charm.

— Alex Krüger (@krugermacro) April 14, 2020
While he didn't elaborate on his assertion that Bitcoin (and crypto) found a bottom when BTC hit $3,700, he shared in a series of other messages that he thinks the bottom is in for stocks because "prices often overshoot," referencing the sentiment that negative unemployment data from the U.S. has peaked.
From a technical perspective, it also seems that the cryptocurrency market's bottom is in.
A popular trader shared the below chart on April 13th, indicating that considering the strong volumes seen in the Bitcoin market over the past five weeks, a "solid case" could be made that the worst of the crash passed on March 12th, when BTC hit $3,700.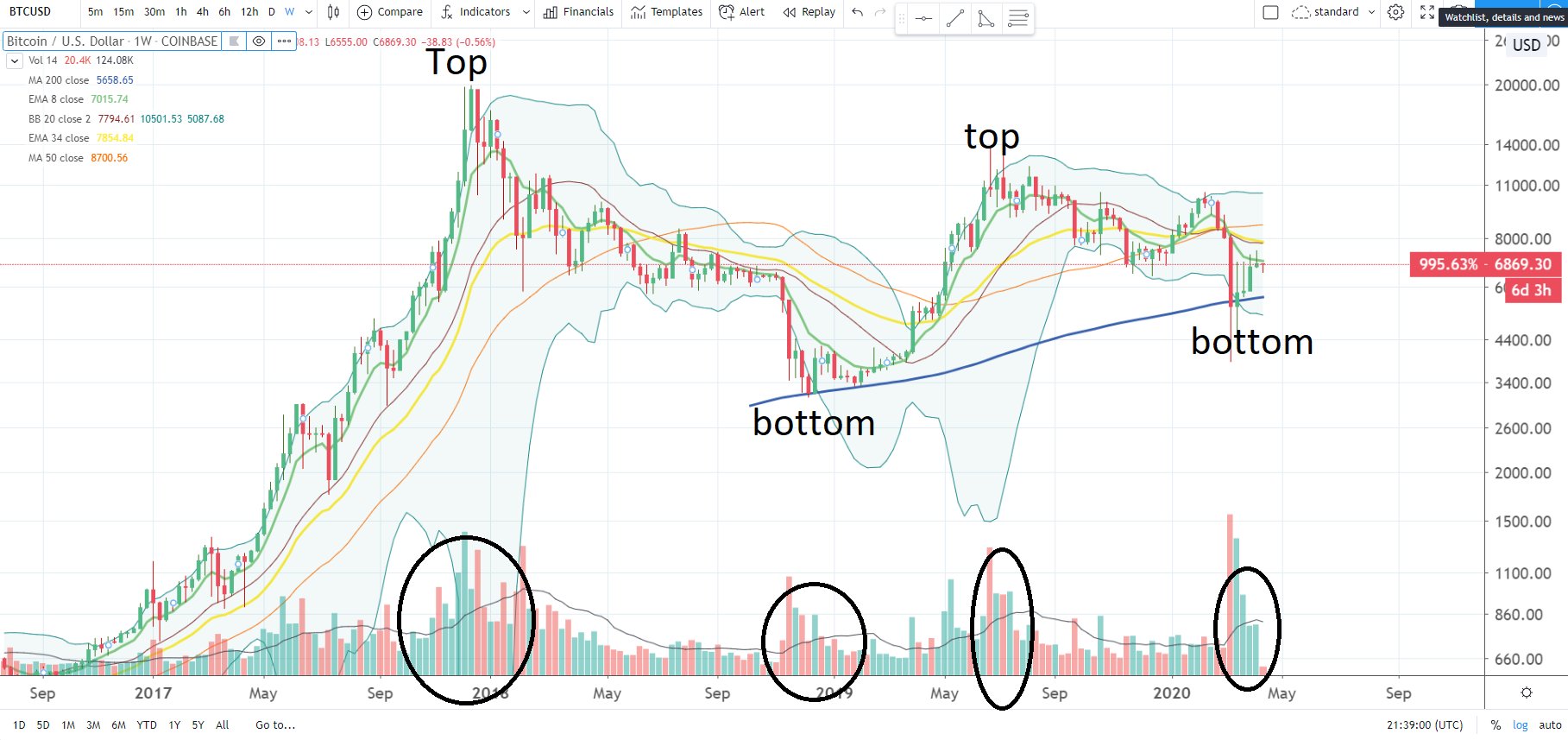 Indeed, the chart above shows that near each one of Bitcoin's macro tops and bottoms over the past three years, there were clusters of high-volume weeks as they indicate the exhaustion of a trend.
Photo by Bruno Nascimento on Unsplash