A pressing question that has plagued crypto investors over the past four weeks is if Bitcoin bottomed on "Black Thursday."
For those who missed the memo, on March 12th the leading crypto asset fell off a cliff in tandem with global markets; BTC fell from a high of $7,700 on March 11th to a low of $3,700, stocks saw one of their worst days since previous recessions, gold managed to fall by a handful of percent, and oil fell lower and lower. It seemed like it was armageddon.
Near the lows, investors were fearful that the cryptocurrency market was not yet done its descent. In a world where all markets are uncertain, few thought that Bitcoin would be a place where people would be confident holding money.
Apparently, that's not exactly the case, with one prominent analyst claiming that he thinks the bottoms of both the stock market and Bitcoin "are in."
The Crypto Bottom Likely In, Top Analyst Says
On April 14th, Alex Krüger — an economist closely tracking the crypto space — suggested that the "stocks and Bitcoin bottoms are in" in his opinion, pointing out how the CBOE's Volatility Index has fallen dramatically from the highs, which suggests peak fear has passed.
Scorecard$ES +18% from 2405$CLK -18% from 25$BTC +10% from 6275$VIX -45% from 74

Stocks and bitcoin bottoms are in IMO. VIX short worked like a charm.

— Alex Krüger (@krugermacro) April 14, 2020
While he didn't elaborate on his assertion that Bitcoin (and crypto) found a bottom when BTC hit $3,700, he shared in a series of other messages that he thinks the bottom is in for stocks because "prices often overshoot," referencing the unemployment data from the U.S., saying:
"Historically, markets bottom before the economy bottoms. The economy could have bottomed last week. US weekly jobless claims likely already peaked."
The idea with stocks bottoming that Bitcoin and crypto-assets as a whole, which Krüger believes is a risk asset class, should follow them back higher or at least not fall further.
Stocks Could Reverse
But some aren't too convinced the bottom is in for stocks.
Scott Minerd — the global CIO of Guggenheim Investments — explained in a note published last week that he expects "the other shoe" to drop in global markets, which will cause yet another wave of panic in the market:
We need to see the other shoe drop. When the markets start to see some of the data on unemployment rising and economic growth and corporate earnings contracting, there will be another level of panic in the market.
Not to mention, there are some fearful of a further crypto correction, even if stocks don't fall lower.
An analyst that is fearful is Ross Ulbricht — the founder of the Silk Road online marketplace and one of the earlier Bitcoin adopters. While now in prison, he occasionally communicates with the outside world through messages shared by his friends and family online.
One such message he had was a bearish Bitcoin analysis, published this weekend. As reported by Bitcoinist previously, Ulbricht wrote that per his look at BTC's long-term chart, it is currently entering the second phase of the ongoing crypto bear market.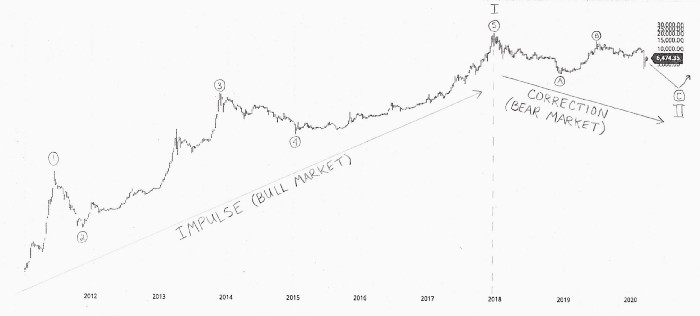 Citing Elliot Wave, a form of technical analysis that suggests markets move in predictable wave-like phases due to investor psychology and other macro factors, the early Bitcoin adopter suggested that the cryptocurrency could return to the $2,000s or even $1,000s by June or July, or well into 2021. Such a drop would mark a yet another 70 percent crash from the current level.
Featured Image from Pexels.com