Cardano (ADA) has embarked on a parabolic surge over recent weeks. From the March lows, the altcoin is up by approximately 700%. And in the past week alone, ADA is up by 50%.
The cryptocurrency is outperforming on the launch of the Cardano blockchain's "Shelley" upgrade. The upgrade, slated to be fully rolled out at the end of July, activates proof of stake on the network. Staking will further decentralize Cardano while incentivizing adoption and the holding of ADA, hence the rally.
Unfortunately for Cardano holders, there are technical and on-chain signals indicating the altcoin's rally is finally spent.
Cardano Is Running Up Against "Heavy" Resistance, Boosting Bear Case
Cryptocurrency trader Michaël van de Poppe shared the chart below on July 8th. It shows that versus Bitcoin, ADA is running up against "substantial resistance." The current levels have been relevant over the asset's history.
Van de Poppe added that if ADA runs a few percent higher, it will reach "heavy resistance" that it will have trouble breaking past.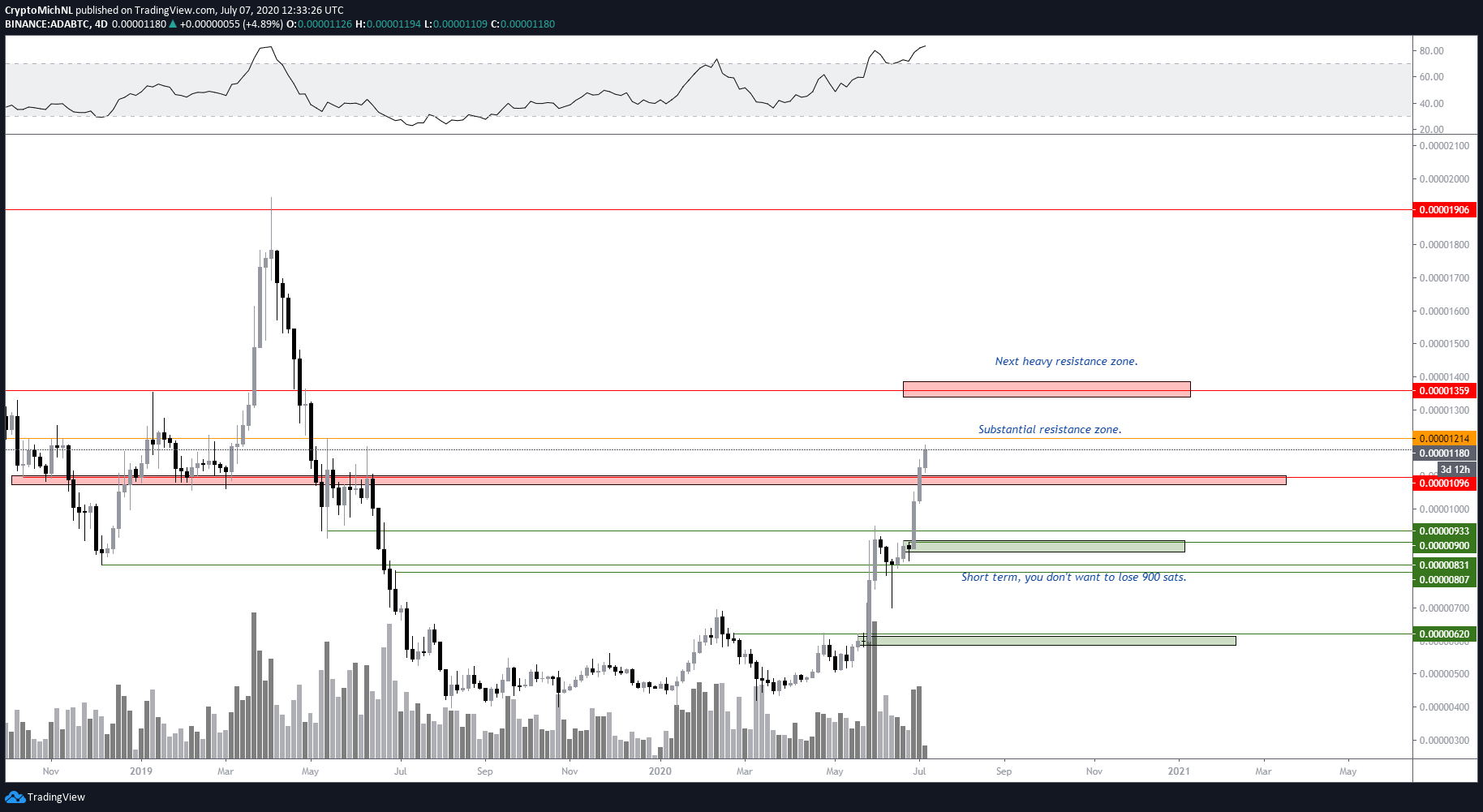 On-chain signals and exchange signals shared by IntoTheBlock corroborates the bearish sentiment some are developing.
Below is a screenshot of the company's dashboard for ADA, which contains seven core metrics.
As of July 9th, four out of seven of the core metrics are "bearish." These metrics are as follows:
In the money: a momentum indicator of the profitability of crypto holders
Concentration: the concentration/centralization of a cryptocurrency's supply across addresses
Large transactions: a momentum indicator of the number of large ($100,000+) transactions
Bid-ask volume imbalance: the balance between buy orders and sell orders over a certain price range
The Crypto Market Is Finally Cooling Off
Cardano's seemingly bearish outlook comes as the crypto market seems primed to cool off after a multi-day rally. Some of the most popular altcoins of the past week — Dogecoin, Chainlink, VeChain, and others — are down massively from the highs.
Bitcoin, too, has seemingly lost the upside momentum that brought the asset just a few basis points away from $9,500.
As reported by Bitcoinist previously, the leading cryptocurrency is printing three technical signs of weakness. An analyst identified those signs as follows:
"Retesting + getting rejected from resistance + MACD testing bear cross. Don't let the euphoria blind you, manage your risk by raising your stop losses."
There are also analysts fearing that Bitcoin's recent price action looks eerily similar to the $10,500 top seen in February.
Should BTC suffer a retracement from here, altcoins are likely to follow. Blockchain analytics firm Coin Metrics, after all, reports that the 180-day correlations of Bitcoin and many top altcoins (including Cardano) are over 0.80.
Featured Image from Shutterstock
Price tags: adausd, adabtc
Charts from TradingView.com
After Parabolic Surge, Cardano (ADA) Is Near "Heavy" Resistance