XRP has actually been one of the best performing cryptocurrencies of the past few days. The asset is up by approximately 15% in the past five days (from lows to the recent high set a few hours ago as of this article's writing).
Some analysts believe that the altcoin is undergoing a macro breakout. One went as far as to say that the asset looks similar to how it did at the start of 2017's parabolic rally.
A textbook indicator begs to differ, suggests that XRP will undergo a retracement in the days ahead.
XRP Prints Textbook Sell Signal After Surge
XRP's rally has been impressive, to say the least. Multiple notable cryptocurrency analysts and traders have taken notice of it, arguing that it's the start of a greater bull run.
But according to the Tom Demark Sequential, this is unlikely to be the case, at least for the time being.
The Tom Demark Sequential (aka TD Sequential) is a time-based indicator often used by crypto traders; the indicator prints "9" and "13" candles at inflection points in the trend of an asset.
A Telegram channel that tracks signals printed by the TD Sequential noted just hours ago that XRP has formed a "sell 9" candle on its daily chart. This suggests that the asset will undergo a correction in the days ahead, likely back towards the $0.20 region.
As the chart above indicates, this very signal — a TD Sequential "sell 9" candle — has historically had some accuracy. Namely, at the highs of April's rally, the signal appeared just two days after XRP put in a high, then proceeded to retrace over 20%.
Not the Only Bearish Signal For the Altcoin
Even after the recent rally, XRP remains below a resistance level, indicating a decent likelihood of more downside. As reported by Bitcoinist previously, one trader commented:
"I don't think this pumps without fundamentals and for now I don't see anything in the calendar. Personally I'm waiting for orange or a HTF reclaim of the former floor that lead to this bleed out. Bounces are for shorting until proven otherwise," the analyst said in reference to the macro downtrend.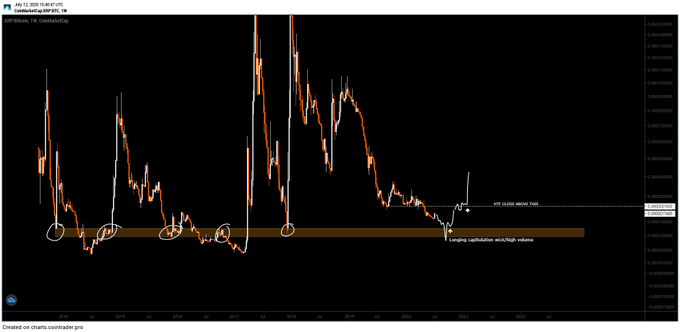 Further hurting XRP's case for upside, the asset underwent a strong drop as Bitcoin surged past $10,000 on Sunday morning. Joseph Young, a prominent crypto analyst, says that this may be indicative of an "altcoin profit taking bitcoin rally," where altcoins underperform as BTC surges.
Featured Image from Shutterstock
Price tags: xrpusd, xrpbtc
Charts from TradingView.com
After Surging 15% in 5 Days, XRP Prints Textbook Sell Signal