Last week, XRP saw its first large bout of bullish price action in over a month. Following the lead of a swath of other altcoins, the prominent cryptocurrency spiked by approximately 10% in a single day, passing the crucial resistance of $0.20.
Many traders responded to this move with optimism: charts showed that with the rally past $0.20, XRP had broken above a number of crucial resistance levels.
Unfortunately for holders of the altcoin, though, the bullish strength did not last for long.
As of the time of this article's writing, the cryptocurrency trades for $0.192, down almost 3% in the past 24 hours.
Analysts expect the asset to continue to slide lower should bulls fail to reclaim nearby technicals support levels.
XRP Could Continue Its Downward Trajectory, Analyst Fears
According to crypto trader Sean Nance, XRP's inability to retake crucial technical levels around $0.20 will lead to the asset's medium-term demise from a technical standpoint.
Referencing the chart below, which shows the technical importance of the region around $0.20, Nance wrote on July 15th:
"$XRP

reminds me a bit of the BTC top in October of 2019. Structures like this one keep my bullishness grounded just a but. We need to claim the mid range and POC to follow blue path. If we keep trending down then we would accelerate to the downside."
In mentioning Bitcoin's rally in October of 2019, he is referencing how the asset saw a sudden rally from a downtrend, seemingly to kickstart a new bull trend, but ended up printing a bearish upward wick.
Not the Only Bear
Nance isn't the only analyst expecting this outcome for the embattled cryptocurrency.
As reported by this outlet previously, one trader noted that against Bitcoin, XRP's price action looks decisively bearish due to a loss of a level of macro support earlier this year:
"I don't think this pumps without fundamentals and for now I don't see anything in the calendar. Personally I'm waiting for orange or a HTF reclaim of the former floor that lead to this bleed out. Bounces are for shorting until proven otherwise," the analyst said in reference to the macro downtrend.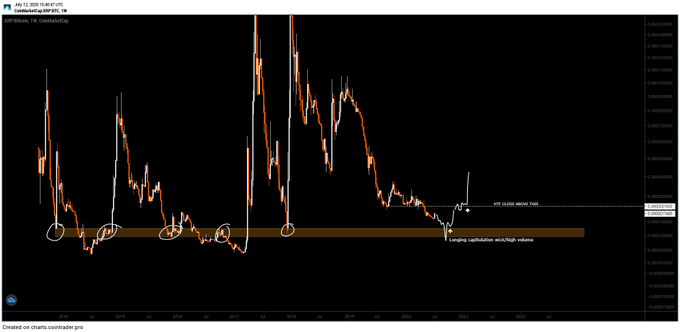 This bearish sentiment has been echoed by Peter Brandt, a commodities trader with multiple decades of experience.
In multiple comments made over the past two months, the analyst has warned that XRP may be on a very dangerous slope in terms of its price trajectory. In one of his most recent comments on the asset, he suggested that XRP could retrace by up to 90% against Bitcoin.
Brandt seemingly takes issue with the fact that much of the cryptocurrency is being progressively unlocked, then potentially sold on the open market.
Featured Image from DepositPhotos
Price tags: xrpusd, xrpbtc
Charts from TradingView.com
XRP Could Accelerate Lower as Price Action Resembles Bitcoin's October High