With recent rallies in altcoins from Ethereum and XRP to Cardano and more, it seems it's "altseason" once again. Bitcoin dominance, after all, saw a crucial rejection that suggests altcoins have room to rally to the upside.
Yet there remain analysts that believe XRP is unlikely to benefit from a rally in the altcoin market.
XRP Is Poised to Fall Even Further, Says Trader as Fundamental Case Remains Weak
Against Bitcoin and against the U.S. dollar, XRP has performed rather well over the past week. Yet a trader isn't convinced that a rally even higher will follow suit.
He noted that as long as there isn't a strong fundamental case for the asset, it is unlikely to gain strength against Bitcoin. Instead, the analyst thinks it will bleed out against BTC, as can be seen in the chart below.
"I don't think this pumps without fundamentals and for now I don't see anything in the calendar. Personally I'm waiting for orange or a HTF reclaim of the former floor that lead to this bleed out. Bounces are for shorting until proven otherwise," the analyst said in reference to the macro downtrend.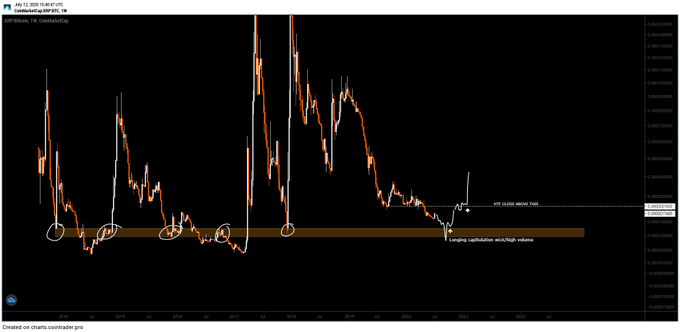 The chart shared indicates that XRP is on track to fall from its current range of ~2,200 satoshis to 1,100 to 1,400 satoshis in Q3 of this year. That would mark a decline of at least 40-50 percent for XRP.
More Are Convinced the Altcoin Has Room to Fall
XRP's lack of positive fundamentals isn't the only thing suggesting XRP will continue to fall against Bitcoin.
As reported by Bitcoinist previously, the Tom Demark Sequential just printed a sell "9" candle for the cryptocurrency. The sequential is a time-based indicator that prints "8," "9," and "13" at crucial points in an asset's trend.
The trader that predicted Bitcoin would undergo a V-shaped reversal at $3,700 is also bearish on XRP.
He said at the start of June that the altcoin was poised to drop 50% against Bitcoin due to its inability to hold crucial support levels:
"I will trade XRP vs BTC when it shows strength. Any weekly close above green and I'm interested. Until then who knows what can happen, currently down 91% since ATH but has seen 95% drops before, which is close to another 50% drop down. Move slow," he explained while pointing to the below chart.
The fact of the matter is that XRP is trading under crucial support levels that are now acting as resistance. And without fundamental drivers to drive demand, the asset may bleed out further.
Featured Image from Shutterstock
Price tags: xrpusd, xrpbtc
Charts from TradingView.com
Why Analysts Think XRP Will Plunge At Least 50% Against Bitcoin