Buying something when you only have cryptocurrency funds or buying crypto with fiat can still be challenging. This is where a swap service comes into play. A swap service allows you to switch from one cryptocurrency to another or from a cryptocurrency to a fiat currency. But you urgently need to buy some groceries and your local grocery store doesn't accept cryptocurrency. So, in this article, we will focus on cryptocurrency-to-fiat swaps, we will also take a look at how swap services work as well as review three cryptocurrency-to-fiat swap services.
What is a Swap?
A swap is an exchange from one cryptocurrency to another, or, as mentioned, is the swap from a cryptocurrency to a fiat currency. This exchange process takes place on exchange platforms, which can either be centralized – owned and maintained by a central third party, or decentralized – powered by smart contracts and fully autonomous. Both of these types of platforms reflect the current market prices of the cryptocurrencies they support.
The most convenient way to access crypto services is via a mobile application. Smartphones are always with us and having the financial tools in your hands at all times is the most convenient to manage funds. Crypto swaps are not an exception and many services offer mobile applications. Let's take a look at some pros and cons of using these mobile services for crypto-to-fiat swaps.
Cryptocurrency to Fiat Swaps Explained
Traditionally, cryptocurrency to fiat swaps takes place on centralized exchange platforms. As you may recall, centralized exchange platforms are exchange platforms that are owned and maintained by an organization. These centralized platforms act as brokers between buyers and sellers in the cryptocurrency market. A buyer will have some fiat currency funds on the platform and would want to buy some cryptocurrency with these funds – exchanging their fiat currency for cryptocurrency. The exchange platform then takes the details that the buyer has entered for their order and stores them in its order book.
On the other hand, there is also a seller on the exchange platform that has cryptocurrency funds in their account and wants fiat currency. So, the seller then enters their details for the sale such as the amount of cryptocurrency they want to sell, which cryptocurrency they would like to sell, and the price that they would like to sell their cryptocurrency at. These details are then saved to the exchange platform's order book.
The exchange platform then has a set of computer algorithms that match buy and sell orders that have the same details, i.e. the cryptocurrency specified in the order, amount of cryptocurrency, and the price linked to the orders. Once a match is made, the buyer then receives the cryptocurrency that the seller wanted to sell and the seller receives the fiat currency that the buyer paid to purchase their cryptocurrency.
Pros of Mobile Services
User-Friendly
Mobile apps offer beginner investors a familiar, friendly way of trading and investing in cryptocurrencies. Instead of having to interact with the elaborate web, desktop, or hard wallets to execute a cryptocurrency swap – which can be relatively complex for cryptocurrency newcomers – mobile exchanges give users a simplified, user-friendly cryptocurrency swap option as they can just log into their account on an application to view their accounts and their account balances, as well as make transactions.
Reliable
There is an additional layer of security and reliability around transactions and trading when looking at mobile applications. They usually offer security features like fingerprint or face identification, additional PINs, and 2-factor authentication.
Cons of Mobile Services
The Risk of Being Hacked
If your phone is lost or your login credentials are known by a third party, it can raise the risks of being hacked. However, if all precautions are taken, the hackers won't be able to access the account without having the user's identifications like their face, fingerprint, or mobile phone number. Using a reputable service that protects user funds is also very important. If an account is registered with a service, even when the mobile device is lost, the support team can assist in restoring the access.
Transaction Fees
Some of the mobile services often charge high transaction fees for the services and degree of convenience they offer users. These fees can be fairly large when trading large amounts of cryptocurrency.
Less Functionality
Some crypto services are also focused on other applications and deem it too difficult to execute robust features on mobile devices. However, this is not an issue with the services that we are covering in this article.
Best Mobile Services for Crypto-to-Fiat Swaps
Now that we have discussed the functionality behind crypto-to-fiat swaps, let's take a look at some exchange platforms that allow users to make these swaps using a mobile application on Android or iOS.
Kraken
Kraken is a centralized cryptocurrency exchange where users can buy and sell cryptocurrencies such as Bitcoin and is one of the oldest cryptocurrency exchanges in the space. It supports more than 110 cryptocurrencies and offers clients competitive exchange fees.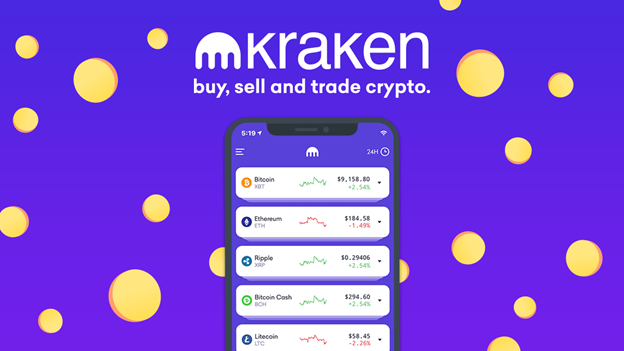 Kraken is well-known for providing support for both spot trading and cryptocurrency futures trading. The exchange is convenient for both new and novice cryptocurrency traders and investors.
However, Kraken is prone to hacks as some users report losses due to security breaches. Another disadvantage of Kraken is that users who do not use the paid Kraken Pro platform are charged higher fees than users who do use Kraken Pro.
Coinbase
Coinbase is also a well-known cryptocurrency exchange platform that makes it very easy for users to buy and sell cryptocurrency. The exchange is the largest U.S.-based cryptocurrency exchange and supports trading for nearly 100 cryptocurrencies.
This exchange is regulated under U.S. laws, it's considered to be very secure. The exchange boasts multi-stage verification and bank-level security. The majority of user funds are also stored offline which makes them out of reach to hackers and malware attacks.
The main disadvantage of Coinbase is that a lot of features like fiat withdrawals are only available to U.S. residents and cannot be used elsewhere in the world.
ChangeNOW
ChangeNOW is a revolutionary crypto swap service that not only provides cryptocurrency-to-fiat exchange but also allows users to trade a wide variety of cryptocurrency trading pairs. Their user interface is really simple – simplifying the whole process for users. Not only that, but users can also deposit funds directly to the platform using popular payment methods such as their Visa cards. Since the service is non-custodial, the funds are not kept on the platform but sent directly to the user's wallet as soon as the transaction is complete. This provides additional levels of security and privacy for ChangeNOW users.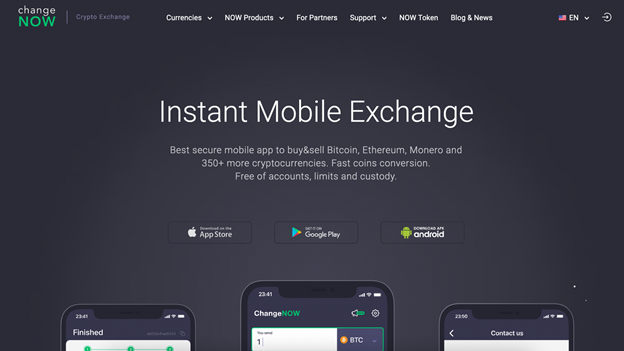 Their mobile application offers a wide array of cryptocurrency and fiat trading pairs. Users can deposit fiat currency directly to the exchange platform using their bank cards and can seamlessly trade the 50,000 trading pairs available on the platform.
Furthermore, ChangeNOW has low trading fees, exceptional customer support, and offers the same trading fees for every user as there are no premium accounts.
Conclusion
Using a mobile swap application, users can instantly exchange cryptocurrency for fiat currency. Choosing the right service depends on individual priorities. The main features of the services we have reviewed can be seen in the following table:
| | | | | |
| --- | --- | --- | --- | --- |
|   | Low Trading Fees | Pro Package | Number of Supported Cryptocurrencies | Supported Fiat Currencies |
| Kraken | Yes | Yes | 110+ | 7 including GBP, EUR, USD |
| Coinbase | No | No | Less than 100 | GBP, EUR, USD |
| ChangeNOW | Yes | No | 350+ | 50+ including GBP, EUR, USD |
Photo by NordWood Themes on Unsplash