Last week's UFC main event ended in a controversial decision this week's main event is unlikely to go to the judges and is likely to end with someone on the ground.
---
Bet Bitcoin on UFC Fights
In the main event, Travis Browne faces knockout artist Derrick Lewis. Also on the card are two former champions Johny Hendricks and Carla Esparza who face Hector Lombard and Randa Markos. Also this weekend Bellator 172 features the legendary Fedor fighting against Matt Mitrione to round out a big MMA weekend. You can bet on all these fights with bitcoin at Cloudbet.
Travis Browne v Derrick Lewis
This heavyweight fight is not one you want to miss. Travis Browne has had a hard time getting a win lately losing his past, fights. Since he has been training with Edmond Tarverdya he has not looked the same. He used to be known for his footwork and quickness, but we have not seen him fight like the "old Travis" in a while. He has also shown that he can be knocked out and now he faces one of the most feared knockout artists in the heavyweight division.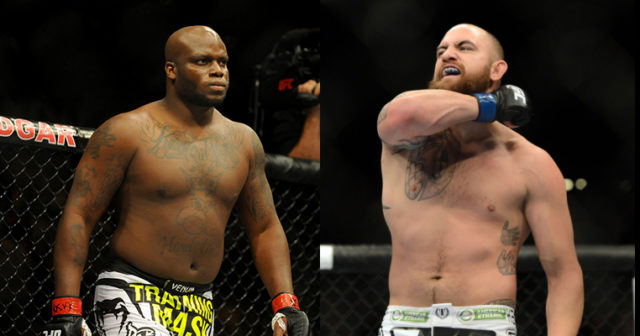 Derrick Lewis is on a five-fight win streak with four knockouts. In his last fight, he was most likely down four rounds to zero but managed to get the knockout in the fourth round. He manages to find a way to test the chin of everyone that he fights, even if he is tired and behind in the fight. Even if we see the old Browne using a lot of footwork, his chin is questionable. Lewis will find a way to test that chin.
Pick: Derrick Lewis
Carla Esparza vs. Randa Markos
Carla Esparza is the first women's featherweight champion in UFC history. She won the first all women TUF final against Rose Namajunas. She lost her first title defense to Joanna Jędrzejczyk in brutal fashion.
In her last fight against Juliana Lima, she was able to get the win however she looked a little hesitant on the feet. After taking the beating that she did against Jędrzejczyk, does she have confidence in her stand up? We know that she has good wrestling but what about her stand up? Esparza can put most of her opponents on the ground, but what happens when that does not work?
I am not sold on her stand up, and I do not think she can handle a battle where she gets hit in the face a lot. Ronda Markos is willing to take one to give one. She is willing to brawl and get in some exchanges. Markos also has good wrestling and has a dangerous submission game. I think that Markos has a good chance of giving Esparza some trouble on the feet and that she can stuff enough of her takedowns to win this. On top of this, there is an old rivalry from TUF.
These two do not like each other and would like to get some hand on face time, not just cruise through rounds for a win. Esparza has a lot of distractions in the background. She reportedly has some financial problems and had her walk out song pulled for legal reasons. I think Markos can get the upset here.
Pick: Ronda Markos
Track Record: Previous Picks
This year I am now 1-2 on my MMA picks. De Randamie got the win via five round decision against Holly Holm. It was a controversial win because De Randamie hit Holm after the bell two times. After taking a second look the second time was not a solid hit, and De Randamie pulled her punch. That being said the ref could have easily taken a point away for the first late hit. If you watch the fight again do so without sound and judge each round, I think you will come to the same conclusion that the judges did.
A few big MMA events are coming up including UFC 209 that features two title bouts: Woodly vs. Thompson 2 and Nurmagomedov vs. Ferguson.
You can discuss MMA or sports betting at the Telegram sports betting channel. I will be there talking about the fights as they happen. Will Derrick Lewis get another knockout or are we going to see the old Travis Browne?
You can see more details on how to bet Bitcoin on UFC 208 via Cloudbet here.
[Full disclosure: Bitcoinist is a partner of CloudBet]
[Disclaimer: Bitcoinist is not responsible for any gains or losses incurred from gambling.]
Let us know your picks in the comments below!
---
Images courtesy of Shutterstock, lowkickmma.com, mmajunkie.com