It's been an incredibly strong year for altcoins thus far. Versus Bitcoin, many have outperformed.
As reported by Bitcoinist previously, the small-cap, medium-cap, and large-cap altcoin indexes from crypto exchange FTX have outperformed Bitcoin since the start of 2020.
Yet a prominent analyst expects this trend to reverse in 2021. He went as far as to say that Bitcoin dominance — the percentage of the crypto market made up of BTC — could surpass 2019's highs.
Bitcoin Dominance Could Surge in 2021: Analyst
According to a trader, Bitcoin dominance has the potential to surge to 86% heading into the end of 2021/start of 2022.  The analyst attributed this sentiment to Elliot Wave, which is a type of technical analysis suggesting that markets move in predictable waves/cycles due to investor psychology.
The trader that shared this sentiment is the same one that, months before it did, predicted Bitcoin would bottom at $3,200 in 2018.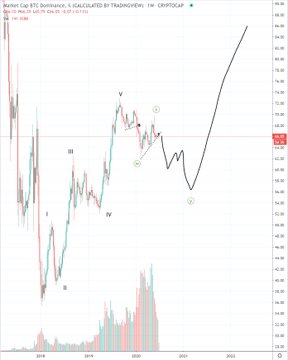 Altcoins Could Outperform in the Short Run
While the analyst does expect altcoins to strongly underperform Bitcoin in 2021, he shares a different sentiment from a shorter-term perspective.
According to a different chart he posted in the same message, Bitcoin dominance is likely to fall into October of this year. The chart suggests a retracement of Bitcoin dominance to 60%.
"BTC dominance with a clear breakdown and now retest as we saw in late 2019 indicating alt outperformance."
The chart shows that the measure recently moved below a crucial uptrend, suggesting a move to the downside will follow suit.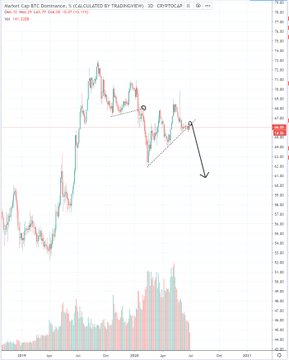 The analyst isn't the only one expecting this.
Prominent blockchain fund Pantera Capital released a June report outlining how altcoins could outperform Bitcoin moving forward.
"We believe that we're currently in the early innings of a new crypto bull market cycle that should run until at least mid-2021. With proper selection, one can outperform BTC with a diversified portfolio including both large caps like BTC and ETH and small to mid-cap alts even in the early innings of a bull market."
Pantera's co-CIOs attributed this sentiment to the fact that along with better technology, there are now protocols supporting "real-world financial use cases."
"We're a major proponent of BTC and believe a non-sovereign digital currency is inevitable. But we're also focused on protocols that are enabling real world financial use cases and believe that most value will accrue to these assets on a long-term basis compared to utility/payment tokens."
The short to medium-term strength of altcoins against Bitcoin may also be supported by the booming decentralized finance sector.
"DeFi," as this crypto industry is known, has seen strong adoption over recent months due to new technological innovations, incentives, and a search for yield.
Featured Image from Shutterstock
Price tags: 
Charts from TradingView.com
Analyst Who Predicted Bitcoin's 2018 Bottom: Altcoins May Plunge in 2021