The monumental performance of bitcoin in 2019 has not gone unnoticed by those who invest in traditional assets. BTC has outperformed pretty much all of the other financial investment options on the table by a massive margin.
---
BITCOIN BEATS OIL, GOLD, STOCKS
Despite its little downturn recently, bitcoin is still way higher than it was at the beginning of the year. BTC started out on New Year's Day trading at around $3,750, still frozen solid in the depths of the 2018 crypto winter. Today it is trading at around $11,500 which is a gain of 206%. If we look at the 2019 peak of $13,800 bitcoin made a whopping 268% gain in just six months.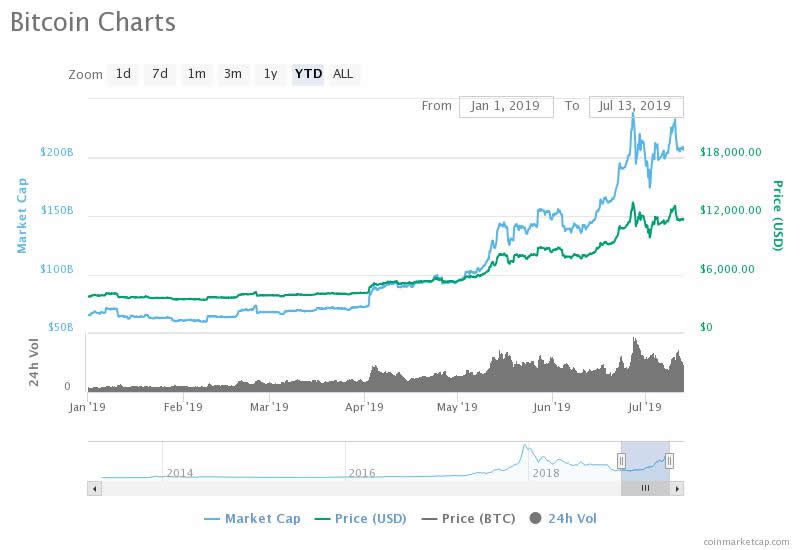 The uptrend is still solid and trading volume has surged from around $4.5 billion to over $20 billion per day. Market capitalization as a result has also pumped from $65 billion to over $200 billion over the same period.
To get the scope of how significant these gains are we need to take a look at other top invested and traded assets. Oil is second to bitcoin, but it is a long way back with just a 30% gain in 2019. The NASDAQ is next with 26% since the beginning of January and real estate investment trusts (REITs) have made 22% this year.
After bitcoin, these are the top three performing traditional assets. Further down the list is the S&P500 which has made 21% and even further down are commodities with an 11% gain. Peter Schiff's darling, gold, has only managed a 10% increase so far this year, and cash is not even worth mentioning. Investor Charlie Bilello spells it all out:
2019 Returns…
Bitcoin: +206% ??
Oil $USO: +30%
Nasdaq 100 $QQQ: +26%
REITs $VNQ: +22%
S&P 500 $SPY: +21%
Small Caps $IWM: +17%
EAFE $EFA: +14%
Investment Grade $LQD: +11%
Commodities $DBC: +11%
EM $EEM: +11%
Gold $GLD: +10%
High Yield $HYG: +10%
Bonds $AGG: +6%
Cash $BIL: +1%

— Charlie Bilello (@charliebilello) July 13, 2019
As mentioned in the comments there are other crypto assets that have even outperformed bitcoin. Even with a dump of 30% from its 2019 high, Litecoin has still notched up a gain of over 240% this year at current rates.
That increase is dwarfed by the 400% Binance Coin has made since it was trading at $6.20 on January first. The new darling of crypto, Chainlink, has cranked a monumental one thousand percent since the beginning of the year when it was trading below $0.30. Even with them still being on the floor, most altcoins are higher now than they were six months ago.
BITCOIN SETTLEMENTS FOR ENERGY
Performance aside, there could well be closer ties between bitcoin and oil and gas before the end of the year. That is at least the prediction from one industry observer who claims there will be settlements or royalties in BTC for energy this year:
We are going to see settlements for oil and gas payments and/or royalties in Bitcoin by the end of 2019.
We are going to see settlements for oil and gas payments and/or royalties in Bitcoin by the end of 2019. Very high chance it will take place in Alberta. This event will be my 5th hyperbitcoinization alert.

— Francis Pouliot ☣️ (@francispouliot_) July 12, 2019
What is clear is that bitcoin is part of the financial ecosystem now, it may not be that big a player yet with only $200 billion market cap, but things are changing fast and its role in global finance is only going to grow.
How big do you think bitcoin will become on the global stage? Let us know your thoughts in the comment section below!

---
Images courtesy of Coinmarketcap, Twitter @Charliebilello, @francispouliot_ , Shutterstock