Just over a month prior to the Bitcoin (BTC) block reward halving on May 11th, forked cryptocurrency Bitcoin Cash (BCH) experienced its first-ever halving.
Unlike BTC's block reward reduction, it was not a bullish affair for the altcoin — which has suffered heavy fundamental losses since the April 8th event, a leading analyst has found.
Bitcoin Cash Has Poor Fundamentals After Halving: ARK Invest
The underlying Bitcoin Cash network has taken a strong blow after the April halving, Yassine Elmandjra, a cryptoasset analyst at ARK Invest shared on May 23rd. BCH has sustained such a strong blow that the analyst opined that he is genuinely "surprised we haven't seen a large scale attack yet."
Three leading factors backed his assertion: Bitcoin Cash's hash rate is down 30% of the halving, economic throughput is at all-time lows, and it costs less than $10,000 per hour to attack the blockchain.
Bitcoin Cash is not looking healthy:

-Hashrate down 30% since halving (& only accounts for ~2% of SHA256 hash)
-Economic throughput at all time lows
-Fees are .05% of miner rev (<$100/day)
-Theoretical 51% attack costs <$10k/hr

Surprised we haven't seen a large scale attack yet

— Yassine Elmandjra (@yassineARK) May 23, 2020
On-chain metrics such as hash rate and fees are not entirely correlated with cryptocurrency prices. Yet the fact that so few transactions are taking place on Bitcoin Cash suggests there is a wider market disposition against using BCH, potentially threatening prices.
All Altcoins Are Poised to Underperform
Bitcoin Cash's position as an altcoin is unique in that it just saw a block reward halving. However, that's not to say BCH is the only altcoin poised to underperform the broader cryptocurrency market.
Per previous reports from Bitcoinist, Josh Olszewicz — a prominent crypto trader and analyst at Brave New Coin — observed on May 15th that the chart of Bitcoin's dominance has printed a textbook bull sign: a golden cross.
Investopedia describes a golden cross as when a "relatively short-term moving average crosses above a long-term moving average," and is often followed by a "bullish breakout."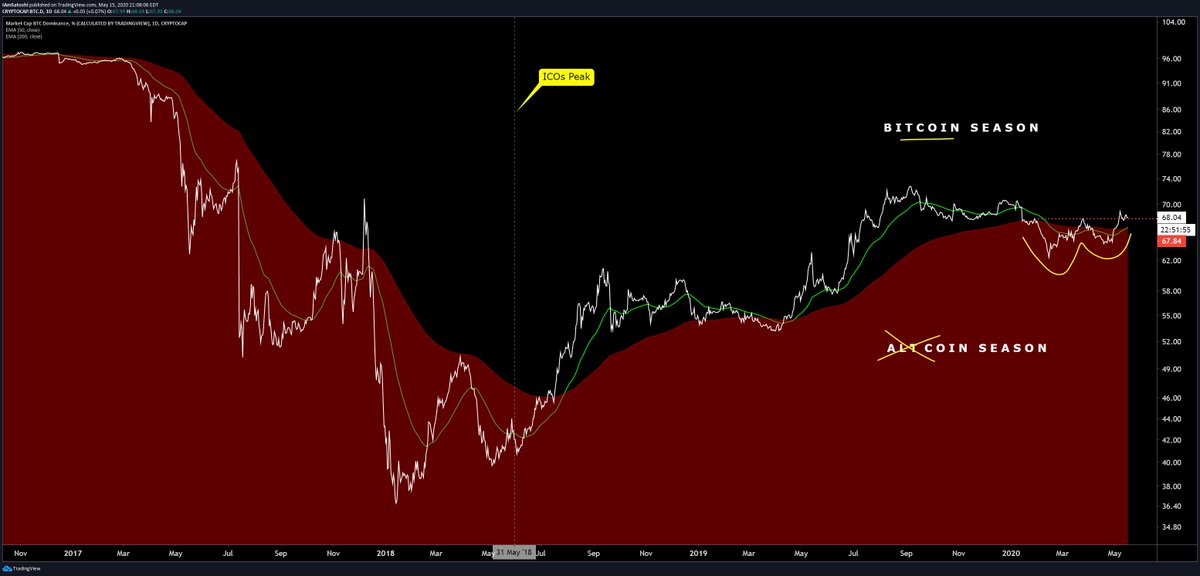 In this case, the 50-day simple moving average crossed above the 200-day simple moving average of BTC dominance — the percentage of the cryptocurrency market made up of Bitcoin.
Previous occurrences of this happening, as can be seen in the chart above, have preceded strong crashes in altcoins against Bitcoin.
Olszewicz's tepid outlook on altcoins was echoed by the lead technical analyst at crypto research firm Blockfyre,
"ETH heading for levels not seen since 2016. LTC trading below 2014-2016 prices. XRP heading for levels from 2014, 2016, and 2017. The alt market looks like it could capitulate soon. Seems like the worst is yet to come but afterwards should provide huge opportunities," the same analyst added in a more recent comment postulating that the short-term outlook for non-BTC cryptocurrencies is bearish.
Featured Image from Shutterstock