After Bitcoin posted a blow-off top at the end of 2017, altcoins surged across the board, gaining hundreds of percent over the course of months in an event since known as "altseason." Since that time, when many traders made their fortunes, investors have been waiting for "the next altseason."
While some have argued that it is near, top investors are expecting altcoins to dramatically underperform Bitcoin. One analyst, in fact, gave the scenario that it's "max pain" ahead for this segment of the cryptocurrency market.
Altcoins Are Poised to Underperform: Top Analyst
Sharing the chart seen below, the lead technical analyst at crypto research firm Blockfyre remarked that as Bitcoin slows down, "altcoins are really going to struggle," adding that it's an absolutely "brutal' outlook for this segment of the market. He added that there is "max pain ahead" in his opinion.
This latest chart and assertion comes shortly after the trader wrote that it's "Hard to imagine that no matter what BTC does that alts don't see a lot of pain."
This trend makes sense fundamentally speaking.
Due to the promises many projects made in 2018 but failed to make good on, investors are largely disillusioned with altcoins.
As the abovementioned analyst wrote:
"The reason the alt pumps are unconvincing is because they have followed the same patterns. IEO's, Interoperability, privacy coins moving together. It's coordinated as it has been the last 3 years instead of all ships rising together."
Now add to this the fact that altcoin projects are actually biting the dust, even as Bitcoin rallied 150% in the past seven weeks.
As reported by Bitcoinist previously, the Loom Network project, whose native cryptocurrency LOOM once had a  more than $400 million market capitalization in early-2018, just bit the dust. Ethereum developer Bruno Skvorc published the tweet below outlining this.
Rip $loom

– telegram shut down
– reddit dead
– blogs silent
– core team gone

I'd call it an exit scam if there was anything left to exit with.

— Bruno Skvorc (@bitfalls) May 8, 2020
All Eyes Are on Bitcoin
Even aside from this potentially harrowing outlook for altcoins, it's clear that crypto is an all-Bitcoin game at the moment.
As a prominent trader noted, the past week has seen a "marked decoupling between Bitcoin and altcoins." This relative outperformance, he explained, is a sign that fiat "pours into it and participants cycle out" of altcoins for BTC.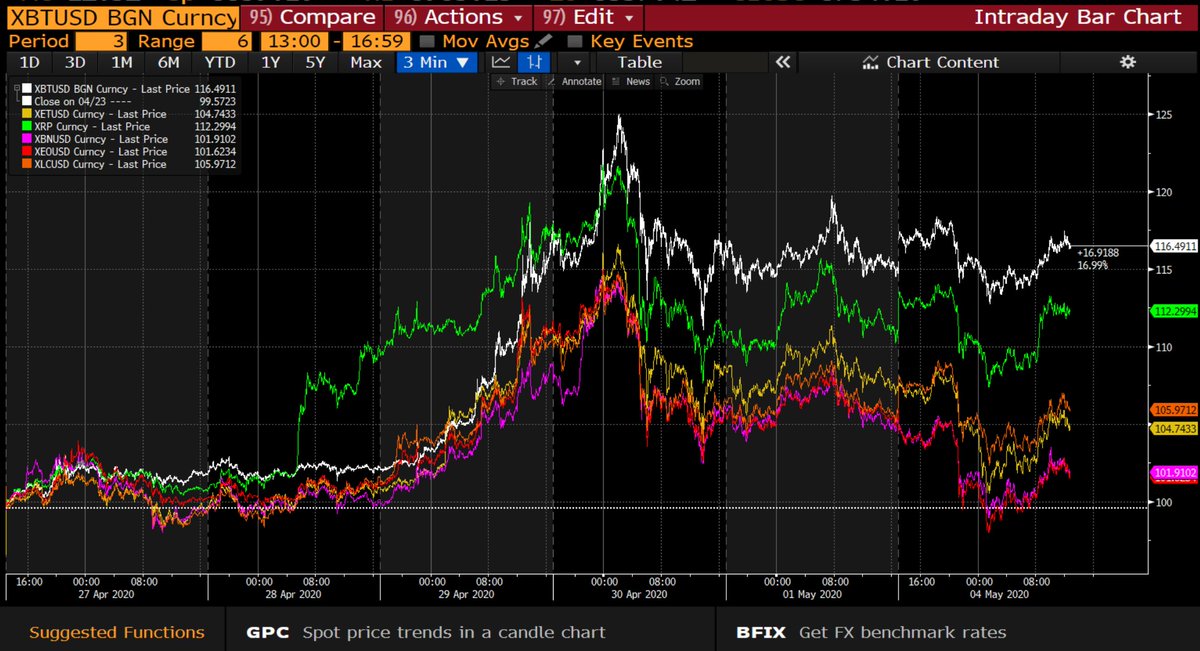 Further corroborating this is the fact that Bitcoin is the cryptocurrency getting all the press at the moment as the halving nears.
Paul Tudor Jones' note on Bitcoin is a prime example of this trend. While he acknowledged the potential for the widespread digitization of currency in the coming years, he made it clear that he is interested in BTC as a hedge as monetary inflation, not other cryptocurrencies.
Photo by Road Trip with Raj on Unsplash