Bitcoin has once again flatlined after rallying to $9,400. The cryptocurrency remains stagnant despite large movements in the stock and precious metals market.
Analysts say the cryptocurrency must maintain $8,800 moving forward.
There are fortunately on-chain, fundamental, and technical indicators suggesting the asset will do so in the weeks and months ahead.
After rallying slightly above $9,400 earlier this week, Bitcoin has once again flatlined. The leading cryptocurrency is flat over the past 24 hours, with bulls and bears failing to establish a trend for the asset.
Moving forward, analysts say that BTC must hold $8,800, or else risk returning to a bear market phase. One fund manager in the space, in fact, argued that Bitcoin will have confirmed "real weakness" if it slides under that level.
Bitcoin Must Not Fall Below $8,800: Fund Manager
Bitcoin must not fall below $8,800 or risk a bearish correction, analysts say.
Mohit Sorout, a founding partner of Bitazu Capital, recently commented on this matter on July 22nd:
"Any pullback till 8800 should get bought up. Price below that level would signal real weakness & shorting rallies makes sense then."
The importance of $8,800 has been echoed by a cryptocurrency day/swing trader. He commented a few days ago that to him, "8800 is the biggest level on my chart – would be a hell of a bear trap to test that and break up."
The reason why these market commentators have assigned such importance to that level is that Bitcoin bottomed at that price in corrections over the past month. BTC failing to hold that level will confirm a trend of lower lows, potentially implying that the cryptocurrency market has topped.
Not to mention, the level has significance from an on-chain perspective as well.
The CTO of Glassnode, Rafael Schultze-Kraft, shared the chart below on July 22nd. It shows BTC's recent price action along with the UTXO Realized Price Distribution indicator. Per that indicator, there is a strong on-chain support level of around $8,900.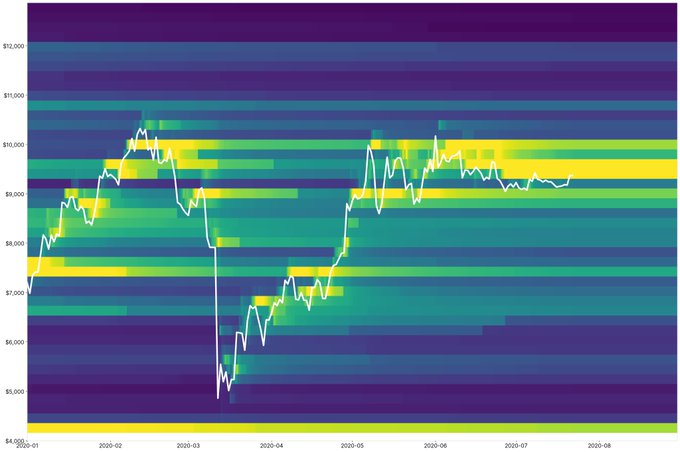 Bulls Will Hold, Signal On-Chain Indicators
Fortunately for Bitcoin bulls, a swath of on-chain indicators and fundamentals suggest that the leading cryptocurrency will hold $8,800 in the weeks ahead.
As reported by Bitcoinist, the chief investment officer of Hayman Capital Management, Kyle Bass, recently said that gold and Bitcoin can rise in tandem:
"Silver, Gold, Bitcoin, etc all look to be ready to make explosive moves higher given the sheer amount of money printing going on around the world. Here is a chart or front-month silver going back 10 years."
He attributed his strong sentiment to the vast amount of money printing taking place as central banks try and stem the economic crisis.
There have also been on-chain indicators shared by Ki Young Ju, the chief executive of Crypto Quant. He recently noted that a confluence of four or five on-chain indicators that suggest Bitcoin should be bought at current levels.
Featured Image from Shutterstock
Price tags: xbtusd, btcusd, btcusdt
Charts from TradingView.com
Why Bitcoin Falling Below This Price Could Signal "Real Weakness"